In order to understand a company like Ituran Location and Control (NASDAQ:ITRN), I introduce two sports analogies:
It took LeBron James 9 seasons of tears, sweat, and bloody basketball to win an NBA Championship. It took 8 seasons for Michael Jordan. Sustainable and meaningful success did not come quickly for two of the best basketball players to grace the court.
Continuing with the analogy, consider two NFL quarterbacks: Aaron Rodgers (Packers) and JaMarcus Russell (Raiders). These two quarterbacks had widely divergent expectations coming into the NFL and an even wider gap in how they actually fared several years into their careers. Rodgers went on to win a Super Bowl and become a worthy successor to Brett Favre. Russell no longer plays professional football.
The two concepts at play are:
1.) Controlled/organic growth through pain and setbacks as illustrated by James and Jordan.
2.) Positive Black Swans (an unexpected event with a huge positive payoff) as illustrated by Rodgers.
Applying these two concepts to the domain of investments, a company that I believe can match the quality, growth, and valuation aspects of the excellent athletes mentioned above is Ituran.
Below is a quick and easy look at the Company through the framework of Absolute Valuation as put forth in Vitaliy Katsenelson's Active Value Investing.
GROWTH
| | | | | | |
| --- | --- | --- | --- | --- | --- |
| | Q411' | Q410' | Q409' | Q408' | Average Growth Rate |
| Revenue TTM | 160.20M | 147.82M | 121.38M | 132.62M | 20.79% |
| Net Income TTM | 25.72M | 21.02M | 18.19M | 14.88M | 72.84% |
| FCF TTM | 30.31M | 34.72M | 22.13M | 10.54M | 187.57% |
| EPS | $1.23 | $1.01 | $0.87 | $0.71 | 73.23% |
(Courtesy of Ycharts.com)
Ituran's net income has outpaced revenues, and EPS has outpaced net income. More importantly, free cash flows per share growth has outpaced EPS growth showing how the company has managed its fixed and operating assets efficiently.
Location-Based Services Subscriber Growth:
As of December 31,
2011
2010
2009
2008
Israel
256,000
230,000
216,000
214,000
Brazil
219,000
232,000
209,000
174,000
Argentina
123,000
121,000
119,000
111,000
United States
25,000
21,000
18,000
12,000
Total(1)
623,000
604,000
562,000
511,000
| | |
| --- | --- |
| (1) | All numbers provided are rounded, and therefore totals may be slightly different than the results obtained by adding the numbers provided. |
(from ITRN Form 20-F Dec. 31, 2011)
Unfortunately, a history of past growth does not necessarily tell us too much about future growth of earnings. But it seems Ituran is aiming for a controlled growth rate content to remain in its current markets with no plans for ego-driven acquisitions. Ituran's dividend policy (50% of net income), and continued growing presence in Israel, U.S., Brazil, Argentina signal that management wants to grow the company at a rate commensurate with long-term value creation for shareholders.
QUALITY
Ituran offers location-based services like stolen-vehicle recovery, and sells communications equipment in Israel, Brazil, U.S., and Argentina. You can think of it as like Lojack (NASDAQ:LOJN), but much better in terms of margins, product quality, management quality, etc.
One of the best indicators of the quality of a subject company is the existence of significant free cash flows: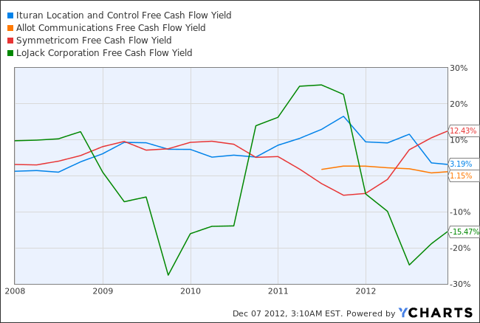 Companies with significant free cash flows usually have lower capital expenditures, which signals higher return on invested capital and earnings growth. Furthermore, free cash flows means lower business risk as earnings growth can be financed with its own capital. In addition, it doesn't hurt that Ituran has very little debt with a net cash position of $1.33 per share as of September 30, 2012.
Another aspect of free cash flows as an indicator of company quality is what management does with it. Instead of going on an acquisition binge, which usually leads to infamy, Ituran has decided to distribute at least 50% of its net profits as a quarterly dividend. This is a way for management to compensate shareholders for P/E contraction or slow P/E expansion in range-bound markets. It also forces management to make disciplined decisions without necessarily compromising on its growth aspects.
A third indicator of quality is the quality of earnings as indicated by the relationship between operating cash flows and net income. For a company to have quality earnings, it must have a trend where operating cash flow is greater than net income. A trend where the two series diverge or do not move in the same overall direction could signal rising sales coming from accounting gimmicks: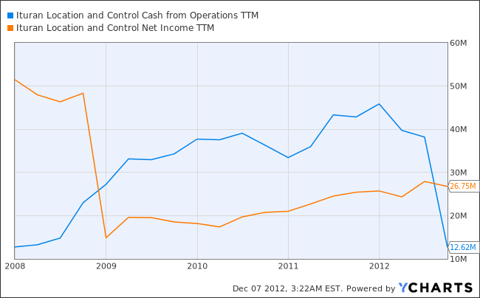 The recent trend where the two series crossed is due to decreasing subscription fee revenue resulting from exchange rate risk or depreciation of the U.S. Dollar against the Brazilian Real, Israeli Shekel, and Argentinean Peso.
A fourth indicator of quality comes from Ituran's high return on capital: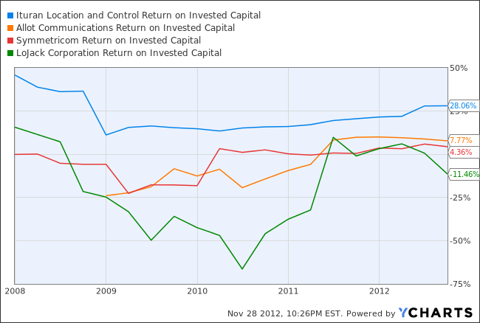 A company with high ROIC does not have to increase equity or debt for the sake of growth, and implies a competitive advantage atleast for the time being.
VALUATION
I use Vitaliy Katsenelson's Absolute Valuation model in order to prevent falling into the relative valuation trap. The model's usefulness comes from the fact that:
It forces the investor to be honest and explicit with their assumptions regarding the company's business risk, financial risk, and earnings visibility.
Avoids the many estimation errors inherent in a discounted cash flow model.
Allows the investor to get an intuitive sense of (to borrow from Nassim Taleb's latest masterpiece) the fragility of the company, and not get confident about "sophisticated" predictions based on something like beta.
Builds in a substantial amount of margin of safety into the valuation.
| | |
| --- | --- |
| | Ituran Location and Control |
| Expected Earnings Growth Rate | 6% |
| Expected Dividend Yield | 3.71% |
| Fundamental Return | 9.71% |
| Required Margin of Safety | 24.09% |
| Buy P/E | 14.93 |
| Fair Value P/E | 18.53 |
| Sell P/E | 20.32 |
| Current P/E TTM | 9.917 |
(Data courtesy of Ycharts.com and Yahoo.com)
I have to admit that there's plenty of subjectivity built into the absolute valuation model. But it keeps me honest in that I'm not making an outright prediction dressed with fancy mathematics. Ituran has the potential to become a stellar company and stock. It also has the potential to go bankrupt should something catastrophic occur. But it's a company with high quality in terms of management, dividends, and free cash flow. It has growth potential, and more importantly growth opportunities in places like the United States. In addition, it's a small-cap that doesn't get much attention from analysts. At the very least I think it belongs on a value investor's watch-list.
*For a quick overview of the Absolute Valuation model, see Vitaliy Katsenelson's Active Value Investing or www.oldschoolvalue.com/blog/valuation-methods/value-stocks-like-a-pro-absolute-pe-model/
Disclosure: I have no positions in any stocks mentioned, but may initiate a long position in ITRN over the next 72 hours. I wrote this article myself, and it expresses my own opinions. I am not receiving compensation for it. I have no business relationship with any company whose stock is mentioned in this article.
Additional disclosure: I will initiate a long position in 72 hours.