Hovnanian (NYSE:HOV) fell as much as 6% early Wednesday after reporting a loss of 0.59 per share. Investors unloaded shares as headline losses appeared worse than the $0.19 analysts expected.
However, the headline number included items making direct comparisons tough. Instead, investors may be better served focusing on a deeper dive into Hovnanian's report.
The company believes the broader housing industry is in a "period of modest recovery."
The company's namesake CEO Ara K. Hovnanian said, "After the worst downturn that the homebuilding industry has ever seen, I do not think there is any question that the industry is finally in a period of modest recovery."
The numbers seem to back up Mr. Hovnanian's statement and may suggest he's being timid.
During the quarter new contracts for homes climbed 22.8% to 1,443. The strength continued into November, with the dollar value of net contracts rising 38.1% year-over-year to $131.5 million. As a result, the company's backlog of homes improved by 29% to 2,145 homes and the value of net contracts increased 46.3%.
Hovnanian delivered 40.6% more homes during the quarter, an impressive 40.6% more than in the same quarter a year ago. The increase lifted the full fiscal year delivery rate to 27% growth.
The deliveries boosted revenue to $487 million, 42.6% better than last year and ahead of Street forecasts of $463.9 million. For the full fiscal year, sales were $1.5 billion, up 30.9% from the $1.1 billion it logged in FY11.
The earnings picture appears brighter than the headline number.
Hovnanian extinguished debt, which accounted for a lot of its reported loss. It's always dicey to rely on ex-item earnings. But, given the order strength it's worth noting the company reported its first ex-item quarterly gain since 2006. Profits before taxes and ex-items reached $8.1 million, that compares to a pre-tax and ex-items $45.2 million loss a year ago.
It's also helpful to recognize the company is succeeding in doing more with less. Gross margin before interest expense included in cost-of-sales rose 280 basis points to 18.3% in the quarter. The expansion in gross margin marked the 6th consecutive quarter the measure has improved.
A lot of that success is tied to the company's tight fisted approach to SG&A. The amount spent on selling, general and administrative expenses fell to 10% of sales in FYQ4. That's markedly better than the 16.9% last year and a solid improvement from the 12.4% rate in the prior quarter.
And, the balance sheet got a bit healthier in the quarter too. The company refinanced $797 million of debt during the quarter, which should save $17 million annually in interest payments.
The modest recovery industry wide seems in tact for growth again this coming quarter.
Across the United States, the total private spending on residential construction climbed to 294.2 billion in the most recently reported month of October. For comparison, spending totaled 271.29 billion in June 2012 and 243.66 billion in October 2011.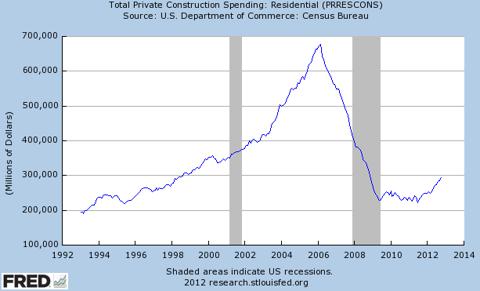 And, the number of housing starts climbed to 894,000 units in October, up from 754,000 in June and 630,000 the year before. The October starts were the highest since July 2008.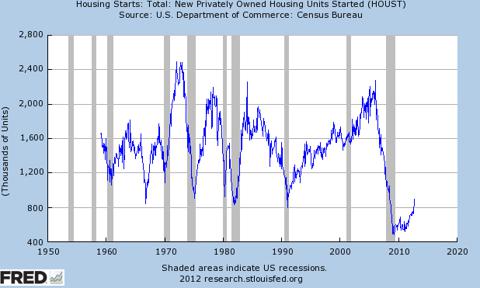 Looking at housing demand from another angle, lumber volume shipped across the United States by railroad remains impressive. In November, lumber rail carloads were 10% higher than November 2011 and 26.5% higher than November 2010. The following chart shows the relationship of lumber and wood products rail carloads to U.S. housing starts.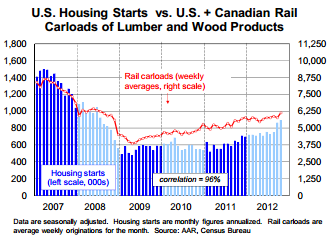 Given the backdrop of industry wide improvement in housing data and specifically Hovnanian's larger backlog and margin, investors who have focused instead on the healthier Lennar (NYSE:LEN), Toll Brothers (NYSE:TOL) and D. R. Horton (NYSE:DHI) - all of which are already reporting positive quarterly earnings - may find sprinkling some Hovnanian into portfolios profit-friendly too.
Disclosure: I have no positions in any stocks mentioned, but may initiate a long position in LEN, TOL over the next 72 hours. I wrote this article myself, and it expresses my own opinions. I am not receiving compensation for it (other than from Seeking Alpha). I have no business relationship with any company whose stock is mentioned in this article.