The Gist
My colleague Regarded Solutions recently penned an article stating General Electric (NYSE:GE) will double in 12 to 18 months from its current share price. He states,
"I know it might seem like a bit of a reach to some folks (especially the Immelt haters), however I am reaffirming my opinion that shares of General Electric can surge from the current share price of $20-$21/share to over $45/share within 12-18 months."
Well, I am one of the folks who not only think it's a "bit of a reach," but actually a highly extreme prediction. I am not an "Immelt hater" nor do I know anyone who is for that matter. Regarded Solutions underpins his thesis by stating,
"GE has its hands basically in every business sector, in every part of the globe, touching virtually everyone on the planet. I want a company in my portfolio that has the ability to generate revenue from just about anything."
In a nut shell, Regarded Solutions (RS) believes GE will double over the next year or so because it has a globally diversified business focused on emerging markets where growth is more abundant.
I agree with just about everything RS states except for the part where GE is going to double. The fundamental and technical state of the company does not support this thesis. In the following sections I will lay out my counter case to his conclusion and make my alternative case.
GE Is A Global Conglomerate With A Well Diversified Business In Emerging Markets
This is actually more of a reason why GE won't double rather than why it will. The sheer size and diversity of GE's business dictates a slow and steady pace of growth. For the stock to double from its current share price in a year essentially the entire world's economy would have to double in that time frame and that seems an extremely farfetched proposition.
Most growth investors shoot for doubling their money in 5 years, not one. Moreover, if you successfully doubled your money in five years you would be outperforming just about everyone in the market.
Doubling your money in five years - that is a 14.9% average annual return for each year. That is significantly more than the usual 10% average annual growth investors in large U.S. stocks expect.
Riskier asset classes, such as shares of new small-cap companies, offer better odds; even then, achieving that type of outsized return is highly unlikely. Only a very small percentage of stocks double in a year. According to data provider Capital IQ, out of the thousands of stocks that trade on major U.S. exchanges, less than 100 double in a 12 month period.
The fact of the matter is GE's size and diversified portfolio of businesses makes it a safer bet with the potential for steady capital appreciation at a reasonable rate, not a double in 12 months.
Odds of A Stock Doubling After A Double Are Low
Typically, if a stock has recently doubled, it lowers the odds of the stock doubling again in the near term considerably. GE has just doubled from $10 in mid-2009.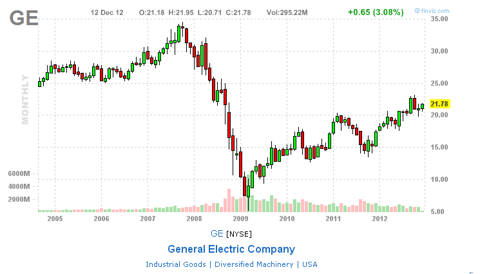 It took three and a half years and the stock was recovering from a so called generational low created by the economic cataclysm known as the great recession, which we are still currently entrenched in by the way. The fact that GE has doubled over the past three and a half years leads me to be highly skeptical it can double again in a year's time. Look at the stock's trajectory on the chart provided. Can you imagine the parabolic trajectory that would have to occur to make GE's stock achieve a double in a year? It is highly unlikely.
GE's Fundamentals Don't Support The Thesis
As RS states in his article GE has had quarterly year over year revenue growth of nearly 3% and earnings growth of over 8%. With this level of incremental growth, the stock should appreciate by 10% over the next twelve months, and that is being generous.
GE trades for nearly two times book value, and RS states competitors trade for nearly 3 times book value. For GE to double from here that would mean it would trade for nearly four times book value, a considerable premium to the industry. This seems somewhat hard to believe as well. Currently, EPS is expected to grow by 12% next year and 11% percent over the next five years. This is a respectable rate for a behemoth such as GE.
What Kind Of Stocks Have Higher Odds Of Doubling?
Now that we have made the case that a mega cap, a highly diversified stock like GE which has already doubled has a low probability of doubling again, how do you find stocks that could double? There are lots of different strategies out there to outsmart an efficient market. The following are a few.
Newly Formed Small-Caps Opportunities
As stated earlier newly formed small-caps often provide great opportunities. For one thing, they are usually not well covered and are experiencing exponential organic growth servicing a new budding market. Netflix (NASDAQ:NFLX) was a good example of this type of opportunity. They came out of nowhere with a new streaming media business model that took the market by storm. Unfortunately, this is now a well-known stock that has experienced a significant pullback due to increasing competition and costs.
Value Stocks
Many investors crunch the numbers looking for bargains trading for less than intrinsic value that have catalysts for future growth. Level 3 Communications Inc. (NASDAQ:LVLT) one of Southeastern Asset Management's (a well-known value investing group) top holdings, fits this profile. They believe the intrinsic value of the underlying assets are worth vastly more than the current market capitalization and the company has reached the breakeven point and profits will continue to grow as the network picks up more and more business from increased traffic.
Contrarian Stock Picks
Contrarians say it's a good sign if market data indicate a lot of skepticism toward a stock. A contrarian is one who attempts to profit by investing against the grain, to go against the crowd, because the crowd is usually wrong and always late. A contrarian believes that certain crowd behavior among investors can lead to exploitable opportunities. Pervasive cynicism about a stock or sector can drive the price so low that it exaggerates the investment's perils and belittles its future prospects. Identifying and seizing on these opportunities is a well-known investing tactic utilized by legendary investing experts such as Warren Buffett. I believe Groupon, Inc. (NASDAQ:GRPN) falls into this category right now. The stock is down substantially from the IPO price and Tiger Global Investments has taken an active role in turning the company around. George Soros has also opened a position. I posit Tiger and Soros are actively soliciting the company. Even so, never buy a company solely on a potential buyout. What makes Groupon a buy is the solid cash flow and interest in the company by the likes of Tiger and Soros. They are strong shareholder advocates.
Short-Term Opportunities
Usually, when stocks fall out of favor with the market, it's frequently for good reasons. This is when you are looking for stocks selling at a discount for bad reasons. Lately, one of the bad reasons has been due to the Eurozone debt debacle. Many stocks which have nothing to do with the Eurozone are bought down significantly due to the proliferation and ETFs and Index funds. This has made the stock move in a highly correlated manner in recent years. Sirius XM Radio Inc. (NASDAQ:SIRI) is a U.S. centric company that has been beaten down with the rest of the market. The future looks bright for Sirius with the recent news regarding new car sales in the U.S. and their budding penetration of that market.
The Bottom Line
GE is a solid company with good potential for capital appreciation and income over the next year. On the other hand, I don't see it doubling anytime soon. I commend RS on his bold prediction, but would bet dollars to doughnuts he gets this one wrong.
It is hard enough to find a double in the first place. When you add the additional impediments of sheer size, vast diversification and a stock that is well covered, the future growth is more often than not already priced in. I wish RS and all of the loyal GE shareholders luck and hope I am proven wrong.
Disclosure: I have no positions in any stocks mentioned, but may initiate a long position in GRPN, LVLT, GE, SIRI over the next 72 hours. I wrote this article myself, and it expresses my own opinions. I am not receiving compensation for it (other than from Seeking Alpha). I have no business relationship with any company whose stock is mentioned in this article.
Additional disclosure: This is not an endorsement to buy or sell securities. Investing in securities carries with it very high risks. The information contained within this article is for informational purposes only and is subject to change at any time. Do your own due diligence and consult with a licensed professional before making any investment.