The so-called January effect is a theory that small-cap and underperforming stocks near the end of the calendar year rapidly switch course and outshine the general market in January of the new. The why behind the belief is that many retail investors often sell their losers in December for tax reasons to offset any capital gains from the year. The institutional players, fund managers, pension funds, insurance companies and others of the big money ilk, also keenly feel the pressure to window dress their portfolios before the end of year statements go out.
In their article: "Small Cap Strength Starts Mid-December - Free Lunch Will Be Served Day Before Christmas", Authors Jeffrey Hirsch & Christopher Mistal refer to this market phenomenon as a "Free Lunch."
The theory is sound, the motivations of the players are valid and Messrs. Hirsch & Mistal have done a great deal of research so I decided to look at some charts for myself.
I first used the S&P500 Index, and the SPDR S&P 600 Small Cap ETF (NYSEARCA:SLY).
Contrary to some opinions last year, the strategy worked well December 15, 2011 thru February 15, 2012 with the SLY outperforming the SPX by almost 20%.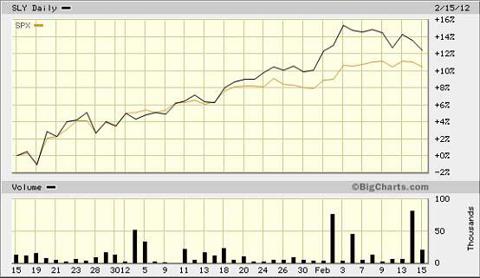 Click to enlarge
(Click to enlarge)
but the year before the SPX outperformed: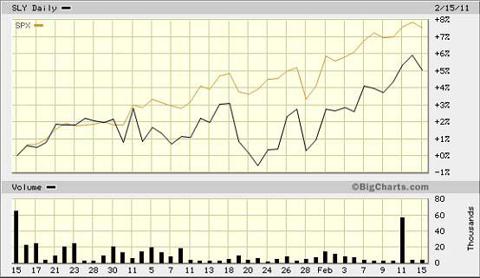 Click to enlarge
(Click to enlarge)
And in the December 15, 2009 thru February 15, 2010 period the strategy held true thru mid January before failing into February. The SLY however, did still outperfom the large cap index.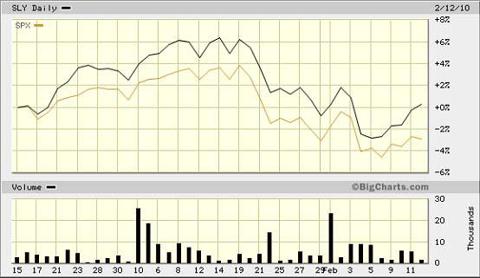 Click to enlarge
(Click to enlarge)
The same early positive result occurred the year before as well but the selloff ocurring sooner in January, 2009: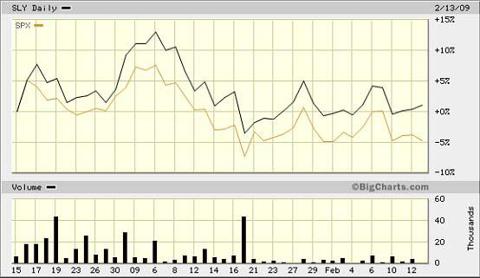 Click to enlarge
(Click to enlarge)
With this general strategy in mind and knowing that there numerous small cap etfs available I did a brief further search to see if I could find one with even better alpha than the SLY. It turns out that like with so many things investing... the answer was, "Sometimes."
Below is the SLY against the First Trust Small Cap Core AlphaDEX Fund (NASDAQ:FYX).
With FYX outperforming SLY December 15, 2011 thru February 15, 2012: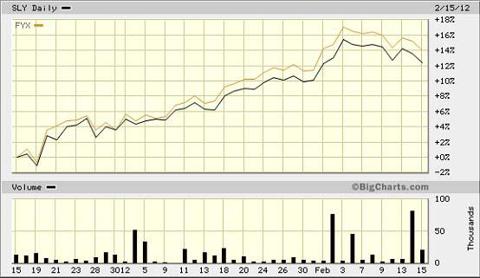 Click to enlarge
(Click to enlarge)
About even results in the 2010/2011 Mid December thru Mid February: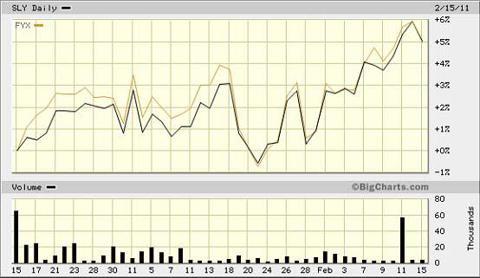 Click to enlarge
(Click to enlarge)
FYX outperforming SLY in the 2009/2010 snapshot: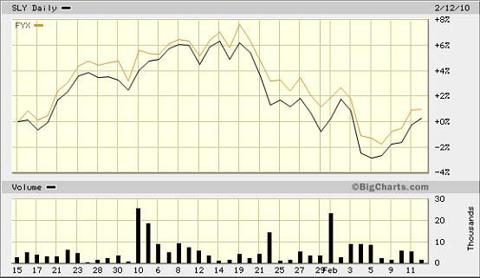 Click to enlarge
(Click to enlarge)
But the SLY outperforming FYX in the 12/15/08 thru 2/15/09 period: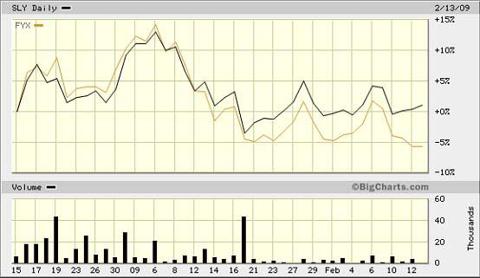 Click to enlarge
(Click to enlarge)
Bottom line is that this short term strategy and the particular investments you use within it may deserve a good hard look then watched closely if implemented.
Before you go, an interesting and important caveat... One of the whys behind the January effect is the belief that investors sell losers in December to take the capital loss for the tax year. Many shares are now held in retirement accounts so that point may be less of a motivation than in the past. But what about the anticipated rising dividend, interest and capital gains tax rates? Due to those potentially much higher cap gains taxes in 2013, is this a year (2012) where capital losses won't be taken until AFTER the new year?
Just something to think about.
Disclosure: I have no positions in any stocks mentioned, and no plans to initiate any positions within the next 72 hours. I wrote this article myself, and it expresses my own opinions. I am not receiving compensation for it (other than from Seeking Alpha). I have no business relationship with any company whose stock is mentioned in this article.
Additional disclosure: This is a potentially volatile short term strategy and is not meant as a recommendation to any individual or entity without first discussing its merits or drawbacks with their own personal financial advisor.