Fortis (OTCPK:FRTSF) is a utility distribution company operating mainly in Canada. They serve over 2,000,000 gas and electricity customers. FTS is the main electricity supplier in Newfoundland and Prince Edward Island. They recently started the process of buying CH Energy Group (NYSE:CHG), which delivers electricity to 300,000 customers in New York State. CHG also distributes natural gas to 75,000 customers. The purchase should be financed by $601 million of new common shares and $900 million in debt.
Besides their relatively small presence in the U.S., Fortis also operates power plants in the Cayman Islands. Their recent revenue drop is actually due to the loss of their power business in Belize, which was seized by that government in 2011. Most of their $13.6 billion assets are divided among electricity and gas plants: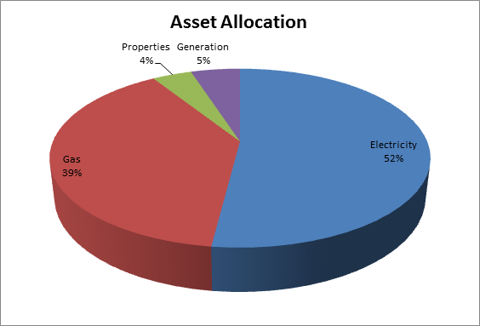 Click to enlarge
FTS Stock Chart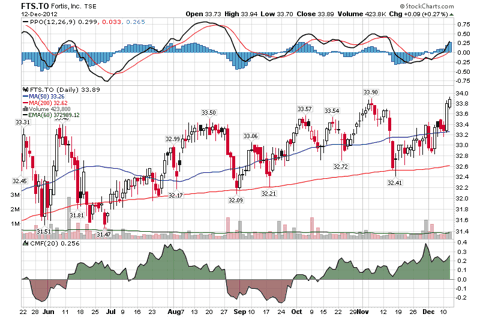 Click to enlarge
FTS Dividend Growth Chart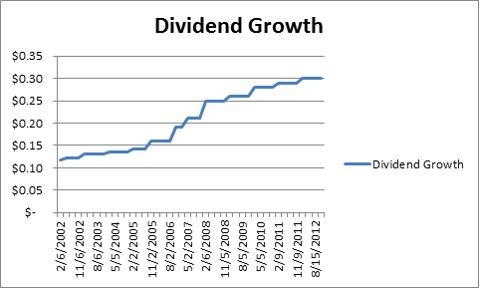 Click to enlarge
It's important to mention that Fortis has been increasing its dividend for the past 40 years on a consecutive basis, which means the company has made the podium for a Canadian dividend growth stock. Over the past six years, the payout ratio has been quite stable between 58% and 68%: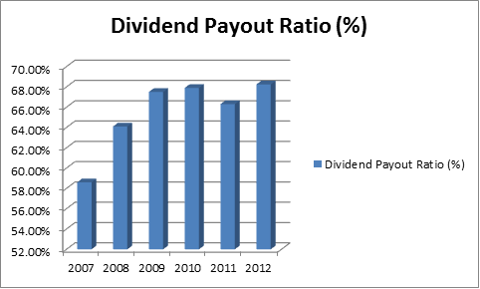 Click to enlarge
The Company Ratios and Financial Info:
| Ticker | FTS |
| --- | --- |
| Name | Fortis Inc/Canada |
| Dividend Metrics | |
| Current Dividend Yield | 3.64 |
| 5 year Dividend Growth | 7.91 |
| 1 year Dividend Growth | 3.45 |
| Company Metrics | |
| Sales Growth (1 year) | 2.46 |
| Sales Growth (5 year) | 2.13 |
| EPS growth (5 year) | 8.39 |
| P/E ratio | 19.76 |
| P/E Next Year | 18.24 |
| Margins growth | #VALUE! |
| Payout ratio | 68.24 |
| Return on Equity | 8.12 |
| Debt to Capital Ratio | 0.94 |
The evolution of the EPS compared to dividend growth is still pretty much in line: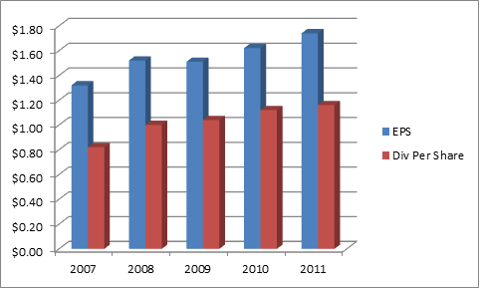 Click to enlarge
You can see here the determination that management has to align the dividend payouts according to the success of the company.
What worries me a bit is the five-year sales growth that is anemic (2.13%). While FTS has worked on its business to make it more profitable, the slow sales growth could reduce their potential of increasing their dividend by nearly 8% annually. You can also see that the dividend was only increased by 3.45% last year.
Probably due to its impressive dividend growth performance, FTS is trading relatively high compared to the overall TSX. Its current P/E ratio is at 19.76.
Fortis' Upcoming Opportunities and Dangers
Fortis has clearly established its core business a while ago and has stuck to the electricity and natural gas businesses. This is definitely a great sign of stability for current investors as its main market, Canada, shows a strong economy and should continue to expand in the future. FTS strategy relies on its internal growth within their existing operations and external growth through expansion of its core business. I like the fact that FTS is not taking too much risk in their operating business. So far, the growth has been coming from their operations in Western Canada but could eventually slowdown with the overall economic situation.
The evolution of power resources (notably natural gas) is probably the main danger for a company like Fortis. Since half of its assets are held in natural gas, any regulation (think of Belize) or price movement on the market can greatly affect its core business. Future massive investments to develop energy sources (shale gas) can also be required in the future. Fortis will eventually have to move towards greener energy sources and invest massively if they want to keep up with ever changing regulations.
Final Thoughts on Fortis
Fortis is definitely a synonym of stability among utilities in Canada. Its main markets are relatively safe for now and should benefit from a natural growth. If the purchase of CHG is approved by regulators and completed, FTS should be able to seek growth from this acquisition.
In my opinion, FTS is trading at a relatively high price, but it's the premium to pay for a strong dividend growth stock.
Disclaimer: I do not hold shares of OTCPK:FRTSF in my portfolio.