Some Recent Unusual Global Weather Events
To begin with, here is a partial list of some of the more unusual climatic occurrences over the past few weeks. Some of these weather events have had direct market impacts, while others have not.
1) Blinding snows in Southeastern Europe, in which over a dozen people have been killed this past week.
2) Over 200 record high temperatures across the Plains, Midwest and Northeast a week ago, making it one of the top five warmest early Decembers in 100 years.
3) An unusual December Typhoon that killed hundreds in the Philippines and caused some minor damage to sugar cane crops.
4) One of the driest Novembers on record in Florida, which has shaved 4% off this year's Florida citrus crop.
5) The wheat crop from Nebraska to Texas is off to one of the worst starts since 1986 when the USDA started reporting on fall crop prospects.
6) 300-400% above normal rainfall in Argentina's primary corn and soybean growing area. This could lower corn acreage a bit, while potentially increasing soybean acreage.
7) A devastating drought in New South Wales, Australia, in which their cotton crop is at risk of being cut some 20% or more from earlier estimates. Reservoirs are at the lowest level in recent memory. This follows a drought that adversely affected the Australian wheat crop a few months ago.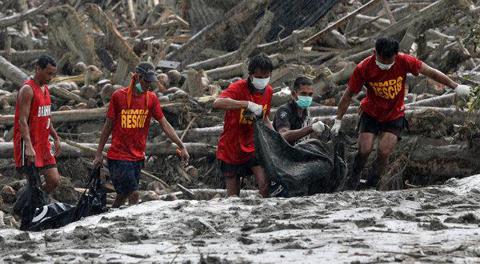 Source: NY Times
The death toll from Typhoon Bopha reached 450 this week. A year ago, more than 1300 people were killed by Typhoon Washi. This could be more evidence of climate change and deforestation that is worsening the situation.
A Look At Climatic Factors Affecting Global Winter Weather
The atmosphere is in a confused state of transition, making long range forecasting a bit more difficult than it normally is. We are in between both an El Nino and La Nina event, in which ocean temperatures in the Equatorial Pacific have cooled off. In certain parts of the world, El Nino type conditions have prevailed (Summer Indian drought; drought in Australia and heavy rains in Argentina). In other regions, the atmosphere has exhibited more La Nina type of behavior (the ongoing drought in Texas, Kansas, Oklahoma, Nebraska, Iowa and South Dakota).
There are three other distinct Northern Hemisphere climatic patterns worth nothing that will shape the weather in the United States and Europe for the remainder of the winter. Two of these are the Pacific Decadal Oscillation Index (PDO) and the North Atlantic Oscillation Index (NYSE:NAO). Both of these indices are going to be negative for the remainder of the winter. In layman's terms, a negative PDO index means that ocean temperatures off the coast of California and in the eastern Pacific are cooler than normal, but warmer than normal east of Asia. With a negative NAO index, warm blocking patterns set up over Greenland and Iceland and can sometimes force cold air down into the United States, Asia and/or Europe. Currently, the main brunt of the cold has been over Europe and hence, both natural gas and heating oil prices have taken it on the chin in recent days.
The -PDO has thus far prevented any major cold from entering the United States, as there is a lack of a ridge out west, made evident by the recent floods in California and mountain snows.
The third climatic pattern worth noting is the incredibly warm ocean temperatures off the eastern United States. These warm ocean waters helped to feed Hurricane Sandy and bring it further west into New York and New Jersey. They may also act to limit any major, sustained cold weather from affecting the eastern U.S. this winter, though the first winter snowstorm of December may hit the Northeast around December 19th.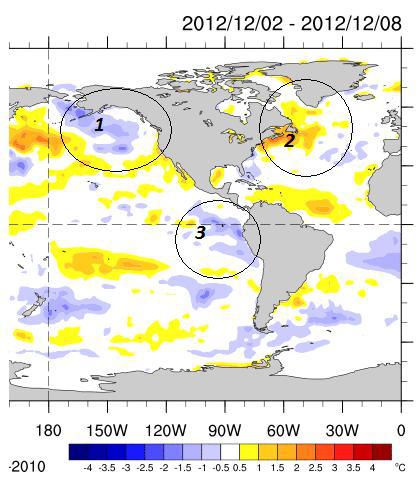 SOURCE: NOA/ESRL/PSD
The graphic above displays ocean temperature anomalies. #1 shows the cool pool in the Gulf of Alaska and the -PDO signal we discussed above. This will keep much of California and the west stormy and cold heading into late December, and will be a great shot in the arm for ski areas out west. However, it may also prevent most key U.S. energy areas from seeing extreme sustained cold. #2 represents the warm Atlantic that helped to bring Hurricane Sandy over New York and New Jersey. This warm region has created a -NAO and helped Europe turn cold and snowy recently. #3 shows cooling in the eastern Pacific off the coast of Chile. This cooling means that West African cocoa regions may have beneficial weather and there is no El Nino. If cooling continues further west and La Nina forms later this winter or spring, it may have an adverse effect on South American crops and the Plains drought for wheat might worsen.
The Importance Of South American Weather And A Look At Some Commodities Partially Affected By Weather Conditions
In coming weeks, the weather in South America will have a big impact on the production of corn and soybeans, and will influence their price movements. El Nino neutral conditions (In between El Nina/La Nina) will dominate. Historically, this results in normal to above normal corn and soybean yields in Argentina, and normal to slightly below normal yields in Brazil. However, recent flood issues in Argentina could aggravate production somewhat. Given the big Chinese crops last summer, a heavy long position in corn and soybeans, and my forecasts for a mostly benign South American weather, I feel that overall, these markets will have a hard time rallying very much. There is a seasonal tendency in 13 of the last 15 years for soybean prices to rally in the last two weeks of December. However, there are a lot of traders who are bullish on corn, and poor demand and generally good South American weather will mean that prices will have a hard time rallying.
In the case of wheat, we mentioned that prices might be supported by the ongoing drought in the Plains and earlier weather woes in Australia and Argentina. However, the USDA is expecting world wheat acreage to increase in 2013, and stocks are not as tight as previously thought. Hence, wheat traders will not really begin trading U.S. weather until sometime this spring, and the market may be more at the mercy of what corn futures do in coming weeks.
I still look for cotton futures to remain above 70 cents/lb. This is due to the ongoing Australia drought, surprisingly large imports from China and expectations that world acreage may decrease some 10% or more in 2013. If China, Texas and India have weather problems next spring and summer, prices could rally 20% or more from here.
Cocoa prices are treading water currently as traders are trying to figure out what is more important -- the fact that we will have a partial world deficit heading into 2013 (slightly bullish), versus worries over European demand (neutral to bearish), and my forecast for a general weak Harmattan Wind this winter. Realistically, without additional crop issues to the West African crop this winter/spring or a sudden increase in world demand, cocoa prices may stay range bound, or even drift lower for now.
Coffee futures continue to collapse in part due to the robust Vietnam crop coming onto the market and ideas that even in a off-cycle crop year, Brazil may produce in excess of 43 million bags of coffee this next year. While Minas Gerias, Brazil (key coffee area) has been drier than normal, beneficial rains are on the way in coming weeks. If rains fail to materialize in the next week or so, then coffee prices would be oversold, in my opinion. However, producers have a lot to sell, and European demand for coffee has collapsed due their economic woes.
I still believe that natural gas prices will have a hard time rallying above $4.00. The current warm spell has helped prices break about 17% the last three weeks. There will be plenty of short-term trading opportunities based on weather maps and 1-2 week weather patterns. I have a hard time forecasting prices falling as low as they did last winter, since I do expect some occasional brief periods of cold weather due to the -NAO discussed above, but for now, I remain mostly in the neutral to bearish camp medium term until I see sustained cold weather.
The crude complex got a bit of a short-term price boost in the last day or so on expectations that OPEC would not change its production quota. In addition, prices rallied after the Fed decided to expand its bond buying program, and this pushed the dollar a bit weaker. With colder weather in the eastern United States next week, heating oil prices could be supported (next week) relative to crude oil and gasoline. However, I do not anticipate a major, longer-term cold spell for awhile, and heating oil prices may fall again later.
In orange juice, prices have staged a modest 5-10% rally the last few weeks, as there are reports of fruit dropping due to dry weather in Florida. November was one of the driest in 100 years in South Florida. The weather forecast is mixed, with some short-term improvement from rains, but there are still a few concerns that Florida production may continue to fall slightly. However, without a major frost and poor consumer demand, I anticipate that OJ prices could fall later this winter. Because we are in between El Nino and La Nina, it is not clear cut if widespread drought easing rains will bless Florida as we head into 2013. This may support OJ prices for the time being, with possible lower prices later this winter.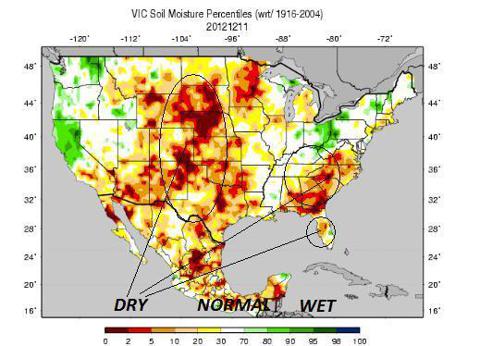 SOURCE: NCDC/NOAA
The drought map above shows the expanding dryness covering parts of central and SW Florida up into Georgia and the Carolinas. It is too early to trade cotton and grains on U.S. dryness, as the market will focus on Southern Hemisphere weather and the world demand situation, which right now, is lousy for corn and better for cotton. However, orange juice traders are carefully watching the drought situation, in which prices may stay firm, even without a freeze threat.
Disclosure: I have no positions in any stocks mentioned, and no plans to initiate any positions within the next 72 hours. I wrote this article myself, and it expresses my own opinions. I am not receiving compensation for it (other than from Seeking Alpha). I have no business relationship with any company whose stock is mentioned in this article.