The October 27, 2008 issue of Forbes lists the 200 best small companies of the U.S. These may be good companies, but I want to know whether they are good investments. So I've set up a new challenge.
My goal - go through each company and find the ones worthy of investment.
Since there are 200 companies to go through, the search process will have to be quite mechanical and quick in order to get through the list and to filter out the less than stellar companies.
Immediately exclude financials (don't understand or know how to value them)
Run the companies through the intrinsic value spreadsheet with the P/E as the growth rate, but capped at 15%. The selected companies shall exhibit:

Positive, consistent and growing cash flows.

Consistent margins. Fluctuating/decreasing margins over several years will not be accepted unless the other criteria are outstanding.

Above average returns from capital investments (CROIC, ROE, ROA)

Companies should have at least 5 years of operating history
The companies that make the cut will then be reviewed individually
Going through the first 15 have already produced 7 candidates for further analysis. They are:
Just by looking at the numbers I can see why they made the list.
Also, these companies have all been trading at a premium, and some still are, until recently. See the table below: [click to enlarge]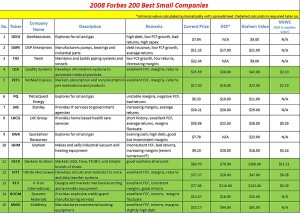 If potentially good companies keep appearing at this rate, I'll be very busy over the holiday season.
I'll be posting updates as I continue down the list so check back soon.