From 2012 to 2020: Where the new leadership may steer China's economy, and what investors should know
Success And Succession
Change is in the air. With both China and the U.S. having chosen their leaders in the fall, the world's two most important economies are now set on a new trajectory -- new plans, new reforms, new investment opportunities. For the global economy, the two elections and the new leaders' relationship with each other will prove significant in the years ahead. The economic fates of China and the U.S. are tied together, similar to how the book Superfusion illustrates this symbiotic economic relationship between the two powers. In order to dig under the current election news waves, one must understand a bit of Chinese logic toward the world, the new leaders and how these will affect the country's economic landscape for the next 10 years.
It seems evident that since Deng Xiaoping's dictum for foreign policy of taoguangyanghui (韬光养晦 - covering the light and raising darkness, covering true capabilities), China's policies have moved into a more assertive phase. During the last decade under Hu Jintao's leadership, the peaceful rise (hepingjueqi 和平崛起) slogan created a path for advancing military might, economic prowess and soft power (Confucian Institutes) under a non-interventionist,peace-above-all banner. However, we can see clouds forming on the horizon (island disputes, Taiwan, African arms sales, etc.) that predict another form of change: a more confident and assertive nation finding its voice. The question remains: where will the new leaders steer the growing power?
Many people speculate on what the new leaders will bring to China. The country is in need of a lot of reform, be it social, economic or political (although its leaders mainly talk about the first two). A recent article from CNN describes the five major challenges facing the country: factional divisions, low income, one child policy reform, island disputes and environmental issues. Solving these and advancing the economy will be arduous tasks, through which a lot of new investment opportunities present themselves. So how will the next phase of China's economic landscape of 2012-2020 change in favor for foreign investors?
Change: Economic Opening And Consumption-Led Growth
In Chinese, the word reform is two characters that both mean change (gaige 改革 - 改 to alter, to correct and 革 to change, transform). True to the word, there will be two major changes -- economic and social, shifting the economy from an export-driven one to a more domestic consumption-led one, thus continuing to create a solid consumer base for the future. This is a mammoth task for China, as its export and investment dependence, social wealth system, income levels and inequality don't support a consumption-led economy at the moment. With the world's largest amount of bad debt -- around 48% of GDP -- China needs less fixed asset investments. The argument here is that China's new leaders will be much more economic-focused and investment-centric. These assumptions seem to be supported by their track records.
Xi Jinping:
Like father like son - princeling roots, revolutionary hero and economic reformer father background. Strong network of allies in Party, thus he is confident in Party background and has strong economic record (Zhejiang and Fuzhou positions, Tsinghua University education, military experience). He should be a champion of businessmen (spurring growth in Zhejiang, Shanghai roles, anti-corruption stance).
Understanding and affinity to the West, especially U.S. (1985 Iowa time). He is popular in foreign politicians' eyes, viewed as more open, steady and innovative than his predecessor. His daughter also studied at Harvard.
Appeal to public - popular folk singer wife Peng Liyuan. Ability to build consensus and low profile, not many enemies through his ascent to power. Big plus is his youth roots with China's working class (Shaanxi cave-dwelling village life) enabling him to be accepted by all ranks of Chinese society -- a type of leader China now needs with its social tensions.
Overall, Xi seems to be a more assertive figure than Hu Jintao -- one who appeals more to the general public, has a business background and understands the West better.
Li Keqiang:
Grassroots (caogen 草根) - Party upbringing similar to Xi (Youth Communist League) provides strong legitimacy and network within CCP. However, Li has humbler roots, didn't have a "privileged" background from the start, and worked his way up in Party ladder alone.
Tenures in provinces provided business mindset (China's youngest governor of Henan, Liaoning port projects, 2010 Word Economic Forum speech). Strong educational foundation at Peking University and a PhD in Economics make him a viable force for pushing through economic reforms.
Less ties with and understanding about the West, but daughter also studied in the U.S.
According to BBC, Li is a more cautious leader than Xi and has a more rugged appeal. All in all, they both connect well with China's urban class and middle-class, a connection that will be much needed in the coming years. They represent two distinct camps: Xi Jinping's camp is the one more loyal to Jiang Zemin's group, who built careers in the East, are very capitalistic and are against democratic reforms. Li Keqiang's group is influenced by Hu Jintao, who came up in the Party's Youth League and stand for social harmony and tolerable lifestyles for workers and peasants.
In terms of a broader Party picture, with less people at the top (seven instead of the nine before) the decision-making process should be more streamlined and push for quicker results. The big issue is the bottom of the Party, with cadres and local government officials, connected giant state-owned operations (SOEs) and other vested interest groups who need to maintain status quo. How the top's more concentrated decision making power will impact lower levels remains to be seen.
Nevertheless, the reason for progress is the peculiar nature that many Westerners don't initially grasp. In China, people under age 40 have been accustomed to one thing in their lifetime: double digit exponential economic growth. The annual around 10% is the benchmark, and the Party has to deliver. It has to keep the pace up as it did for some decades. Its legitimacy depends on its ability to keep the status quo, give people a better life and find ways to keep the momentum. Unlike governments in the U.S. and EU, where there is a strong and independent private sector largely unaffected by policy decisions, the CCP's control over economy and politics is ubiquitous and thus, leaves no room for error. Therefore, it will be either boom or bust -- more likely incremental boom.
Figure 1. China age pyramid 1950-2050 (click here for movement)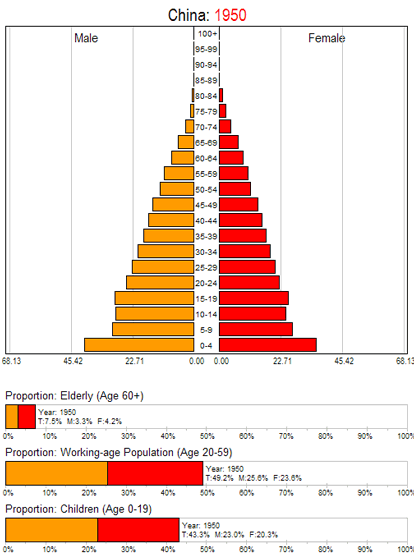 Source: United Nations World Population Division
Darkness In The Tunnel
There are surmountable problems facing China. The question is, how will the new leadership's more business-minded top leaders and streamlined decision-making be effective in addressing them?
Corruption and the ubiquitous reach of SOEs
As the People's Insurance Company (OTCPK:PPCCF) went public in November in one of the largest offerings of the year, many of the cornerstone investors were state-owned enterprises. There is more and more resentment internationally about how China's SOEs' power is widespread. In order to tread along the path of a consumer-led growth model, the SOEs' power needs to be curbed. Big companies, such as Sinopec, China Mobile and ICBC are treading on international ground now. Their business practices and their unfair government subsidies and support are destructive to international competitors. China surpassed Japan in its Fortune 500 listings, with above 60 companies included in the gilded group. Looking at it more closely, though, one can see the pattern: strategic industries are omnipresent, and these behemoth companies (Sinopec, China National Petroleum, State Grid, China Mobile, China Railways, China Life Insurance, etc.) all are heavily funded by the government. Corruption, unfair business practices and subsidies are rampant and don't comply with WTO regulations, to say the least.
Some hope that Wang Qishan, the new anti-corruption chief, will get the job done and clear up some of the landscape, as his track record attests. In some ways, it's already an encouraging sign that the new leadership has started acting upon their reform words (banning red carpet at CCP gatherings and luxury cars).
Bad loan and stock market nightmare
As Bloomberg shows, non-performing loans rose by 22.4B yuan ($3.6 billion) in the three months ended September 30, to 478.8B yuan. Bad loans increased at all types of institutions, including the largest state-owned lenders, rural banks and foreign banks. These NPLs tie in with the large SOE sector; many industries have excess capacity after aggressive expansion ahead of demand growth. The bad loan phenomenon and insufficiencies in the economy seemed to be priced into the Shanghai Composite, which has rebounded above 2000 points after the December 4th CPC Central Committee conference's encouraging signs for new macro-policies. The market remains choppy in China, and it's uncertain where it is headed.
Figure 2. Sectors with high NPLs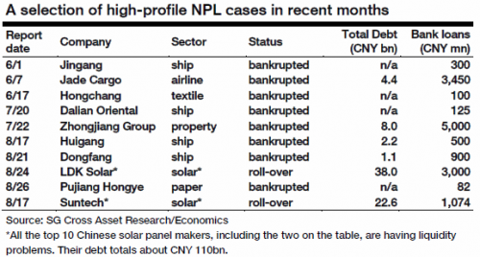 James McGregor, a senior counselor for APCO Worldwide and long-time China hand explained in a recent event hosted by AmCham-China that there is a unique characteristic to Chinese cyber espionage: its sheer size, the new targets it focuses on (anything and everything from small trade companies to big firms), and its ties with the PLA. There has always been hacking coming out of China, however, these activities recently seem to have gained in giant proportions, and are quite destructive to the operations of U.S. and Western companies with ties to the region. See the U.S.-China Economic and Security Review Commission's warning for more information.
The major underlying social classification system in China that is almost invisible to the Western eye is the so-called household registration system (hukou 户口, hu - door, kou - mouth, classifier). It is the registered residency status of a person, and thus, creates a social divide between those registered in big tier 1 cities like Beijing and Shanghai, and the hundred-plus millions in rural areas. The working class migrants are considered "outsiders" in f.e. Beijing, where they flock en masse for higher wages and better prospects.
The harsh reality is that they are not entitled the same services (schooling, health care, owning real-estate) as residents registered under the Beijing hukou. This is detrimental to building a united and stronger domestic consumer base, as these "villagers" live on the outside of the cities, work for pennies and are not always able to stay permanently in the urban zones. Thus, large rural and urban disparity will remain until this system gets reformed. One possible solution would be to create satellite cities around major metropolises where non-hukou holders can buy property, send their kids to schools and have their own community hospitals. This way, they still can enjoy urbanization's benefits in the proximity of major cities such as Beijing, Shanghai, etc.
Overall, there are a lot of dark patches in terms of China's future outlook (environmental issues, freedom of speech, growing social tensions, stock market volatility, female-male ratio imbalance), which unaddressed, can hamper growth. In the meantime, let's wait for the policy documents Beijing will deliver shortly -- these will provide more concrete assumptions for the future. The flight of capital of the newly rich is also a warning sign that if the wealthy are trying hard to stash away their cash in safe locations away from the regime's glaring eyes, something is not kosher in the country.
Bright Spots At The End Of The Tunnel
Trends and developments in key industries of the 12th Five-year plan foreign investors should focus on that may provide significant returns in the near future:
1) Financial sector opening: more international, more transparency?
The 2020 Shanghai financial center means a major opening of the financial system, continuing along the path of RMB internationalization and systematic reform in the economic imbalance in trade between the U.S. and China. A more open and international financial system (more banks, loans, saving incentives for the public) reinforces the domestic consumption-led growth trend, helps strengthen the renminbi and allows real wages and interest rates to rise. According to Guggenheim Partners and the IMF, China's U.S. Treasury holdings may decline, similar to Japan after the Bretton Woods collapse.
China's decreasing U.S. Treasuries show an increasing trend of the CCP to lessen the country's dependence on the dollar and the U.S. economy. From the peak of $1.31 trillion in July 2011, the current number is $1.15 trillion for September 2012.
Figure. 3. China's U.S. Treasury holdings

Source: Department of the Treasury/Federal Reserve Board
In my last article, I explained the forming RMB bloc around China, and strategies the country is undertaking to incrementally internationalize the renminbi. The Chinese are looking to hedge their currency, and an over-reliance on the dollar will not help build their RMB strategies and strengthen domestic consumption. As many analysts believe, investing in the RMB can be a viable long-term strategy.
WisdomTree Dreyfus Chinese Yuan Fund (CYB): A good short-term investment grade tool for those investors who want exposure to money market rates in China and the yuan/dollar relationship.
Market Vectors Chinese Renminbi ETN (CNY): Open to credit risk and uses rolling, three-month currency futures contracts.
CurrencyShares Chinese Renminbi Trust (FXCH): Low cost ETF is a good choice for investors that want a buy-and-hold investment focused on the yuan. At 0.40%, this fund has the lowest expense ratio of yuan-focused funds.
The Wenzhou experiment
The shadow banking development is a small but important step that many observers may not fully grasp. As the Economist recently detailed, this step represents another supporting argument towards the commitment of the CCP to strengthen the domestic financial system, provide private loans to entrepreneurs and move away from the rampant "loan shark" system. If this loan experiment grows to a larger or national scale, it can provide a more sound footing for domestic consumption-led growth.
Financial services: China UnionPay
China UnionPay, the privately held de facto paying service in China is a major gamechanger. McGregor also highlights the company in his latest book (No Ancient Wisdom, No Followers: The Challenges of Chinese Authoritarian Capitalism) as one that reached a "national champion trifecta status: a rock-solid domestic card transaction monopoly, ownership of a proprietary re-innovated technology standard, and a global network poised to compete against the industry's global leaders." In 2010, the company partnered with PayPal, starting to broaden its reach. UnionPay is so widely used among Chinese consumers that when they go abroad and shop in London, some luxury merchants have special swiping machines for their cards, which the Chinese automatically expect.
Superbank: China Development Bank
There is a bank in China that has replaced the World Bank as the world's largest development bank, argue Henry Sanderson and Michael Forsythe, the authors of the book,China's Superbank. CBD is fully owned by the CCP, and its aim is to further China's policy directives across the globe, especially in Africa and South America (Venezuela). CBD initially funded the China-Africa Development private-equity fund (set to reach $5B), which has been set up to help Chinese investments in Africa with advising, financing for Sino-African companies and seeking long-term, low-risk investment opportunities (infrastructure, commodities, mining, agriculture). CBD is the bank that is at the heart of backing the major Chinese enterprises going global and furthering China's economic reach. Its impact will undoubtedly increase in the coming years.
2) Consumer society
E-commerce: Alibaba and Alipay
For the 2012-2020 period, it seems intuitive to build upon the stronger consumption-led growth in China. Companies to highlight would be domestic e-commerce B2C websites Alibaba (OTC:ALBIY) and 360buy.com. Alibaba has Taobao and T-mall as side operations. Among Chinese consumers, Taobao is similar to eBay, with an attached online marketplace, tmall.com. Just this portion of the website now accounts for more than 33% of the B2C online retail market in China, after 360buy.com and Amazon.cn. To taste the things to come, another staggering fact: T-mall broke all single day sales records on 11 November 2012, when it processed a staggering $2.1b in a single day. Previously, Amazon held this record in the U.S. on "Cyber Monday" in 2011.
Furthermore, Alibaba has its own payment system similar to PayPal, called Alipay. In November, it forged a partnership with 7-Eleven in Hong Kong to sell Alipay vouchers. This development is a harbinger for trends showing how online retail and brick-and-mortar retailers are connecting and converging.
Figure 4. Top three internet retailers 2010-2017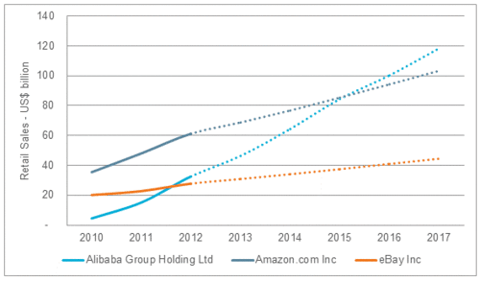 Source: Euromonitor International
With mobile penetration topping 50% in China, it is no wonder the below chart shows the sheer size of what is coming. The reason this trend will continue is that Taobao and such services are very affordable. Young people are increasingly buying clothes, electronics, house machines and so on online or via apps, and cheaply get them delivered to their door -- convenience, consumerism and cost effectiveness all in one.
Figure 5. E-Commerce consumer base China vs. US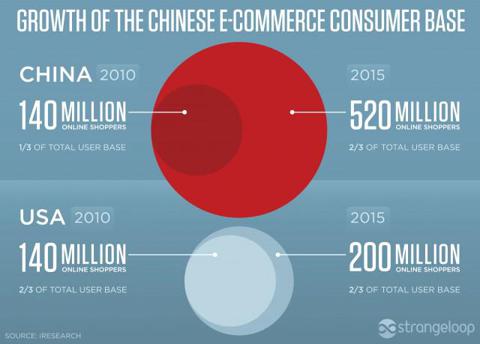 Source: Iresearch
Domestic mobile companies: Xiaomi and Huawei
Mobile phone brands such as Oppo, Xiaomi, Meizu, TCL, ZTE and Ningbo Bird may not spark much attention in the West, as they are quite domestic players, but cell phone price wars in China are fierce, and these manufacturers are able to (at the moment) replicate much of what Apple or Samsung produces. It wouldn't be surprising if we saw one of these companies on the global stage in the next few years with its own innovations (branding is a different matter) at affordable prices to emerging and even mature consumers.
Xiaomi, a mobile phone company that just turned $2b in sales in just its second year, is given high remarks in its domestic market. One of its investors, Qiming Venture Partners, explains that it is one of the fastest-growing companies to hit $1b in sales and also be profitable -- faster than Google (NASDAQ:GOOG), Apple (NASDAQ:AAPL), Facebook (NASDAQ:FB) and Microsoft (MSFT. If it can innovate and broaden its costumer reach, it may be worthwhile to keep an eye on.
Another interesting and dreaded (the Economist calls it "the company that spooked the world") player among the telecom segment is Huawei. There is currently speculation that it will go public. Although there is very sensible and thorough scrutiny around the secretive scheming of the company (PLA ties), it is a disruptor within the telecom sector and should garner some attention. It is gaining traction in Europe, but could not penetrate the U.S. telecom segment yet.
3) Western development: Investing inward (tier 2+ cities)
Is there a real-estate bubble? The great Western Development (xibu dakaifa 西部大开发) underscores that the interior is growing faster than the coast, creates new reforms to migration and land transfer policies to increase labor force productivity in the future.
Drifting to some China-related equity investment options in real estate, an ETF that is currently highly valued but may continue to benefit from growth (if there is no bubble) is the Guggenheim China Real Estate ETF (NYSEARCA:TAO), and big real estate companies such as Wanda Group. Cities of focus for foreign investments are Chongqing, Lanzhou, Kunming and Urumqi, where more construction and infrastructure developments are underway. Beyond Beijing and other tier 1 coastal cities, much of the future investments will be based in urbanizing tier 2-3 cities, of which there are plenty (secondary provincial capitals and prefecture/county level city capitals).
The Chongqing Metro and its future developments is an interesting area supporting continued money flowing into infrastructural projects. There are major metro constructions underway in the Northeastern city of Shenzhen as well. These cities need housing, better infrastructure and services catering to urbanites. All to come in the next few years.
4) Steady growth: Education and health care sectors
Other key industries that are going to drive growth in the 2012-2020 period are education and health care. There is a booming demand for private education, especially for teaching English and private classes for young children. New Oriental (NYSE:EDU), a company that is riding the wave of the growth in the segment, has now branched out and offers classes in many subjects.
With an elderly population and the future effects of the one-child policy (where the single child will have to support the parents in retirement age) hospitals, clinics and health care products in general will increase in demand. Kohlberg Kravis Roberts & Co LP (NYSE:KKR) announced this year that it will invest $65m via its China Growth Fund LP into China's largest cord blood bank, China Cord Blood Corporation (NYSE:CO) for 23.8% of its shares. CCBC has traded on the NYSE since 2009. Other U.S.-listed Chinese health care provider companies of interest may include Concord Medical Services (NYSE:CCM), among others.
5) Miscellaneous investment opportunities
To get broader market exposure and ride the consumption-led growth in China, investors can focus on general ETFs that track many sectors within China's economy, such as BlackRock's iShares FTSE China 25(NYSEARCA:FXI), or Global X China (NYSEARCA:CHIQ), a specific consumer segment ETF. The iShares FTSE/Xinhua China 25 Index trails the 25 largest and most liquid companies. All the companies on FXI are part of the FTSE All-World Index and are traded on the Hong Kong stock exchange, providing access and transparency to international investors seeking to invest in mainland China. If China's stock markets are down and the valuations are cheap like now, FXI is a good move to capture the possible upside in the next few months for Chinese stocks. The Global X China Consumer ETF is an investment opportunity to capture domestic consumption growth within the country. It should be viewed as a long-term play.
Overall, change is in the air.
Within the most important bilateral relationship of our time, the U.S. and China need to work together more than ever. 2015 will be a decisive year for China, as the 13th Five-Year Plan will go into effect, and we will see where the new strategic paths lie. With two distinct capitalistic models and international relations visions (Washington vs. Beijing consensus), the two powers need to find a balance and mitigate disputes. Business between the U.S. and China is a way to enhance consumers' lives across the globe, increase investment opportunities and foster cultural understanding, all of which will be much needed in the future.
Disclosure: I have no positions in any stocks mentioned, and no plans to initiate any positions within the next 72 hours. I wrote this article myself, and it expresses my own opinions. I am not receiving compensation for it (other than from Seeking Alpha). I have no business relationship with any company whose stock is mentioned in this article.