Nike (NYSE:NKE) is a global leader in sporting footware, apparel and equipment. We have always been fans of their advertising - especially the one below. The visuals are now dated, but the music from John Lennon is just brilliant.
NKE is trading close to a 52-week low. So how does the current share price of NKE look from an intrinsic value perspective?
Valuecruncher valuation model of NKE with interactive assumptions
Valuecruncher produces a valuation of US$50.18 for NKE. This is a current valuation (an estimate of intrinsic value using a discounted cash flow model) not a target price. This valuation is 7.8% above the current share price of US$46.53.
Assumptions
Revenue: Reuters aggregates eight analysts covering NKE and these analysts have mean estimates of 2009 and 2010 revenues of US$20.26 billion and US$23.15 billion respectively. For our analysis we have used US$20.25 billion in 2009, US$21.75 billion in 2010 and US$22.25 billion in 2011.
Profitability: We have used an EBITDA margin of 14.0% in 2009 rising to 15.0% in 2010. Reuters has NKE's EBITDA margin at 14.5% last year and averaging 15.1% over the last five years.
Capital Expenditure: We have assumed capital expenditures of US$400 million per annum moving forward.
Discount Rate: 11.0%.
Terminal Growth Rate: 2.5%.
Our analysis incorporates the cash and debt on the NKE balance sheet – Valuecruncher calculates a net debt number.
Play with our assumptions – what does your analysis say?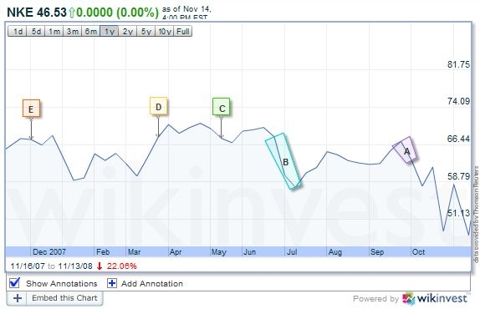 Disclosure: no positions