Amazon (NASDAQ:AMZN) is unlikely to turn a profit this year. AMZN's past 11 years saw net profit margins well below its major bricks and mortar competitors. Yet Jeff Bezos Is Fortune's Business Person Of The Year.
Years from now people may be wondering why he was selected.
Were the editors at Fortune looking only at stock price performance? If so, they got it right. As of December 11, 2012 Amazon (AMZN) shares were up 86.36% since year-end 2009.
Profitability peaked in 2010. Net dropped by 45.8% year-over-year in 2011. Consensus views for the year wrapping up (pun intended) this month indicate somewhere around break-even results. Share price performance has become totally detached from business results over the past couple of years.
Shoppers love Amazon's large selection and exceptional service. On-line buyers love the chance at free two-day shipping. Many customers are still able to buy without paying state and local sales tax, an AMZN feature that is now disappearing in many areas.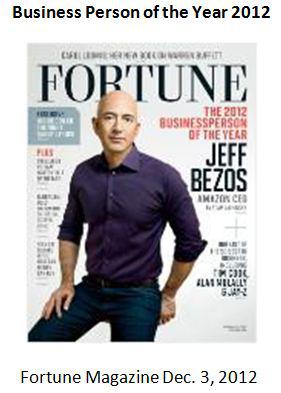 Compare Amazon's long-term corporate performance on any metric except sales growth and Bezos would not appear to merit Fortune's accolade. Gross revenues have skyrocketed since 2002. Profit margins are substandard, however, when compared with brick and mortar competitors Walmart (NYSE:WMT), Kohl's (NYSE:KSS) and Target (NYSE:TGT).
Amazon's record over the most recent 10 years has come full circle. They went from losses to decent profits and are now back to record high revenues, but without maintaining a positive bottom line.
Free shipping and price-matching have eroded Amazon's ability to actually make money.
Other big discount retailers have managed to far exceed Amazon's margins while operating in the same challenging marketplace. WMT, KSS and TGT posted their results despite being subject to physical store overhead and the 'show rooming' effects that have crimped Best Buy's (NYSE:BBY) business prospects.
The real enigma is in the stock's movement. A cult-like following and high short interest has research analysts in a bind. They don't want to show SELL ratings on 'hot' shares, even when they can find no fundamental justification for appreciation. Short squeezes occasionally send the stock up quickly, deservedly or not.
Standard & Poors carried a 3-Star (out of 5) HOLD rating on December 7th with the shares at $253.27. In that same report they calculated 'fair value' as $144.60, 42.9% below the publication date price. Their 12-month price target? $250. Why was this stock not a SELL?
Morningstar did not give a 1-year price target. They did assign AMZN a 3-star HOLD ranking. They called fair value as $250. I much prefer to hold shares that appear undervalued in relation to their present day quotes.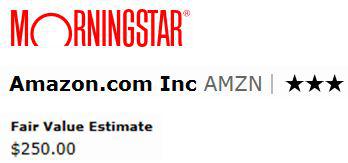 Well-respected research outfit Trefis is a bit less sanguine on Amazon's true value. Trefis carried a sum-of-the-parts 'value' price of $218 on Wednesday with the stock trading at $251.
Amazon pays no dividend. It is operating this year without net earnings. AMZN sells for almost 16 times book value. Currently profitable WMT, KSS and TGT are offered for modest P/Es while rewarding shareholders with 2.28% - 2.94% current yields.
Rational thinkers would not have anointed Jeff Bezos as Business Person of 2012. They would likely be sellers of AMZN at today's price.
Don't be blinded simply by fast growing revenues. Any business can grow their top line quickly when they are willing to move the merchandise at cost.
Disclosure: I have no positions in any stocks mentioned, and no plans to initiate any positions within the next 72 hours. I wrote this article myself, and it expresses my own opinions. I am not receiving compensation for it. I have no business relationship with any company whose stock is mentioned in this article.