ION Geophysical Corporation (NYSE:IO) is a small cap energy services firm that provides geophysical technology, services, and solutions for the oil and gas industry internationally. The stock traded north of $8.50 a share earlier in the year but has spent most of the last month trading listlessly in the $5.50 to $7.50 range. However, this cheap growth play got some positive comments and ratings from a couple of smaller analyst firms this week. The stock rose 10% on the back of these comments before falling along with the rest of market yesterday after chairman's Bernanke's press conference. Although these are smaller analyst firms, they are respected in the space and they could be the catalysts longer term that help these shares break out and move significantly higher.
Key recent positives for IO this week:
Dougherty & Company initiated the shares as a "Buy". The analyst firm sees strong demand for IO's multi-client and data processing services driving top and bottom line growth in excess of 15% and 25%, respectively
Barrington also initiated the shares as an "Outperform". The firm sees increasing demand for the company's product given the increasing complexity of finding reservoirs in unconventional places. It put an $8 price target on IO as well.
6 additional reasons IO is a solid growth play at $6 a share:
The stock sells for just over 11.5x forward earnings, a significant discount to its five year average (27.6).
An insider bought approximately $175K worth of shares a month ago.
Revenue growth is tracking to an over 15% gain in FY2012 and analysts have over 10% growth penciled in for FY2013. It solutions backlog stood at a record $200mm plus at end of third quarter.
Operating Cash Flow (OCF) has tripled over the past three years and IO sells at less than 7x OCF.
Given is approximate $1B and unique market niche, I could easily see IO eventually being acquired by a larger player looking to fill out their product lines.
The stock has a solid medium term technical support range just under the current stock price (See Chart).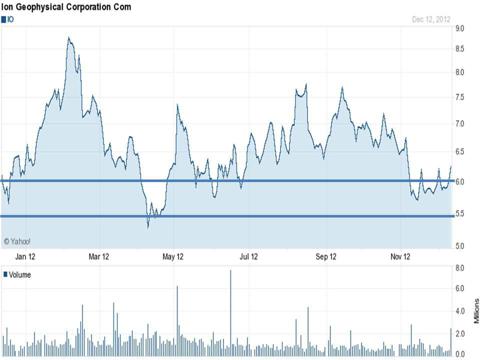 NOTE: IO received an unfavorable $105mm jury award for infringing on WesternGeco's patents. However, that award could be reduced by the judge prior to judgement award or on appeal. Total award as it stands is 10% of the company's market capitalization. The company has the cash on hand and credit facilities to cover if necessary, although I view full verdict as unlikely to stand.
Disclosure: I am long IO. I wrote this article myself, and it expresses my own opinions. I am not receiving compensation for it (other than from Seeking Alpha). I have no business relationship with any company whose stock is mentioned in this article.