YUM Restructuring
We're living in lean times in which everyone is scaling back and rethinking their old strategies; food and beverage ETF components are no exception.
Yum! Brands (YUM), which operates KFC, Taco Bell and Pizza Hut, is restructuring with an eye on the future. The strategy involves selling more company-owned stores to franchisees and eliminating jobs.
By restructuring the business, Yum says it will create more opportunities for growth and improve cost structure while operations will be more effective, reports Jonathon Blum, spokesman for the company. As of Wednesday, the company will have eliminated several hundred non-restaurant jobs, and shift a few hundred more by restructuring the U.S. businesses, reports the Associated Press.
Yum Brands says the restructuring was a project in the works all year and it is not in response to the economic downturn. Strong overseas sales, especially in China, appear to have offset weakness in the domestic market.
About 20% of the Taco Bell, KFC, and Pizza Hut stores in the United States are owned by Yum.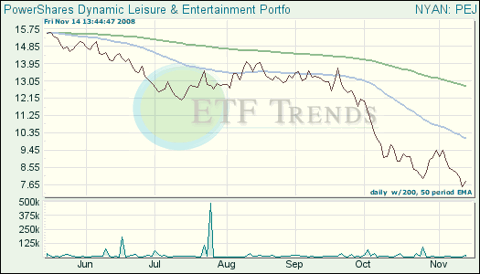 Click to enlarge
Telecom's Privacy Problems
Innovation is typically a good sign that will induce growth, but recent applications in wireless technologies may prove otherwise for telecommunications companies in ETFs.
After striking a potentially lucrative deal with Verizon Wireless (VZ), Walt Disney Co. (DIS) has plans to stay in wireless contact with theme park visitors, past and present, anywhere, reports Dawn Chmielewski for The Los Angeles Times. The plan allows visitors to download an application to their mobile phones that would allow Disney to pinpoint their location and recommend activities or restaurants to users.
The new service has broad implications for marketers and consumers, which may prove to be a controversial issue regarding privacy.
It is said that location-sensitive applications, such as the one Disney plans on using, are considered the next wave of marketing and advertising.
But will this help or hurt the telecoms? The industry's reputation is already tarnished by their role in wiretapping scandals; will people really want them to be able to track them?
The Bush administration acknowledged in August American telecom's role in domestic eavesdropping by the NSA, writes Eric Lichtblau for The New York Times.
There are those who think it vital for Congress to give retroactive legal immunity to companies assisting in the NSA program. AT&T (T) and other major carriers are being sued over their reported roles in the program which permitted eavesdropping without warrants.
Will these events keep their marketing efforts from catching on?
Telecom ETFs affected by privacy issues in the telecom industry include:
REITs SOS
Real estate ETFs and the housing market need a helping hand.
The FDIC is breaking with the Bush Administration and is now proposing a $24 billion plan to help 1.5 million Americans stay in their homes.
The Federal Deposit Insurance Corp. is proposing the government funding to help 1.5 million Americans avoid foreclosure. The FDIC posted the plan on its Web site two days after Treasury Secretary Henry Paulson rejected the idea of using money from the $700 billion bailout of the financial industry to pay for such a proposal, reports Alan Zibel for Associated Press. The Treasury has declined to comment.
The agency's plan would guarantee 2.2 million modified loans - mainly risky loans made to borrowers with weak credit or small down payments - through the end of next year. Borrowers would get reduced interest rates or longer loan terms to make their payments more affordable.
Freddie Mac (FRE) is asking for an initial injection of $13.8 billion from the government after posting third-quarter losses of $25.3 billion.
Alan Zibel for Associated Press reports the mortgage finance company is making the first request to tap the $200 billion promised by the Treasury Department to keep it and sibling company Fannie Mae (FNM) afloat after the two were seized by federal regulators more than two months ago.
The loss was mainly because of a $14.3 billion charge to reduce the value of tax assets, but also was driven by $9.1 billion in writedowns on mortgage securities, and $6 billion in credit losses because of soaring mortgage delinquency rates and foreclosures. Fannie Mae reported on Monday a $29 billion loss in the third quarter.
The mortgage company claims the economic turbulence is also affecting prime loans made to strong borrowers with good credit.
Real estate ETFs have taken a beating right alongside the market, so any plan put through by the government could help move them back into positive territory: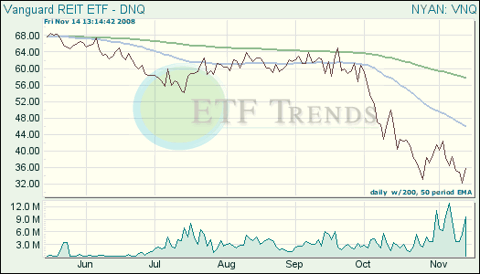 Click to enlarge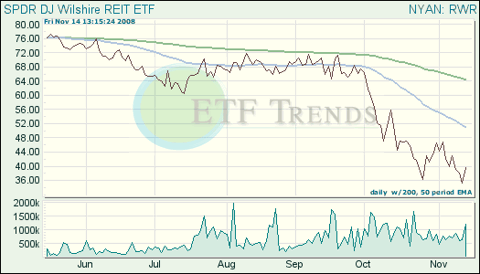 Click to enlarge