Yum Brands (NYSE:YUM) has been a favorite growth stock on Wall St. over the last year, and it has come to rival McDonald's (NYSE:MCD) as perhaps the most popular fast food investment. Yum, which owns a portfolio of popular food chains including Taco Bell, Kentucky Fried Chicken, and Pizza Hut, has been aggressive in growing their brands internationally, especially in China. Just before Thanksgiving the stock closed 40 cents shy of its 52 week high. In the week that followed, the stock reached a new 52 week high of $74.55, but tumbled almost 11% over the following weekend after an article in the Wall St. Journal reported Yum's growth in China was slowing.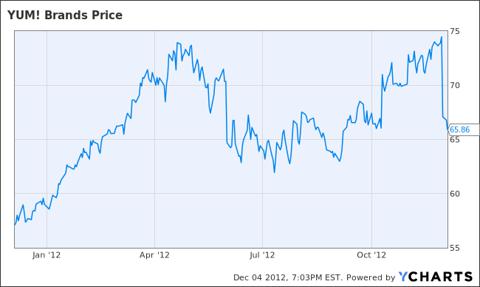 Click to enlarge
The recent price correction has brought the P/E and P/S ratios much closer to the 10 year averages 19.2 and 1.7 respectively, but still remain higher than the industry averages of 19.1 and 1.1 respectively. While these indicators might not warrant selling, it does warrant looking for an alternative, especially if the rumors about Yum's growth in China are true.
For those looking to stay in the fast food restaurant industry, the original golden arches could be a great opportunity. After announcing a decline in monthly sales for the first time in nine years on November 8th, McDonald's Corporation saw its share price fall to a new 52 week low of $83.31. Since the then, the stock has recovered to about $89.50, but remains down over 10% since the beginning of the year, providing a potential entry point for investors.
So how does Yum Brands stack up to McDonalds?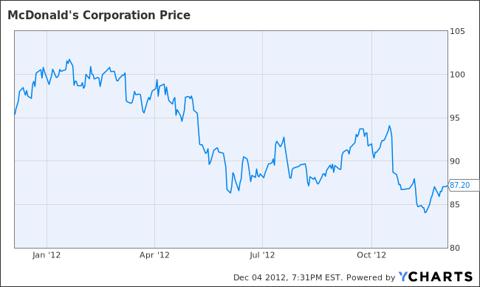 Click to enlarge
The Stronger Income Sheet
By calculations based on the financial data over at YCharts.com, Yum Brands has seen its revenue grow slightly faster than McDonald's (4.9% average annual growth vs. 4.3% in 2011), but it hasn't been translating to the bottom line for investors. This can be explained by looking at the gross margins, operating ratios (a measure used by investors to gauge the ability of an organization to generate profit if revenues decrease; when comparing two companies, a lower ratio is better), and net margins.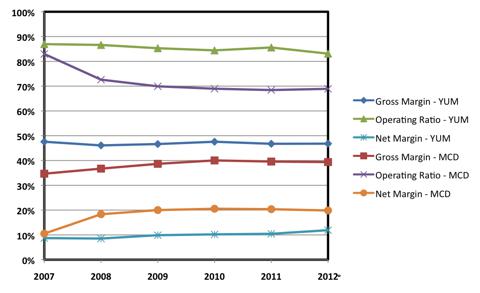 Click to enlarge
*2012 represents last 4 quarters combined
As an investor, we want to see high gross margins, high net margins and low operating ratios. While Yum Brands' gross margin is 5% higher, they are incurring higher Selling, General, Administrative expenses, driving up the operating ratio and suppressing the net margin. As result, Yum Brands' net income averaged an annual growth rate of 9.8% per year over the past five years compared to McDonalds' 23.1%.
In addition, higher net margin for MCD provides more safety by providing management with more options. For example, consider what would happen if food costs rise. In the highly competitive fast food industry, getting price right is critical. If MCD felt prices were elastic, they could elect to absorb the cost rather than raising prices allowing it to steal share from competition. With lower net margins, this might not be an option as it would end up creating a loss for the company.
Better Financing
At first glance the two companies appear comparable in terms of their financing. Both enjoy debt to operating income ratios below 2.5 times the 12 month trailing operating income and have less than 10% of their long term debt coming due within the year. The biggest difference is in the debt to equity ratio. Based on my calculations, the ratio of liabilities to stockholder equity plus treasury stock for Yum is 8 times higher than MCD (3.6 compared to 0.44). The higher ratio indicates that Yum using more debt to finance growth than MCD. Over the short term, this will help improve earnings per share, but over the long term, increase interest expense and potentially create more volatile earnings.
Higher Dividend and Valuation
My calculations based on the financial data at YCharts.com shows that from 2007 to 2011, MCD had an average annual EPS growth rate of 27.5% and dividend growth rate of 14%. In the same period, Yum had EPS and dividend growth rates of 12.7% and 19% respectively. If we assume these growth rates continue over the next 5 years, MCD earnings and dividend would grow from $5.33 and $2.53 to $14.06 and $5.20 per share. If the same were done for Yum, their earnings and dividends would grow from $2.81 and $1.04 per share to $4.54 and $5.49 per share. Using conservative P/E ratios of 14.3 for MCD and 12.9 for Yum, which represents the 10 years lows for both companies, future share prices are estimated to be $201.1 and $58.6.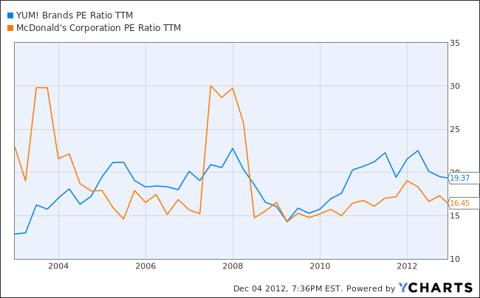 Click to enlarge
At these prices, average annual return based on today's prices excluding dividends, would be 23.7% for MCD and YUM -5.5%. If the current P/E ratios, which in the case of Yum Brands, has only been achieved three times in the last 10 years, are used to estimate future value, the resultant share prices are $228.2 and $98.2; average annual returns, excluding dividends, of 27.6% and 7.5%.
Conclusion
McDonald's Corporation is fundamentally stronger than Yum Brands. MCD enjoys higher, safer margins, significantly less debt financing, and higher earnings and dividend growth rates. Even if MCD's growth rate were halved over the next 5 years, the future earnings would be $8.92 per share. Using the conservative P/E of 14.3, the future share price would be $127.6 for an average annual return, excluding dividends, of 10.4%.
While MCD recently felt the effects of a slowing, economy, Yum felt it much more. This primarily because of the higher operating ratio of Yum; as growth slows, so does revenue, resulting in slower bottom line growth for investors. While slower economy hurts YUM, it the recent price drop in MCD could be a good opportunity to get into this great company at a low price. Risk of further short term downside can be hedged by using a dollar cost averaging strategy over the next few months.
Disclosure: I have no positions in any stocks mentioned, and no plans to initiate any positions within the next 72 hours.
Business relationship disclosure: This article was written by an analyst at Catalyst Investments.