Maybe the NYSE should only open for an hour a day and close at the point where it trades at 3pm EST. That's because by the real closing time, prices tend to be a lot lower.
In the end, the news of the accumulated gigantic losses from Freddie (FRE) & Fannie (FNM) and the black hole that is AIG (NYSE:AIG) gave the market a stark reminder that though huge on paper, the TARP may actually be far too small as the queue to join the rapidly shrinking pot now includes various US cities (Atlanta, San Jose, Phoenix and Philadelphia). And all the while in the background economic news goes from dire to diabolical.
Today's Market Moving Stories
The seemingly unending stream of grim economic news from the UK continues with news that the Rightmove November house prices index fell to a minus 7.1% YOY from –4.9% in October. The CBI is forecasting that the UK economy will shrink by 1.9% in 2009. That's the most since 1980. I can hear Ghost Town by the Specials in my mind. Looks like Norman Tebbit's old bike shop will be back in business. No wonder the pound is getting pounded.
Japan has joined the countries officially in the recession club with figures showing economic growth contracted 0.1% in Q3 following a revised drop of 0.9% in Q2 2008 as exports have tumbled with the stronger yen.
While a small fish, any sovereign default always leads to a further bout of risk aversion. The situation regarding Ecuador's potential non-payment of their Nov-15th $31 million coupon worsened over the weekend with President Correa continuing to warn of defaulting on their debt. They will seemingly use a 30-day grace period to decide whether to pay but I think this looks less likely the further commodity prices fall. This of course will pressure other LATAM countries as the giant sucking sound of monies being repatriated continues.
ECB chief economist Jurgen Stark (a noted hawk in the past) expects "a prolonged global recession well into 2009". So much for the ECB's staff projections and central base scenario as articulated by JC Trichet but 2 months ago. Seems they will be tearing these wildly optimistic projections based on the failed notion of the myth of decoupling and producing something for them to hang further rapid rate cuts on. In this regard the tame and restrained pay package negotiated by IG Metall last week will assuage their worries about the dreaded second round inflation effects.
More nods from the Fed in favour of a second big US fiscal stimulus came from Cleveland President Pianalto (a voter) who said that "signs point to a recession beyond just a garden variety downturn" (to coin a phrase) and that now was the time for "aggressive" fiscal policy. Meanwhile IMF head, the colourful Frenchman Strauss-Kahn said that his institution may need an extra $100bn in funding over the next six months. One wonders where it will come from. I think this will increasingly mean that a line is drawn in the sand between those countries who are basically sound and the basket cases which will be thrown to the wolves.
There are increasing fears for retailers post that shocker of a US retail sales figure Friday. It seems that every equity analyst, as ever behind the curve, still has to adjust their earnings estimates which remain on the wildly optimistic side. So this holiday season may be more a case of "wallets wide shut" than "shop 'til you drop."
And What Are We To Make of the G20?
As expected when you put 20 people plus the hangers-on in a room and don't invite the main player, you aren't going to make much substantive progress. So the G20 passes without a Marshall Plan or New Deal for the world. The markets are not likely to be impressed. The key messages were:
Those who can cut rates should do so ASAP (obviously the US has less scope here than Europe).
Any new fiscal stimuli measures would be welcomed.
Renewed commitment to the Doha trade round.
A March 31st deadline for proposals on a global regulatory framework ahead of the scheduled April G20 meeting.
So long on rhetoric and short on specifics, but I suppose we can be thankful that we didn't get a whole host of knee jerk, half baked populist responses with all the usual unintended negative consequences.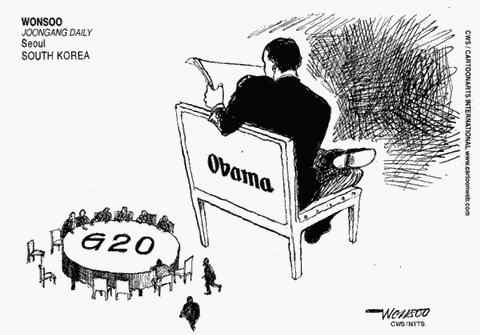 Disclosure: None