WesBanco Inc. (WSBC) reported its third straight quarter with a positive earnings surprise in late October, which boosted earnings estimates for this provider of commercial banking services. Furthermore, with a price-to-book (P/B) ratio of just 0.9, this Zacks #1 Rank (Strong Buy) is a true value pick.
Impressive Third-Quarter Results
On October 23, WesBanco earned 48 cents per share in the third quarter of 2012, topping the Zacks Consensus Estimate by 6.7% and last year's earnings by 17.1%. The upsurge was aided by increased non-interest income and lower provision for credit losses, partially offset by enhanced non-interest expenses and a decline in net interest income.
Non-interest income surged 9.3% to $16.0 million, primarily driven by net gains on sales of mortgage loans and net securities gains. However, net interest income declined 2.8% year over year to $41.7 million, due to lower interest and dividend income. Net interest margin dropped 16 basis points to 3.51%. Moreover, non-interest expenses rose 9.5% year over year to $36.8 million, mainly due to restructuring and merger-related expenses.
Credit metrics continued to improve at WesBanco. The provision for credit losses was $4.5 million, down 58.5% from the year-ago quarter with net charge-offs showing a declining trend. Net charge-offs were down 73.6% to $4.6 million. Moreover, total non-performing loans represented 1.76% of total loans as of September 30, 2012, compared with 2.60% in the prior-year period.
WesBanco completes Merger with Fidelity Bancorp, Inc.
In November 2012, WesBanco and Fidelity jointly announced the completion of WesBanco's acquisition of Fidelity and the election of a director and senior officers. The merger, announced in July 2012, was completed after the regulatory nod and Fidelity's shareholders' approval.
The merger creates a multi-state bank holding company of $6.2 billion in total assets, which would provide banking services through 119 locations and 111 ATMs in West Virginia, Ohio, and Pennsylvania. The deal expands WesBanco's franchise in western Pennsylvania, into the Pittsburgh, Pennsylvania, region.
Earnings Momentum on an Upswing
The past 60 days have seen all four estimates for 2012 move higher, pushing the Zacks Consensus Estimate up by 4.5% to $1.86. For 2013, the Zacks Consensus Estimate has advanced 4.4% to $1.88.
The estimates reflect year-over-year improvements of about 12.4% for 2012 and 1.4% for 2013.
Attractive Valuation
In addition to its low P/B, WesBanco has a P/E multiple at 11.6 (a P/E multiple under 15.0 and a P/B ratio below 3.0 generally indicate value). Furthermore, the company's share price has gained nearly 9.6% year to date.
Additionally, WesBanco currently enjoys a dividend yield of 3.4%. Therefore, in addition to being a value stock, the company offers an income opportunity.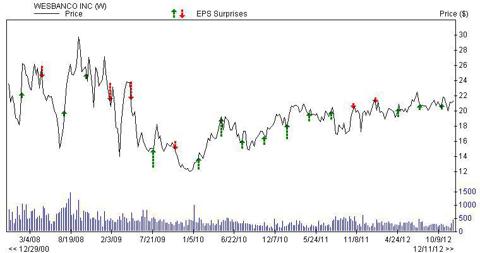 Headquartered in Wheeling, West Virginia, WesBanco, the holding company for WesBanco Bank, Inc., provides various retail and commercial banking services. The company was founded in 1968 and operates through 112 branches in West Virginia, Ohio, and Western Pennsylvania. WesBanco has a market capital of about $617.1 million. Banner Corporation (BANR) is another Zacks #1 Rank (Strong Buy) in the same sector.
Read the full Snapshot Report on WSBC (email registration required)
Read the full Snapshot Report on BANR (email registration required)