Hewlett-Packard (NYSE:HPQ) has seen a remarkable fall from grace over the last year, with its shares down 43% YTD. However, this decline is justified. HP is faced with declining sales within its PCs, printing, and servers segments. The only area of growth HP has seen has been within its software segment. However, this is tainted by the recent announcement of possible accounting improprieties within Autonomy. HP's stock seems to be a destroyer of wealth, and quite possibly a value trap.
When I first heard that HP announced that it was taking a "non-cash goodwill and intangible asset impairment charge of $8.8 billion relating to Autonomy" I was hardly surprised. HP has a history of lackluster acquisitions. The most egregious, before Autonomy, of these would have to be the Compaq purchase back in 2001. The Autonomy purchase reeked of desperation back when it was announced on August 18, 2011. The purchase price of over $10 billion seemed to be too rich at the time and analysts were divided on the merits of the purchase. HP claims that over $5 billion is related to accounting improprieties, disclosure failures and misrepresentations that occurred prior to HP's acquisition of Autonomy and the associated impact on the financial performance of the business over the long term. Either way, this writedown is terrible news for HP. HP's management was at best incompetent when it decided to buy Autonomy. What is unfortunate for shareholders is that this is the second major write down this year for HP. During 3Q, HP announced a "$10.8 billion, or $5.49 per diluted share, related to the amortization and impairment of purchased intangible assets, the impairment of goodwill, restructuring charges, acquisition-related charges and charges relating to the wind-down of certain retail publishing business activities, including the previously announced charges related to the impairment of goodwill within HP's Services segment, the restructuring program announced in May 2012, and the impairment of the purchased intangible asset associated with the "Compaq" trade name."
Combined, these two write downs resulted in nearly $20 billion of shareholder wealth wasted. These funds could have been put to better use as either dividends or stock buybacks. $20 billion is also about ⅔ of HP's current market cap. HP has been very efficient in destroying its shareholders' wealth.
If we could go back in time, 5 years, to January of 2008 we can see how healthy HP once was. It had almost $10 billion in cash, which was almost double its debt of $5.1 billion. It was generating interest income of $72 million per quarter. Revenue stood at about $28.5 billion per quarter. Net income was about $2.1 billion per quarter and eps was about $0.80. The PE for HP was about 16. Though it had made some poor acquisitions in the past, Goodwill represented only about 30% of its assets and 20% of its market cap. Shares were trading at over $50 and the market cap of HP was well over $120 billion.
Today, HP is in a completely different situation. HP currently has about $11.3 billion in cash, less than half of its debt of $21.8 billion. Interest expense is about $200 million per quarter. Revenues have grown, but only a puny 5% to $30 billion. Excluding the massive write downs, net income for HP is $2.3 billion and eps is about $1.16. Including the write downs, net income is -$6.8 billion and eps -$3.49. The PE for HP is now negative. Currently, goodwill represents about 33% of assets and 125% of its market cap. Shares are currently trading at under $15 and the market cap of HP is under $30 billion.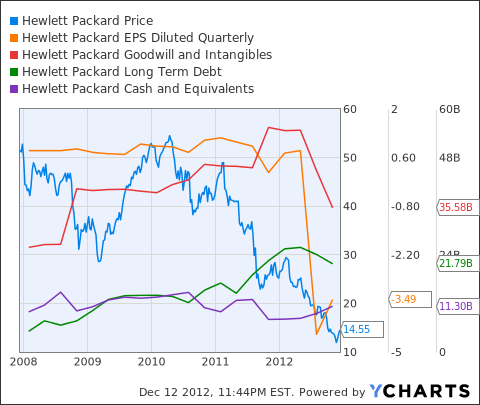 Probably the most bearish sign for HP has to be the decline in individual segment/business unit revenue. Total revenue for HP is down 7% year to year. However, some segments have declined much more sharply than others. For Personal Systems (mostly PCs), notebook and desktop revenue have both declined 15%. Total personal system revenue is down 14%. For printing, commercial hardware revenues are down 14% and consumer hardware revenues are down 13%. Printing supplies sales are only down 1%. Total printing revenues are down 5%.
In the services segment, total revenues are down about 6%. Nearly all subsegments of services experienced similar declines, with application and business services experiencing the sharpest decline at 7%. Total Enterprise Servers, Storage and Networking revenues declined 9%. The sharpest decline came in the business critical systems, which declined 25%. Storage also decline 13%. A rare area of growth for HP was networking, which grew 7%. Software (this segment is basically Autonomy) grew 4%. Finally, HP Financial Services grew 1%. Nearly half of HPs revenues are tied to either printing or selling PCs, both of which are in secular decline.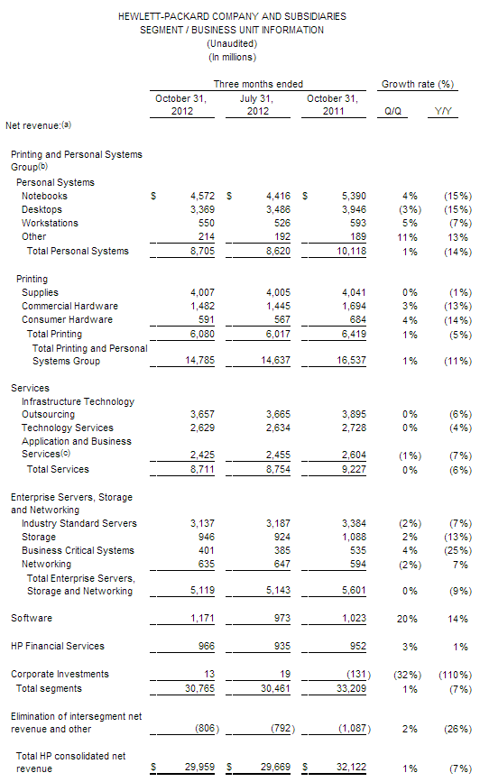 So, the bear case for HP can basically be summed up with these 3 statements:
PCs are dead. HP gets most of its revenue from PCs. This revenue stream will continue to decline.
HP has wasted tens of billions in wasteful acquisitions. Any cash on hand may be used for similar purchases.
HPs could continue to write down the value of its

goodwill

, which could send shares plummeting.
I am sure HP has more risks than these 3, but I believe these to be the top ones.
As noted in the title, this is part one of a series on HP. Part two will look at the bullish case for HP.
Disclosure: I have no positions in any stocks mentioned, and no plans to initiate any positions within the next 72 hours. I wrote this article myself, and it expresses my own opinions. I am not receiving compensation for it (other than from Seeking Alpha). I have no business relationship with any company whose stock is mentioned in this article.