Investment Thesis
Currently Kraft Foods Group's (KRFT) margins are at the lower end of the industry but going forward I hold the view that KRFT after its spinoff will be able to focus on its core North American grocery business which would lead to margin expansions. KRFT currently provides an attractive dividend yield of 4.5%; one of the highest in the industry. KRFT's competitive advantages are its robust product portfolio and a strong brand recognition. Given the company's potential to expand its margins and its healthy dividend yield, I recommend KRFT as a buy.
Kraft Foods Group is a North American grocery business which started trading in October this year following Kraft Foods' spin-off. KRFT is the maker and marketer of branded food products with leading market positions in several branded categories including beverages, meat, grocery and cheese. Also, KRFT is among the five largest North American food and beverages companies. It is expected to generate annual sales of more than $19 billion in the following year. 80% of the total sales will be generated by those categories in which the company has leading positions. It has strong market shares in several categories; including lunch meat 31%, cheese 28% and coffee 15%. Revenue and profit contribution of each category are shown below in the graphs.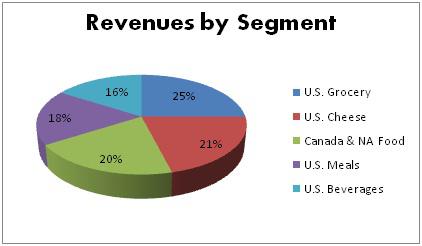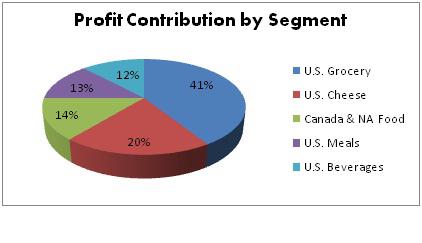 Source: Quarterly Report
KRFT operates in an industry which currently faces rising commodity prices, high competition and low growth. Hence, KRFT expects revenue growth to be 1%-3%, in line with North American food and beverages market's growth rate. It can however be argued that if the company increases its advertisement spending to build its brand power and garner customer loyalty, it stands a chance to outpace the industry's top line growth rate. Since KRFT currently has one the lowest advertisement to revenue spending ratios in the industry, I see considerable room for expansion here.

Source: Annual Reports
However, the mature industry limits the options of the company to grow and KRFT will primarily rely on product innovation to bolster its expansion in the market. Recent product innovation successes of the company includes MIO, Velveeta and Gevalia (premium coffee brand). These measures should allow KRFT to expand its top line results. In FY'11, new products contributed more than 12% to total revenues, higher than that of its competitors. For example General Mills' (NYSE:GIS), The Hershey Company's (NYSE:HSY) and ConAgra Foods' (NYSE:CAG) new products' share in total revenue amounted to 11%, 9% and 10%, respectively.
I believe improvement in financial performance for KRFT can come about once it realizes its potential for margin expansion By comparing the margin figure of KRFT with other large-cap companies in the industry we see that KRFT has underperformed in this area. Now that the company can focus on its North American grocery business, I see that KRFT will aim cost reduction strategies and improve upon its operational efficiency. Margins expansion will be achieved by bolstering its supply chain and through reductions in overhead. It is anticipated that KRFT will achieve industry level margins in a span of three to four years. The graph below shows gross, operating and net profit margin for KRFT, Kellogg (NYSE:K), GIS and HSY.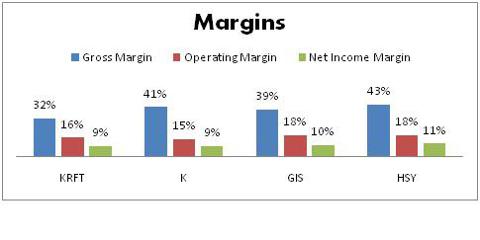 Margins expansion, product innovation and KRFT's focus on core product categories will cause the earnings per share growth rate to stay around 8% per annum in the long term. The table below shows analyss mean EPS expectations for the coming years.


Source: Nasdaq.com
Apart from a strong position in several product categories and a decent EPS growth rate, KRFT is expected to offer an attractive dividend yield of 4.5%. An annualized dividend rate of $2 per share and dividend payout of more than 70% is expected. Such a scenario makes KRFT an attractive buy.


Source: Reuters.com
Risks
Going forward, I believe it is important to mention factors which may adversely affect the company's performance. These factors include rising input costs that pose a threat to the margins and sales volume growth. In fiscal year 2011, increases in price levels shot sales up by almost 7%, but in the future KRFT may not be able to pass on the rising costs to consumers due to slowing demand in the market. Consequently, the company may not be able to meet its sales growth target. Another major risk to KRFT's financial performance stems from losing market share to small food companies and private labels.
Valuation
Base Case
KRFT offers an attractive dividend yield of 4.5% which is above that of its competitors. This is why I believe it should trade at a premium to its competitors. Using KRFT's last three years average P/E of 16.6x and FY 2014 earnings estimate of $3, I calculate a price target of $50.
Bull Case
In a bull case scenario, I use the FY 2014 high end EPS estimate of $3.17 and average P/E of 16.6x to calculate a price target of $53.
| | | | |
| --- | --- | --- | --- |
| | FY 2014 EPS Estimates | Average P/E | Price Target |
| Base Case | $3 | 16.6x | $50 |
| Bull Case | $3.17 | 16.6x | $53 |
Disclosure: I have no positions in any stocks mentioned, and no plans to initiate any positions within the next 72 hours. I wrote this article myself, and it expresses my own opinions. I am not receiving compensation for it (other than from Seeking Alpha). I have no business relationship with any company whose stock is mentioned in this article.