With approval last week of the foreign takeovers of Nexen (NXY) and Progress Energy (OTC:PRQNF), many investors were worried that the Canadian Government would be clamping down on future foreign investment in the sector.
That worry appears to have been misplaced.
Less than a week later, Encana (NYSE:ECA) and PetroChina (NYSE:PTR) have announced a joint venture deal involving Encana's position in the emerging Duvernay unconventional resource play.
CALGARY, ALBERTA -- (Marketwire) -- 12/13/12 -- Encana Corporation (Encana) has entered into a joint venture arrangement with Phoenix Duvernay Gas (Phoenix), a wholly owned subsidiary of PetroChina, to explore and develop Encana's extensive undeveloped Duvernay land holdings in west-central Alberta. Under the terms of the agreement, Phoenix will gain a non-controlling 49.9% interest in Encana's approximately 445,000 acres in the Duvernay play for total consideration of C$2.18 billion.

At closing C$1.18 billion was paid to Encana and C$1.0 billion is payable over the next four years in the form of a carry of half of Encana's share of development capital. During this period, the joint venture partners plan to invest a total ofC$4.0 billion in new drilling, completion and processing facilities. Encana estimates that the Duvernay joint venture lands contain about 9 billion barrels of oil equivalent petroleum initially-in-place. Encana remains the operator of the joint venture with its 50.1% working interest.
After several years of frantic land accumulation in the Duvernay by energy companies, the news flow has gone fairly quiet on the play. This news from Encana and PetroChina promises to bring the Duvernay front and centre in 2013. With the announcement of this Joint Venture, Encana plans to double its pace of drilling on the play, and with more well results coming into the public domain in 2013, investors are going to start to understand what the Duvernay is capable of.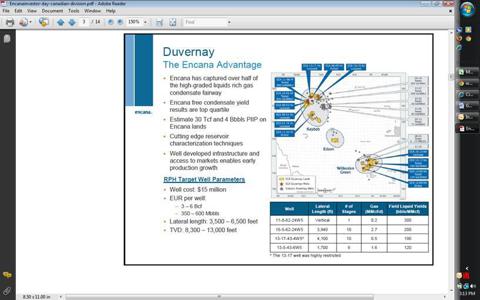 The Joint Venture price of $2.18 billion is for almost 50% of 445,000 acres in mainly the liquids rich gas portion of the Duvernay.
That equates to $2.18 billion / 222,000 acres = $9,800 per acre.
Finally, we have a data point to try and understand what the Duvernay land of other companies might be worth. Which companies offer significant exposure to the Duvernay?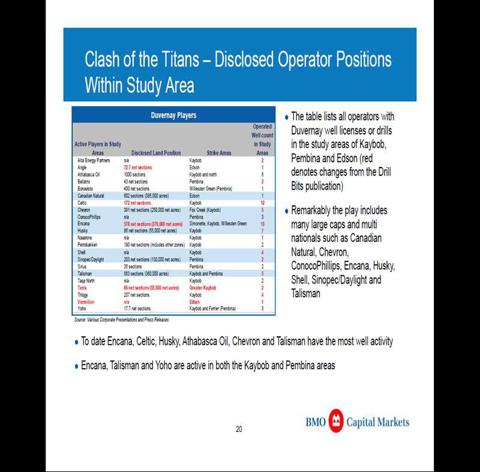 One company rises above all others when it comes to having a land position in the Duvernay. That company is Athabasca Oil (OTCPK:ATHOF), which has 1,000 sections of land (640,000 acres) of Duvernay property.
Valuing that position at the $9,800 per acre price PetroChina is paying Encana would suggest that Athabasca's acreage position is worth $9,800 x 640,000 = $6.27 billion.
Now that is interesting, because Athabasca's current enterprise value with 415 million shares outstanding is just over $4 billion.
That means that Athabasca's Duvernay position is likely worth more than the current stock valuation, and investors buying today get all other assets for free.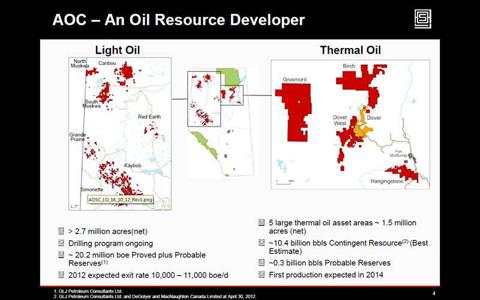 Those other assets include 10 billion barrels of contingent oil sands resource and large acreage positions in both the Montney and Nordegg unconventional resource plays.
That seems like a potential bargain that might be worth looking more closely at.
Disclosure: I have no positions in any stocks mentioned, and no plans to initiate any positions within the next 72 hours. I wrote this article myself, and it expresses my own opinions. I am not receiving compensation for it (other than from Seeking Alpha). I have no business relationship with any company whose stock is mentioned in this article.