Shares of Sirius XM Radio Inc. (SIRI) have had quite a run over the last five months, gaining 35%. The company has a robust cash flow profile, thanks to its operating metrics that are improving consistently. It is well on track to achieving its net subscriber additions target for the full year of 1.8 million subscribers and may even beat it, based on its latest filed results. Key catalysts for the stock are improving auto sales and the recent share repurchase program. SIRI looks attractive on valuations and the long-term earnings growth expectations of 30% will likely boost its valuations. As such, I recommend investors take a long position in SIRI.
According to a recent press release, SIRI is going to initiate a $2 billion share buyback program along with a special cash dividend of $325 million. This announcement comes as no surprise as the company's management had hinted in its latest conference call that it will start returning capital to its shareholders. The year-end dividend makes more sense in the context of potential changes in tax rates. Moreover, I also expect the company to pay further dividends in the future, given Liberty Media's ownership in the company and its intentions of recovering some of the cash it has spent so far this year to increase its stake in Sirius from 40% to the current 49.8%. Liberty had made it very clear in the past that it expected Sirius to return some of the capital it had spent on the company. Liberty has spent approximately $1.5 billion in the last several months on SIRI's shares.
The decision to pay dividends has come after the company announced that it had entered into a $1.25 billion credit facility, which it will utilize to finance its working capital requirements and share repurchases. The company is now in a position to begin returning capital to its shareholders without hurting its credit profile. Sirius retired over $850 million of its debt in the third quarter of 2012 and ended with $556 million in cash. SIRI's leverage has also improved dramatically in the last year, ending the last quarter at slightly under 2.8x, down from 4.3x at the end of Q3 2011.
Cash Flow Strength
The company has a robust cash flow profile which should aid in sustaining its share buyback program. Full year free cash flows should come in at around $700 million and are expected to reach $900 million in 2013. This represents approximately 30% of the company's total debt balance of $2.5 billion, which will increase in the future to finance buy backs. The company continues to generate impressive growth in cash flows, thanks to its high and stable vehicle consumer conversion rate as well as growth in subscriber additions. In Q3, the company reported a 2% growth in additions, pushing the self-pay subscriber base to an all time high of 19 million subscribers. Management has confirmed its guidance of approaching 1.8 million net subscriber additions by the end of 2012, which the company is well on track to achieve. Moreover, the subscription rate increases implemented in the start of the year are also helping the company in raking in more revenues per subscriber (ARPU) which will continue to reflect positively in its results going forward.

Improving auto sales
It was expected that November auto sales will end on a positive note, however, the actual numbers posted were slightly better than anticipated, which is a positive sign for Sirius as the improvement in auto sales will help it achieve its net addition target of 1.8 million subscribers. For the month of November, auto sales were at an impressive 1,143,766 units, 2% higher than expectations. SAAR was reported in at 15.46 million units, an 8% improvement from the reported figure of 14.3 million units last month. With the auto industry moving at a decent pace, it seems very likely that the company will be able to add more than 1.8 million subscribers by the end of this year.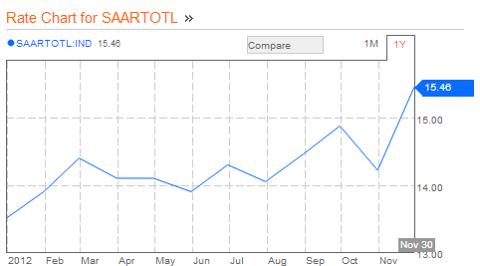 Source: www.bloomberg.com
The table below shows that option players are preferring calls over puts. Interesting to note is the volume and open interest on the calls around the 2.5 to 3 range, significantly higher than the interest in puts.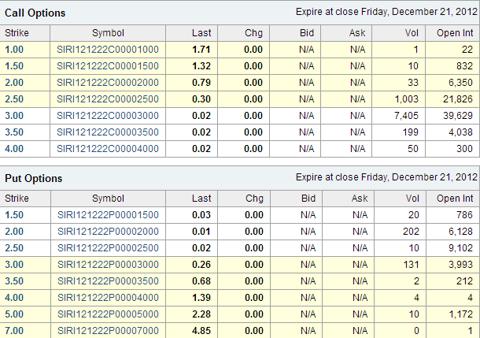 Source: finance.yahoo.com
Currently, the mean price target for SIRI is $3.18, an upside of 14% on the current share price. A majority (70%) of sell side analysts have a buy rating on the stock. SIRI is trading at 28 times its forward earnings which is a significant discount to its peers. SIRI is trading at 6 times its trailing earnings when historically it has traded in the range of 27x to 242x. Earnings are expected to grow by approximately 30% over the next five years which is much higher than industry growth expectations. Moving forward, this growth will likely boost the company's valuations. Strong auto sales for the year and the share repurchase program are key catalysts for its stock. I recommend a long position in SIRI, based on its valuations and growth prospects.
Disclosure: I have no positions in any stocks mentioned, and no plans to initiate any positions within the next 72 hours. I wrote this article myself, and it expresses my own opinions. I am not receiving compensation for it (other than from Seeking Alpha). I have no business relationship with any company whose stock is mentioned in this article.