This article intends to give an opposing viewpoint on gold to the one presented by a Goldman Sachs (NYSE:GS) analyst. Our bullish view is not solely dependent on Quantitative Easing (QE). We will first start with a chart based technical analysis, and follow up with fundamental bullish factors that are often overlooked.
A Technical Perspective
First, let us look at gold trading from a technical perspective. We have a classic triangle formation with emerging breakout. The classical candle stick and support at 1707 is indication for a short-term rising demand. (click to enlarge)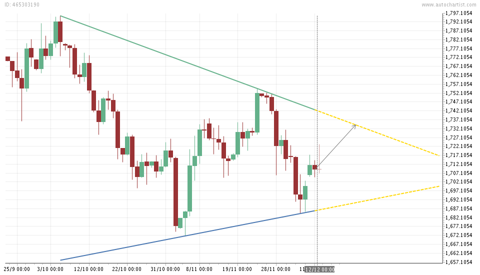 There are fundamental reasons that can explain this, and even higher prices than the $1730-$1750 range indicated in the chart. The recent sanctions are certainly a contributing element. Let us explain.
A Fundamental Perspective
Little notice has been drawn by gold analysts to the U.S. government's sanctions and fines on Standard Chartered (OTCPK:SCBFF), Mitsubishi (OTCPK:MBFJF), Deutsche Bank (NYSE:DB) and others. These fines are all linked directly or indirectly to Iran or the international trade of drug cartels. We believe these fines will limit such trade via banks, and so will have significant impact on precious metals as an alternative currency. The sanctions seem to also target non-American banks exclusively. Our bullish thesis is that these trades will now move to the black economy using gold. In other words, gold now is not only an inflation and QE hedge. It is a facilitator of serious cross-border trade, directly as a result of unilateral sanctions. For example, in the case of Turkey-Iran, it could now exceed $20 Billion. Some analysts agree with our view:
Turkey's gold trade with neighboring Iran has helped shrink its trade deficit over the past year according to Bloomberg...

... Gold is becoming an essential means of payment again in the Middle East again. We expect to see this trend continue in the coming months as competitive currency devaluations are pursued by nations globally...

Source: globalresearch.ca
U.S. Government Role
Many fail to see that the U.S. government is gold's biggest bullish driver. Rushed unilateral sanctions, on the one hand, and quantitative easing on the other act as pincers pushing up demand for gold. Sanctions and fines provide incentive to avoid the use of the dollar as it requires clearing in NY, while QE provides investors with cause to seek non-currency stores of wealth. Many seem to ignore the fact that the UN has not banned Iranian oil sales. It is the prevention of banks from clearing dollars electronically, for the countries sanctioned, that has caused Iranian oil exports to drop 50%. What has been Iran's response? Iran is now, among other things, accepting gold as payment for oil from partners like India, China and Turkey. Even South Korea may be in on this secret. They are rapidly increasing their central banks' gold reserves. It looks as if gold is slowly regaining the long lost status as a facilitator of unfettered trade. Can it be a new world currency?
Conclusion
The use of gold to facilitate cross-border trade, along with technical chart patterns makes us bullish on gold. Our target, based on previous movements after significant sanctions, is at least 10% appreciation in the next 12 months. Our recommendation is to keep an eye out for the results of the Iran negotiations in 2013. Failure to reach a compromise will certainly impact the oil and gold price. Gold is already becoming the next challenger to the USD. Thus, it is likely that gold will exceed its local maximum of $1750.
Primary Reference: globalresearch.ca/gold-sanctions-on-iran...
Disclosure: I own physical gold in the form of coins. I wrote this article myself, and it expresses my own opinions. I am not receiving compensation for it (other than from Seeking Alpha). I have no business relationship with any company whose stock is mentioned in this article.
Disclaimer: As always, please do your own research before making any investment decisions. We accept no responsibility for any losses if the predictions in this article do not bear out.