We have been covering Pitney Bowes (NYSE:PBI) off and on for many years, and have recently begun publishing research on the company. We are attracted to the company's 13.8% dividend yield and its 23% free cash flow yield. However, we are carefully attempting to identify a "perfect pitch" on Pitney Bowes, since its revenue has been sagging by nearly 20% since 2008 (5.5% Compounded Annual Rate of Decline) due to the soft economy. Also, we have noted that PBI's Former CEO Michael Critelli's $2.5B acquisition spree, in which Pitney Bowes acquired 83 companies from 2000-2007, has failed to generate a significant and sustainable boost to revenue, OCFs and EPS relative to FY 2000 performance.
While Critelli's successor, Murray Martin, managed to keep free cash flows from slipping too much from 2007-2011, he accomplished this by cutting back capital investment spending (TTM FCFs were impacted by timing issues with regard to tax payments and refunds). At least Murray Martin refrained from buying out any more companies in order to prop up Pitney Bowes's poor performance. While we are not yet ready to take a swing at Pitney Bowes, our outlook on the company has brightened up, as Pitney Bowes recently replaced its CEO Murray Martin with long-time IBM (NYSE:IBM) executive Marc B. Lautenbach.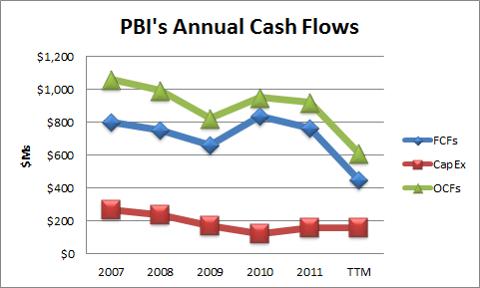 Source: Morningstar Direct
We were surprised that Marc Lautenbach left IBM to join Pitney Bowes, because not only was Lautenbach a long-time key IBM employee, he's not the only Lautenbach that came up in a key word search for "Lautenbach IBM." We counted at least eight past and present Lautenbachs in our key word search for "Lautenbach IBM." Furthermore, Marc Lautenbach was with his late uncle Terry Lautenbach (a 33-year IBM veteran) at the time of Terry's passing.
However, we can see a similar set of parallels between IBM circa 1993 and Pitney Bowes. Both companies were previously the dominant firms in their industries, but facing a slow stagnation into somnolence and irrelevance. Both companies hired outsiders as CEO in order to try to reinvent themselves. IBM has been successful in its corporate transformation, and it remains to be seen if an IBMer can repeat the same feat with Pitney Bowes. And both companies are located in adjacent counties (IBM is in Westchester County, NY and Pitney Bowes is in Fairfield County, CT) so it's not like Lautenbach has to make a cross-country move to take his new job. The best part about Lautenbach's new job is that depending on where he lives, he might not even have to deal with traffic jams on I-95 in Fairfield County and Westchester County.
Marc Lautenbach has nearly 30 years of experience in the technology and business services industries, including 27 years at IBM. Lautenbach joined IBM in 1985 upon his graduation from business school. His leadership roles at IBM included serving as Vice President Small and Medium Business in Asia-Pacific from 1998-2000, General Manager of IBM Global Small and Medium Business from 2000-2005, General Manager of IBM North America from 2005-2010, and Managing Partner, North America, for IBM Global Business Services. In these roles at IBM, Lautenbach led businesses and customer segments with annual revenues ranging from $3 billion to $35 billion, and employee populations ranging from 500 to 50,000. He has extensive experience in building profitable relationships with large enterprises and government agencies as well as small- and medium-size businesses. Lautenbach earned a reputation for expertise in business transformation through his executive roles at IBM, and he will need it to stabilize Pitney Bowes' performance and to reverse PBI's sliding share price.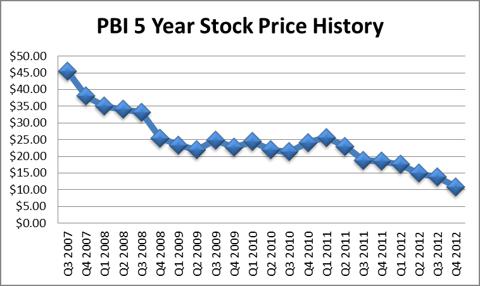 Source: Morningstar Direct
Although Lautenbach has replaced Murray Martin as PBI's President and CEO, Martin will be staying on until February in order to assist with the transition. Pitney Bowes' normal retirement age for Pension Plan eligibility is 65 years of age, and Murray Martin turned 65 years old this month. In our professional opinion, Murray Martin retired due to ill health, as we think that Pitney Bowes' Board of Directors must be sick and tired of seeing the company's sales sag and slip. We think that delays in PBI's new online digital mailbox product (Volly) may have been the last straw for PBI's BoD. We agree with Shannon Cross of Cross Research that Martin had achieved much progress in reducing PBI's cost structure, but now it needs someone who can help stabilize its revenue and potentially restore incremental growth. The market reacted favorably to Lautenbach's hiring, as PBI's shares were bid up by nearly 4% on December 3rd. However, PBI's shares have seen those initial gains evaporate over the following 11 days.
The good news about Pitney Bowes is that even if it can only stabilize its revenue and operating income, it can provide solid returns to its long-suffering and beleaguered investors. Pitney Bowes is paying a dividend yield that is near 14%, and its free cash flow yield is between 23% (if you use the TTM FCFs of $450M) or 34.6% (if you use the FY 2012 management forecast FCFs of $750M). While the company blew $2.5B on Michael Critelli's acquisition spree from 2000-2007, Pitney Bowes has not been saddled with the huge debt load of other companies that engaged in a buyout binge during the 2000-2007 period. Although Pitney Bowes' $3.68B in outstanding debt dwarfs its $124.6M in shareholders' equity, its $2.25B in financing receivables partially offsets its large gross outstanding indebtedness. PBI paused its share repurchase program after Q3 2011, and we think shareholders should feel regret and relief over this capital allocation decision. PBI's shareholders should feel regret that the company had gone five quarters without returning capital to shareholders in the form of share repurchases, but should feel relieved that the company won't be paying nosebleed prices to repurchase shares. Since the beginning of FY 2002, PBI has spent an average of $36.755 to repurchase its shares, but its stock price as of December 6, 2012 is only $10.80.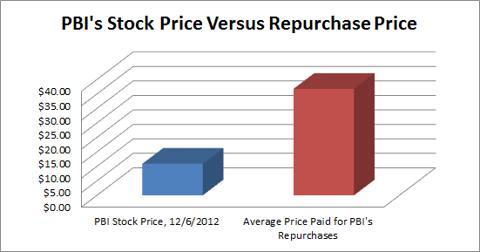 Source: Morningstar Direct
In conclusion, we are pleased that we have taken such detailed care in our analysis, research and evaluation of PBI. We believe that there is a high level of potential value to be unlocked in this company's shares. However, we are aware that a company facing a potential secular decline in its fortunes may not necessarily be undervalued, even if it has a dividend yield that approaches 14%. Although we don't have a position in the company, we believe that it is at such a cheap price, it would be wrong-headed to "pay-no-mind" to Pitney Bowes. We believe that PBI's willingness to go outside the company shows that it is aware that it is facing significant headwinds that may need a fresh set of eyes in order to right the ship, and we were pleased that Pitney Bowes was able to land Marc Lautenbach to replace Murray Martin. We believe that PBI's new CEO will pay dividends for the company and its shareholders, and speaking of dividends, we expect PBI to increase its quarterly per-share dividend payout by a whopping half-penny next year.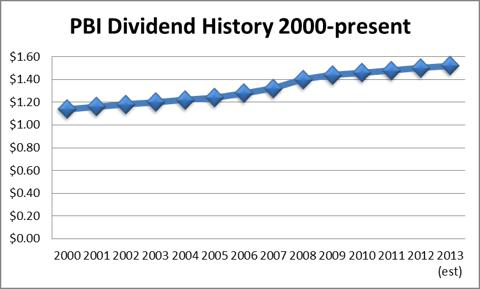 Sources: Morningstar Direct and Our Estimates
Disclosure: I have no positions in any stocks mentioned, and no plans to initiate any positions within the next 72 hours. I wrote this article myself, and it expresses my own opinions. I am not receiving compensation for it (other than from Seeking Alpha). I have no business relationship with any company whose stock is mentioned in this article.
Additional disclosure: This article was written by an analyst at Saibus Research. Saibus Research has not received compensation directly or indirectly for expressing the recommendation in this article. We have no business relationship with any company whose stock is mentioned in this article. Under no circumstances must this report be considered an offer to buy, sell, subscribe for or trade securities or other instruments.