In our previous reports on American International Group (NYSE:AIG), we analyzed and evaluated the company's financial rescue at the hands of the US government as well as how investors should view the new AIG. Over the last five months, the US government has been winding down its ownership stake in AIG and we believe that investors should take advantage of the federal government's need for cash in order to plug its $1 trillion in annual budget deficits by buying shares of AIG. AIG is trading at a price to book ratio of nearly 50% and we find that to be a tremendous bargain now that it no longer has the albatross of the federal government owning shares in the company (other than its remaining warrants).
We published a report on Monday analyzing and evaluating AIG's deal to sell 80.1% its aircraft leasing subsidiary International Lease Finance Corporation (ILFC) to a Chinese investment group for $4.23B. We were disappointed that the implied value of ILFC in the transaction was at a 33% discount to ILFC's $7.9B in book value, it allowed AIG to find a buyer for a non-core asset and AIG will be able to refocus its attention on its core insurance operations. Considering that ILFC has seen a dramatic fall in its pre-tax net income since 2009 due to rising impairment charges on its portfolio assets, we think that AIG should consider itself lucky that it was able to salvage 67% of its book value in this transaction with the Chinese investment consortium that agreed to buy the 80.1% stake in ILFC. ILFC had generated more revenue and profit in 2009 than its nearest competitor GE Capital Aviation Services (NYSE:GE) but lost its leadership position in the industry in 2010 due to its impairment charges. GECAS's impairment charges from 2010 to 2012 are estimated to be about $1.2B, which is less than the $1.7B that ILFC annually impaired from 2010 to 2011.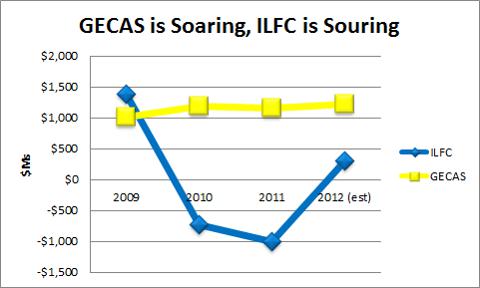 Source: GE's 2011 Annual Report and AIG's 2011 Annual Report and Our Estimates
After the market closed on Monday December 10th, the U.S. Treasury announced an offering for its remaining ownership stake in AIG. The Treasury had held 234M shares of AIG and this represented 16% of the company. On Tuesday, the Treasury announced that it had completed the sale of its remaining 234M shares of stock in AIG for $32.50/share. Now that the Treasury has sold its last direct ownership stake in AIG, it has generated $205B in proceeds on the $182.3B rescue commitment to AIG by the Treasury and the Federal Reserve Bank of New York. The Treasury and the New York Fed have collectively booked $22.7B in net total return, representing a cumulative return of 12.5% on its collective invested capital so far. The Treasury still holds warrants to purchase 2.7M shares and this will provide additional return to the Treasury and Fed once the warrants are sold off.

Source: U.S. Treasury Press Release
Now that AIG has announced a deal to sell off its aircraft leasing business and it has freed itself from the yoke of government ownership, we believe that AIG's management will be able to free themselves of external distractions and start to catch up to its insurance peers. We also expect AIG to begin exploring how to sell or shut down its AIG Federal Savings Bank subsidiary now that the government no longer owns any shares of AIG and that AIG is expected to be regulated by the Federal Reserve as a systematically important financial institution as part of the Dodd-Frank law. The subsidiary was established in 2000 and it is primarily an online banking institution. AIG's CEO Robert Benmosche said that the subsidiary had less than $1B in assets, which is miniscule compared to the $510B in assets that AIG has once it sells ILFC.
Changes in the insurance industry have resulted in insurers moving away from the diversified product model of offering property/casualty, health and life insurance all under one corporate umbrella and focusing on life, health or property/casualty. We have followed The Hartford Financial Services Group (NYSE:HIG) off and on since 1997 and it has sold off its individual life insurance business as well as its retirement and financial services businesses in order to appease John Paulson. With this sale, there are now two multi-line insurance peers that we would primarily compare AIG against and those peers are Allstate (NYSE:ALL) and MetLife (NYSE:MET). We see that because of AIG's bailout saga and its aftermath, AIG is trading at a sharp discount to its book value and its price to book ratio is lower than MetLife's even though MetLife acquired AIG's ALICO foreign life insurance business for $15.5B near the end of 2010. AIG's P/B ratio is much lower than Allstate's because although Allstate has posted stagnant performance since 2007, it didn't need a bailout unlike AIG. Fortunately for AIG investors, AIG's CEO Bob Benmosche was the well-respected former CEO of MetLife when it demutualized and we believe that his leadership will enable AIG to potentially gain ground against MET and ALL.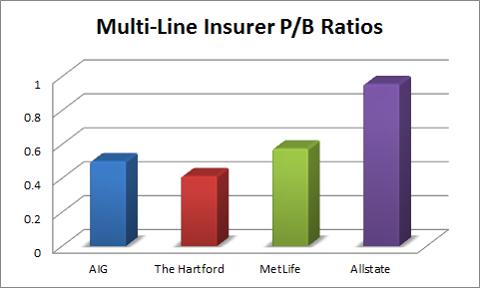 Source: Morningstar Direct
Conclusion:
In conclusion, we are pleased that the loss on AIG shares in the wake of its announcement of its ILFC sale has been recovered now that the government has sold its AIG position. Although we see the company as a turnaround-play, we believe that it will be taking the next steps towards recovering its blue-chip reputation. We are pleased that AIG has completely retired its Chartis brand for its property/casualty operations and has scaled back the SunAmerica brand to its retirement solutions and multi-manager mutual fund business. While we don't expect the company to return to the salad days of Hank Greenburg's leadership, we can say that we won't be seeing the lows that were last achieved under Martin Sullivan. We are also bullish on AIG because the financial crisis forced it to rationalize and simplify its operating structure and we can see greater clarity with regards to its product offerings when we go to AIG's website.
Disclosure: I am long AIG. I wrote this article myself, and it expresses my own opinions. I am not receiving compensation for it (other than from Seeking Alpha). I have no business relationship with any company whose stock is mentioned in this article.
Additional disclosure: This article was written by an analyst at Saibus Research. Saibus Research has not received compensation directly or indirectly for expressing the recommendation in this article. We have no business relationship with any company whose stock is mentioned in this article. Under no circumstances must this report be considered an offer to buy, sell, subscribe for or trade securities or other instruments.