We are long Sprint Nextel Corporation (NYSE:S) and we added to our position during the summer when its Virgin Mobile USA subsidiary earned the right to sell Apple Inc.'s (NASDAQ:AAPL) iPhone smartphone device. We have had mixed feelings about Sprint's agreement to sell 70% of itself to SoftBank (OTCPK:SFTBF) because we felt that Sprint's new Network Vision project would enable it to improve its network competitiveness relative to AT&T (NYSE:T) and Verizon (NYSE:VZ). On the one hand, we are displeased that Sprint's near-term upside has been limited due to the complex structure of the proposed takeover in which 55% of Sprint's shares will be exchanged for $7.30 in cash and the rest will convert into shares of "New Sprint Corporation", which will be 30% owned by existing shareholders. SoftBank will be getting $8B worth of New Sprint shares at $5.25/share and a warrant to buy 55M additional shares at an exercise price of $5.25/share.
Although the deal did not require Sprint to undertake any actions involving Clearwire Corporation (CLWR), Clearwire's shares jumped 70% on October 11th when Sprint and SoftBank announced the deal because of the potential for Sprint to acquire the nearly 50% of Clearwire's shares that it didn't already own. Sprint recently announced a deal to buy the portion of Clearwire shares that it didn't already own for $2.90 and Wells Fargo views Sprint's bid as a starting point for negotiations. According to Joan Lappin of Gramercy Capital, SoftBank acquired control of Sprint in order to effectively gain control over Clearwire and its vast spectrum position. Seven days after SoftBank agreed to buy 70% of Sprint, Craig McCaw agreed to sell his Clearwire Class A and B shares to Sprint for $2.97. This was a nearly 130% improvement relative to the $1.30/share that Clearwire's shares closed at the day before Sprint agreed to sell a controlling stake to SoftBank. McCaw held nearly 37M shares of Clearwire through his Eagle River Holdings LLC holding company and if Clearwire was sold at a higher price than the $2.97 that he received, he would receive the difference.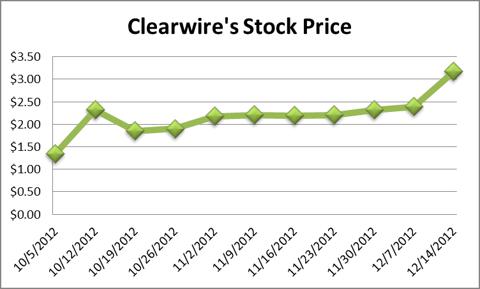 Source: Morningstar Direct
Although Sprint owned more than 50% of Clearwire's Class A and Class B shares, it has made every effort to avoid taking a 50% controlling voting interest in Clearwire in order to avoid having to consolidate Clearwire's operations onto its balance sheet. The reason why Sprint did not want to consolidate interest in Clearwire was due to the fact that as bad as Sprint's balance sheet was, at least it was better than Clearwire's. Sprint was concerned that if it consolidated Clearwire's financial statements onto its financial statements, it might run afoul of its debt covenants. Fortunately for Sprint, even if it had a majority stake in Clearwire, it would not gain "operational control" over Clearwire due to the corporate governance rules associated with Sprint's investment in Clearwire. Clearwire's balance sheet is a mix of the good, the bad and the ugly. The good news for Clearwire was that it had nearly $1.2B of gross liquidity as of Q3 2012 and it even had position book value of $972M. The bad news is that it had $4.24B in long-term debt that is being financed at an average interest rate of 14%. The ugly news is that it has $2.95B of face value debt that has a 12% coupon and is coming due in 2015.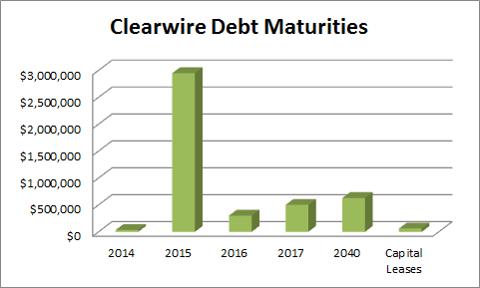 Source: Morningstar Direct
For Sprint to acquire the 48% of Clearwire that it doesn't own, it would need more than half of the minority shareholders in Clearwire to sign off on a deal. Mount Kellett Capital Management and Crest Financial collectively own 14% and have been concerned that Sprint would be getting a sweetheart deal by acquiring Clearwire at $2.90/share. While Clearwire has a sizable spectrum holding, it is suffering from severe indebtedness, stagnant revenues and a consistently continuous cash burn. While we agree with Wells Fargo that Sprint will probably raise its offering price, it is not there are many companies that are interested in Clearwire. Google (NASDAQ:GOOG) already sold off its 6.5% stake in Clearwire earlier this year at 10% of what it originally paid for it. AT&T and Verizon have been able to find spectrum sources other than Clearwire's spectrum. Sprint is a natural partner for Clearwire because Sprint can use Clearwire's spectrum to boost its network in key densely populated urban areas where it needs capacity to build out its 4G-LTE Network and Sprint is the only company using Clearwire's 4G-WiMax network. But we think that Stifel Nicolaus analyst Christopher King said it best when he said, "It's Sprint or nobody. At the end of the day, Clearwire's worth what Sprint's willing to pay for it." We also noted that Sprint's 6% weighted average cost of debt is less than half of Clearwire's 14% weighted average cost of debt.
In conclusion, we can see that one benefit of the SoftBank-Sprint combination is that Sprint's finances will be bolstered in order to supercharge its network upgrade efforts in order to better compete against the AT&T/Verizon duopoly. Sprint has taken advantage of SoftBank's investment in the company in order to acquire a portion of U.S. Cellular's Midwestern operations and now it has announced that it will acquire the outstanding minority interest in Clearwire. We think that the SoftBank-Sprint combination is why Dish Network (NASDAQ:DISH) is considering a partnership with Sprint. We also believe that it enabled Sprint to earn the right to sell Apple's wildly popular, cutting-edge iPad tablet computing device and we believe that Sprint's acquisition of the Clearwire minority interest will ensure that it has the able to continuously expand its 4G-LTE footprint.
Disclosure: I am long S, AAPL. I wrote this article myself, and it expresses my own opinions. I am not receiving compensation for it (other than from Seeking Alpha). I have no business relationship with any company whose stock is mentioned in this article.
Additional disclosure: Additional disclosure: This article was written by an analyst at Saibus Research. Saibus Research has not received compensation directly or indirectly for expressing the recommendation in this article. We have no business relationship with any company whose stock is mentioned in this article. Under no circumstances must this report be considered an offer to buy, sell, subscribe for or trade securities or other instruments.