Every morning, I read the articles that accompany the tickers I follow on Google and Yahoo Finance, and every morning I let out a big sigh when I read articles by REIT dividend columnists. Don't get me wrong, dividends are great. What bothers me is the lack of fundamental valuations that should accompany a recommendation.
My First Example
Since I already wrote Preferred Apartment Communities Short Thesis, I may as well include them as my first example. A cursory review of my article should give you pause before investing in Preferred Apartment Communities, however, investors are presented with articles touting its high yield as a reason to buy:
This Stock Has A 7.62% Yield, Insiders Have Been Buying, was published on Forbes.com online contributor series, by a Dividendchannel.com author.
The "insider buying" the author refers to: a $9,000 common stock purchase by the company's CEO, John A. Williams, whose private funds simultaneously sold the majority of their shares.
Articles Published On Investor Relations Blogs
To make matters worse, many REIT dividend articles and blogs are published by the companies themselves. Take as an example; Kimco Realty SVP of investor relations; Dave Bujnicki, recent article: "Dividend Yield on REIT Stocks Attractive to Income Investors." Dave writes:
What makes REIT stocks so attractive to the income investor is the sector's track record of paying significant cash dividends and generating above-average yields.
Why dividends Are Not The Whole Picture…
Dave Bujikicki is correct in his assumption that REITs are very attractive due to their dividend yield, but what about the REITs' value? When should you buy and at what price? Observing a two year price based chart for Kimco Realty (presented below), we can make a few observations. First, had an investor bought at any of the three observed levels, indicated with an arrow, the investor's ROI would be completely reliant on the REIT's yield, as the price of the stock took another year to return to the entry price. If you base your analysis of a REIT purely on yield, a better investment would be a higher yield, investment grade municipal bond. Before the argument of municipal default arises, let me point out that Moody's reported only 71 municipal bond defaults between 1970 and 2011. At least investing in a municipal bond, you are promised your principal back, and assuming it is an AMT-tax free bond, you would avoid the accessibly high rate REITs have been taxed at (ordinary income) in comparison to qualified dividends (0-15%).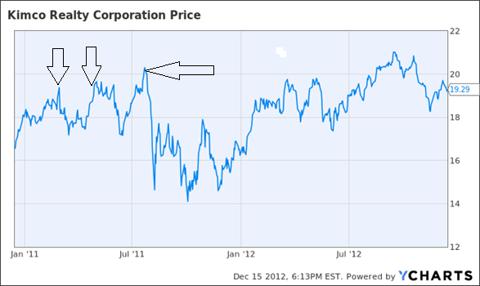 I am not a bond guy, I am a REIT guy, so to avoid investments that essentially replicate fixed income, I propose dividend bloggers provide fundamental analysis and determine entry points. While this is beyond the appropriate reach and discretion of Kimco Realty's investor relations blog, I believe I can present a valuation useful for investors interested in Kimco Realty.
Kimco Realty: The Good News
Kimco Realty (KIM) has produced relatively stable results this year, with solid FFO growth over the same period last year, and a nice dividend increase this past quarter.
Fundamental Valuation
My Opinion: Overvalued
First and foremost, I believe Kimco Realty is overvalued. There have been six non-disposition, common stock, insider sales the past six months, and no insider buying. As of December 15th, Kimco Realty was trading at $19.22 per share, however, Kimco Realty's net asset value (NYSE:NAV) is in the 11.76-12.00 range.
Property Pro-Forma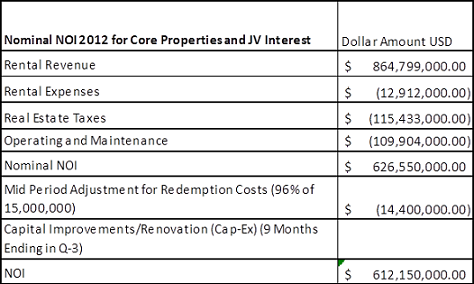 Value of Real Estate Portfolio (JV and Core Properties)
| | |
| --- | --- |
| Cap Rate | .071 |
| NOI | $612,150,000 |
| Value of Real Estate Portfolio | $8,621,830,985.98 |
Net Asset Value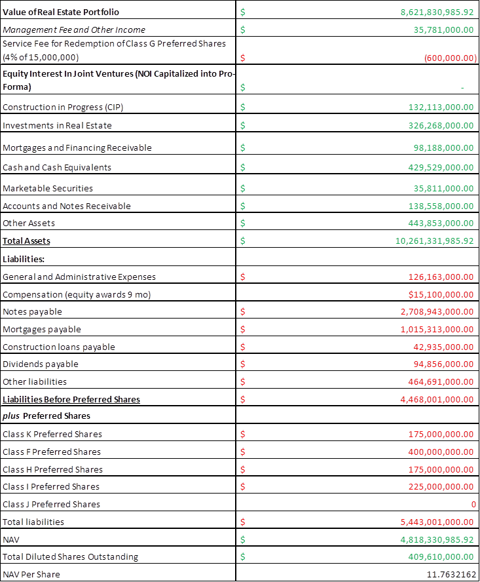 *Adjustments to the NAV analysis above reflect the following mid-period activity:
• Proportionate reduction in income from the redemption fees associated with the redemption of $450,000,000 class G preferred shares.
• Redemption of preferred shares, minus unpaid dividends, to pay off unsecured debt, resulting in a 415,000,000 reduction in consolidated line item: Notes Payable.
• Subtraction of $460,000,000 class G Preferred Shares from preferred share liabilities.
Mid period adjustments were extracted from Kimco Realty's October 8-K disclosure:
The aggregate redemption amount of $460.0 million, before payment of accrued and unpaid dividends of $8.5 million, was paid on October 10, 2012. The Company will record a charge of $15.5 million resulting from the difference between the redemption amount and the carrying amount of the Class G Preferred Stock on the Company's Condensed Consolidated Balance Sheets in accordance with the FASB's guidance on Distinguishing Liabilities from Equity. The $15.5 million will be subtracted from net income to arrive at net income available to common shareholders and will be used in the calculation of earnings per share in the quarter ending December 31, 2012.
Kimco Realty's Debt Management
My second fundamental issue with Kimco Realty is the way the company has managed its debt. The National Association of REITs (NAREIT) reported that Kimco Realty's debt/EBITDA was the second highest in its peer group (shopping centers), and outweighed the average of all three retail segments NAREIT measures in November 2012:
| | |
| --- | --- |
| Sector | Sector Average Debt/EBITDA |
| Shopping Centers | 7.39 |
| Regional Malls | 8.81 |
| Free Standing Retail | 7.71 |
| Kimco Realty | 11.31 |
Kimco Realty is in the process of managing institutional debt, by issuing preferred stock. However, preferred share debt recycling programs can quickly add up. Kimco Realty's mid-period issuance of $175,000,000 of preferred shares, which carry a credit rating teetering on investment grade: (BBB-) Fitch Rating was used to pay off unsecured debt.
Kimco Realty Debt Maturity

Conclusion
My point: beware of dividend columnists who don't back up their recommendations with proper fundamental analysis. Earnings and dividends are only as good as your entry price, if you overpay for good news, you may regret it down the road.
Author's Note: I have substantially rewritten this article to reflect several mistakes I made in the original submission. Seeking Alpha removed the article while I updated it, and has republished my updated analysis below. In the original article, I mistakenly entered the wrong market price for Kimco, I did not assume mid-market activity as part of the NAV analysis, because the analysis was done on a trailing twelve month basis ending with Q3 2012 and I did not apply a cap rate to unconsolidated joint ventures and variable interest entities because I felt it was difficult to do so, considering the obscure nature of VIEs as "consolidated" but not effecting operating activity. Instead, I used the exact value of equity JV interest the company listed in its consolidated balance sheet.
Disclosure: I have no positions in any of the stocks mentioned.
Disclosure: I have no positions in any stocks mentioned, and no plans to initiate any positions within the next 72 hours. I wrote this article myself, and it expresses my own opinions. I am not receiving compensation for it (other than from Seeking Alpha). I have no business relationship with any company whose stock is mentioned in this article.