On Thursday, renewable oil and bioproducts company Solazyme (SZYM) released a press release after market hours that few, if any, were expecting. Found here, the company announced that it had successfully demonstrated its ability to scale its renewable oil fermentation process to 500,000-liter vessels. By the end of the after market session for December 13, the company's stock had risen 16.69% on the late news. But why does this seemingly trivial piece of news matter? What's the big deal?
First, let us consider the context. Solazyme is a revolutionary industrial biotechnology company that is evolving out of a proof of concept and into a full grown commercial manufacturing operation. The company is capable of introducing a new localized source of widely-used oils. It can even customize high-margin oil profiles that are specifically tailored for unique industrial purposes. The company is now in the critical stage of building out manufacturing capability that is able to capture the desired economy of scales necessary for the ideal profit range. Solazyme is currently using 128,000-liter fermentation vessels at its operational facility in Peoria, which carries a nameplate capacity of 1,820 metric tons per year.
However, Solazyme's 100,000 metric ton facility (now under construction in Brazil) will utilize vessels with a working volume (not output volume) of approximately 625,000 liters. That's the size of about three two-story houses stacked together. The company is constructing this plant through a 50-50 joint venture with its partner Bunge (BG). Any failure to correctly scale production here could have stunted the progressive traction thus far made by the company which humbly originated from the garage of its co-founders. Indeed, the company made a significantly progressive step with this announcement of successfully scaling its technology up in linear fashion to the level of 500,000-liter vessels. Investors and business partners alike can now let out a sigh of collective relief knowing that the technology have once again proven itself.
Yet was this really all there was to it? Perhaps only on the surface. If one were to ponder a little more over it, he would see several more thoughts as to why this news in particular spawned a nifty double-digit gain in the after-hour session. I highly recommend that investors consider the following points in regards to the latest announcement:
Accelerated Scaling Surprise. Prior to the recent announcement concerning Archer Daniel Midland Company (ADM) released not more than a month ago, the company didn't even have access to such large fermentation vessels. Considering that management stated it often takes about a year after a plant is constructed in order to scale up to full-production, this demonstration possibly suggests an accelerated timeframe in scaling the Clinton facility. One has to wonder if this also suggests an accelerated timeframe at the Moema facility.
What's happening to the test product? At an approximate 30% conversion rate, the company's producing nearly 40,000 gallons (~136 metric tons) of oil per tank, per run. Considering that "multiple" runs were made, just what exactly is happening to all that oil? Could the company possibly be setting itself up for a future beat on analyst guidance? Recall that at the Peoria facility, the company's only producing 1,820 metric tons per year.
Accelerated partnership time table. CEO Jonathan Wolfson previous stated a telling line in the company's latest conference call found here. When asked about partners on the sidelines, he bluntly stated the following: "I'm sure there are people who are taking a wait and see attitude until Bunge is up and running." Without knowing if the technology would scale up correctly, it was theorized that such companies would play it safe and wait for success at the Moema facility. This latest demonstration could pull forward the time table for such waiting partners-to-be and convince them to pull the trigger to enter into a relationship.
Debunking the Industry Trend. With the recent failures to scale their technologies correctly, perceived industry peers like Amyris (AMRS) and Gevo (GEVO) have become the albatrosses of the advanced biofuel company community. Their recent setbacks can be read here and here respectively. Bear in mind that Amyris had trouble scaling at the 200,000-liter tank level. Solazyme's latest accomplishment once again illustrates why the company stands alone despite the negative correlation investors have pinned on the company stock. This trend can clearly be seen in the below chart despite the fact Solazyme has continued to outperform its own expectations.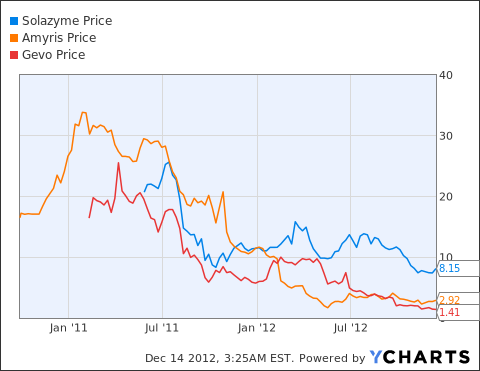 Overall, Solazyme's latest scaling accomplishment appears to have undertones of another advantageous benefit for investors - the possibility of pulling revenues forward. However, much of this must inherently remain a mere speculation. Investors are left to conjecture over what is happening to the abundant test product that is surely being produced. Additionally, the fact that testing is even occurring at all should serve as a surprising factor. The company is not expecting this plant to be operational until 2014, and there was a general belief that large pieces of equipment were needed in order to operate the facility.
Yet because testing at these large tank levels is happening now, one should ponder the implications. Will ADM's Clinton facility now achieve full production quicker? More importantly, can Bunge's Moema facility reach its full capacity faster? As such facilities often take a year to scale up correctly, its possible that Solazyme's announcement might subtly be suggesting an increase in future revenue guidance (were such guidance to have been made in the first place). After all, a production facility that comes online quicker can easily translate into revenues recognized faster.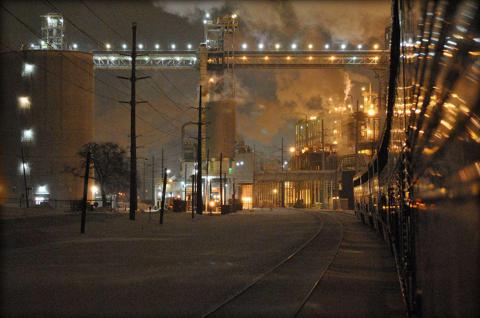 According to Yahoo! Finance, analysts currently expect a loss of $0.37 for the coming quarter based on revenues of $9.25 million. In the last quarter, Solazyme brought in $8.58 million, of which only $3.77 million was derived from product revenues. While it may be too soon to speculate on what is happening to the test product, could we possibly be looking at a future revenue beat through the additional sale of product previously unaccounted for? Perhaps only time will tell.
Solazyme also filed a registration statement with the SEC today in order to act upon its ability to sell equity to ADM for services rendered. In the statement filed here, we see that the company limits these sales to $30,000,000. At today's closing price of $8.15, this could equate to roughly 3.7 million shares of dilution - a small price to pay for rapidly accelerating the company's commercialization efforts.
Perhaps more importantly, such equity payments would further strengthen the ties between ADM and Solazyme. If ADM is willing to take payments in equity over cash, it remains a convincing sign that their outlook of Solazyme remains strong. Perhaps investors should also take this into consideration when they review the story of Solazyme's growth now unfolding before them.
Disclosure: I am long SZYM, BG. I wrote this article myself, and it expresses my own opinions. I am not receiving compensation for it (other than from Seeking Alpha). I have no business relationship with any company whose stock is mentioned in this article.