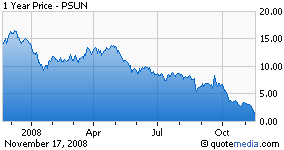 Pacific Sunwear of California (NASDAQ:PSUN) is expected to report Q3 earnings after market close Tuesday, November 18, with a conference call scheduled for 4:30 pm ET.
Guidance
Analysts are looking for a profit of 1c on revenue of $320.66M. The consensus range is (1c) to 3c for EPS, and revenue of $298.2M to $324M, according to First Call. In October, the company, which reported October same-store sales declined 11%, revised its Q3 guidance and that, excluding items, profit would be at the low end of its target of breakeven to 5c.
Analyst Views
Following comments from Volcom (NASDAQ:VLCM), whose largest customer is Pacific Sunwear, that it was seeing weaker ordering trends from retailers, Piper Jaffray analyst Jeffrey Klinefelter cut his outlook on the company. He believes that the company and other retailers will plan for a more conservative Q4. Adrenalina (OTC:AENA), a two year old rival to Pacific Sunwear of California offered $295M, or $4.50 a share, to buy the mall-based chain. Adrenalina has just three stores in Florida and a market cap that is one tenth the size of the offer, and in an environment where major financing is almost nonexistent; its offer was rejected by Pacific Sunwear, who said the deal is not in the best interests of shareholders. Adrenalina CEO Ilia Lekach said that the company's next option will be to present the proposal directly to PacSun's shareholders at a shareholder meeting; analysts will listen for comments on this development.