Granted, success in the oil and gas business is usually better measured over the long term rather than the here and now. Yet, we also believe in acknowledging excellence based on short-term performance when warranted.
Core Laboratories (NYSE:CLB) is one company in the oilfield that is has been performing on both counts.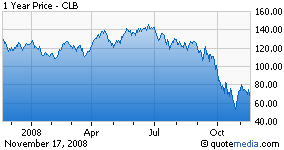 The supplier of reservoir description/management and production enhancement services recently reported its most profitable quarter in its 72-year history. This is not particularly surprising to us given the company's strong performance in EnergyPoint Research's independent customer satisfaction surveys over the past few years.
Since 2006, Core Labs has ranked in the top quartile of nearly every attribute and category in which it has been measured in our surveys, receiving particularly high ratings in such key areas as overall satisfaction, performance and reliability, and service and professionalism. To date, some of the comments we've heard from survey respondents in describing Core Labs and its services include "very reliable," "no surprises," and "excellent services provider." All told, the combination of Core Labs' unique offerings and long-term approach to its business seems to be a good fit for customers looking for any advantage they can get.
Disclosure: None