Although fundamentals have been decent for a bottom in coal stocks, and recently those same coal stocks have rallied somewhat off their bottoms, a wild card remained on the deck.
That wild card was the weather. The weather crushed natural gas (NYSEARCA:UNG) and coal during late 2011 and early 2012. That winter was one of the warmest on record, and since natural gas sees a lot of usage in heating that led to a huge oversupply of the stuff. The resulting plunge in natural gas prices in turn made it cheaper to use to generate electrical power, displacing coal and also leading to plunging coal prices and volumes.
Recently, due to the increased natural gas usage from power generation, natural gas inventories reverted to normalcy and prices got a significant bump up, from less than $1.90 in April to close to $4.00. However, once again we're entering the heating seasons, and regrettably once again, it's turning out to be too warm. Today the EIA even reported an inventory build in place of a drawdown:

This build was helped both by the weather and by lower natural gas usage for power generation. This in turn meant that natural gas prices were high enough that coal managed to displace it for some power generation. Since supply is still ample and the weather isn't helping, the most likely course of action is thus for natural gas prices to descend until they, once again, start displacing coal in power generation and thus seeing increased demand. That path demands natural gas prices below $2.70-$3.00.
Finally, were such to happen and once again coal's hopes would be dashed, and stocks such as James River Coal (JRCC), Arch Coal (ACI), Alpha Natural Resources (ANR) and Peabody Energy Corp (BTU) would once again see weakness.
There are many different ways to follow the near-term weather (and not much point in following longer-term predictions). My favorite is using Accuweather's trend maps such as the ones below: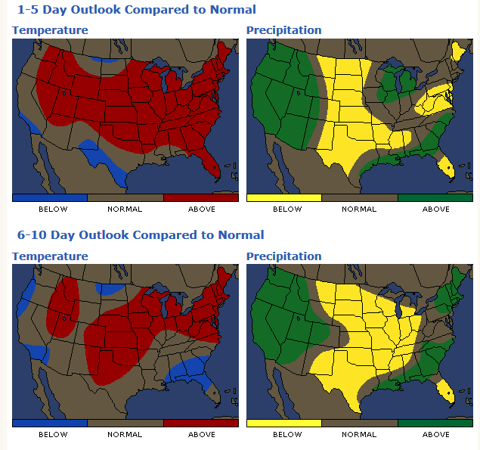 Conclusion
The weather has again turned nasty for natural gas and, by extension, for coal. If near-term trends towards warmer than normal temperatures don't reverse themselves then it's likely that natural gas will have to test lower to see increased demand. Such a move would again put pressure on coal prices and volumes, as well as on the incipient coal stocks' recovery.
Disclosure: I have no positions in any stocks mentioned, and no plans to initiate any positions within the next 72 hours. I wrote this article myself, and it expresses my own opinions. I am not receiving compensation for it (other than from Seeking Alpha). I have no business relationship with any company whose stock is mentioned in this article.