Berry Plastics Corporation (NYSE:BERY) $14.99. Price target $22-37 (up 45-145%) December 13, 2012.
Stock Characteristics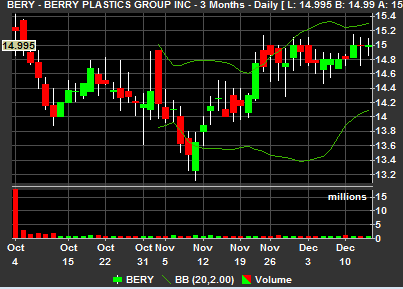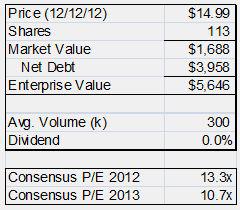 Synopsis:
Berry was an overlooked IPO from October 2012, priced at lower end of range ($16-18 range) and traded down immediately.
Management personally bought stock on the IPO at $16.
Berry sells plastic consumer packaging. It has a leading market share and generates significant cash flows. It is a slow grower: Management expects its top line to grow faster than the industry, which grows similar to GDP rates.
Highly levered cash cow business, with very low valuation based on cash flow multiple. While top line only shows small 2% type growth, I expect the Free Cash Flow line to grow in the 10%+ area as Berry pays down debt and reduces interest expense.

I be

lieve the

stock

has 45-145% upside, simply based on achieving

a cash

flow multiple similar to peers.
Basic Financial Model
The basic model below shows how I expect Berry to pay down its debt going forward.
Berry has roughly $900 million in NOL's.
Valuation
I focus on the Free Cash Flow multiple for companies such as Berry. Given that Berry will be paying down its debt, I specifically look at an EV/FCF (pre interest expense). I believe this creates a more apples to apples comparison vs. other companies with different capital stuctures. Utilizing a 11-14x EV/FCF (pre int. exp) multiple, I generate a price target of $22-37 (up 45-145%).

Alternatively, you can look at basic FCF multiples out several years after much of the debt has been paid down (as seen below). Below is a straightforward EV/FCF valuation.

Comps
Primary competitors include Airlite, Letica, Polytainers, Silgan, Aptar Group and Reynolds, but Berry is the only big one that does both rigid and flexible packaging, making Berry an easy solution for one-

stop

shopping.
Publicly traded comps comparison (below) shows that BERY is relatively inexpensive at current prices across most metrics, despite having better margins.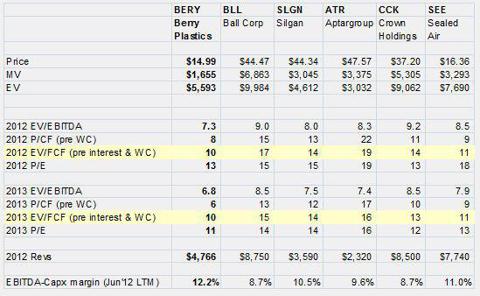 Background
Berry manufactures and sells plastic consumer packaging. Berry owns a library of molds, patents, manufacturing techniques and technologies.
Roughly 90% of sales are U.S. / international.
Over 76% of sales in stable, consumer oriented end markets, and longstanding relationships with leading

companies.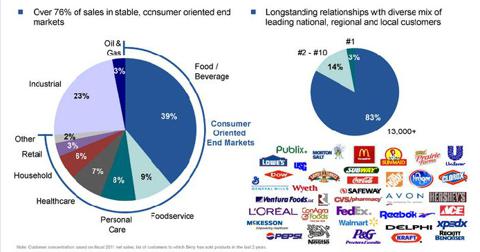 Product types can be broken down as follows (along with the portion of EBITDA generated by each)

In March 2006, Apollo Global Management and Graham Partners acquired the firm.
Be Aware Of
Apollo Management owns roughly 50% of the outstanding shares.
Resin prices fluctuate, which can pass through the income statement, altering

margins

.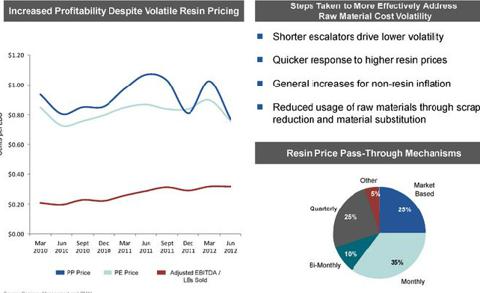 Disclaimer
Disclosure: The author or funds he manages currently has a long position in BERY.
The author of this article manages capital that may have an investment in the stocks mentioned. You should not treat any opinion expressed as a specific inducement to make a particular investment or follow a particular strategy, but only as an expression of the author's opinion. The author does not guarantee any specific outcome or profit.
Although the author believes the information and data presented is reliable, he is not in a position to confirm the completeness, genuineness or accuracy of such information and data. While the author believes in the viewpoint he has expressed, his statements and opinions are subject to change without notice. The author is not under any obligation to update or correct any information provided.
Please note that this should not be construed as an invitation to participate in the Fund the author manages nor should it be construed as a general solicitation.
Any investment involves risk. Potential investors should familiarize themselves with the materials related to such investment and should be able to fully absorb the risk associated with such investments. You should be aware of the real risk of loss in following any strategy or investment discussed. The material presented does not take into account your particular investment objections, financial situation or needs and is not intended as recommendations appropriate for you, and may not be suitable for you. Before acting on information presented you should consider whether it is suitable for your particular circumstances and strongly consider seeking advice from your own financial or investment adviser. It should not be assumed that recommendations will be profitable or will equal the performance of other recommendations. Performance is affected by market and economic conditions. Past performance is not indicative of future results. Strategies or investments discussed may fluctuate in price or value.
Note that in order to comply with the SEC's position on past recommendations, all prior postings on this website will be maintained and are available by clicking on such posting(s).
Disclosure: I am long BERY. I wrote this article myself, and it expresses my own opinions. I am not receiving compensation for it (other than from Seeking Alpha). I have no business relationship with any company whose stock is mentioned in this article.
Additional disclosure: The author manages capital that has an investment in BERY. The content of the article is only an expression of the author's opinion, and the author cannot confirm the completeness or accuracy of the information and data within. Please see full disclosure at end of article.