Just over a year has passed since we first wrote about Clearwire (CLWR), and over the past year, few of the companies that we have covered have experienced as much drama as Clearwire. The company's share price has ranged from a low of $0.83 to a high of $3.18 over the past 52 weeks, as each new analyst note, or comment from either Clearwire or Sprint (NYSE:S) caused the stock to rise and fall. According to data compiled by Bloomberg, Clearwire has been the most volatile stock in the Russell 1000 for the past 3 months. We have spent a great deal of time covering Clearwire because we have been consistent in our belief that the company is undervalued, and as 2012 has progressed, we stressed that the next 12 months would be transformative for the company. Clearwire CEO Erik Prusch has consistently stated that he and his management team are working on a "strategic solution" to the company's issues. And on December 13, we awoke to news that such a solution may be at hand.
Overview
In a 13D filing filed with the SEC on December 13, Sprint and Clearwire announced that Sprint has offered to buy out all remaining Clearwire shares for $2.90 per share. Sprint's rationale for taking full control of Clearwire is relatively easy to understand. While Sprint does currently have a majority stake in Clearwire (on both an economic and voting rights basis), Clearwire's highly convoluted ownership structure means that Sprint has no ability to influence Clearwire's day-to-day operations. Sprint waived its right to appoint 7 of Clearwire's 13 directors in 2010 (likely due to anti-trust and cross default concerns), and with the exception of CEO Erik Prusch, all of Clearwire's directors are currently independent (based on standards set forth by NASDAQ). This structure has precluded Sprint from having any meaningful control over Clearwire, and while both companies are dependent on one another (Sprint's 4G strategy cannot be executed without Clearwire, and much of the financing that Clearwire has received has come from Sprint), it is a complex relationship that Sprint wishes to simplify. And now that it is set to receive billions in new capital from SoftBank, Sprint has the financial strength to fully absorb Clearwire and its balance sheet. Clearwire, in a separate 8-K filing, has confirmed that it is in discussions with Sprint, and that its board of directors has formed a special committee to examine Sprint's proposal.
The Complexity Continues
When it comes to Sprint and Clearwire, it seems that nothing is simple. And Sprint's offer to take control of Clearwire continues that tradition. Under the terms of this offer, Sprint's stake in Clearwire, as well as its rights to Clearwire's board seats cannot be used to force through approval of its takeover offer. The offer must be approved by a majority of minority shareholders, as well as Clearwire's board (which is independent in any case). SoftBank must also approve the deal, but we doubt that Sprint would have made this offer if it did not already have a green light from SoftBank to do so. As Merrill Lynch notes in its commentary on Sprint's offer, Intel (NASDAQ:INTC), Comcast (NASDAQ:CMCSA), and BrightHouse Networks, together constitute a majority of minority investors, and if all 3 companies vote for the deal, that component would be satisfied. Securing board approval, however, is a different matter. Sprint is not in control of Clearwire's board, and activist investors have become more and more vocal in expressing their concerns that minority shareholders are being short-changed. Crest Financial and Mount Kellet Capital Management, which together own nearly 15% of Clearwire, have written to Clearwire's board to explicitly remind them of its fiduciary duty to all Clearwire investors. And Crest Financial has already filed suit against both Clearwire and Sprint to block this deal from being completed (the full text of the lawsuit is available here). In our view, this deal is far from being complete. The level of complexity surrounding Clearwire makes it very difficult for Sprint to complete its takeover quickly, and we do not think that activist investors such as Crest Financial and Mount Kellet will stay on the sidelines. Both have been explicit in their concern that Clearwire is acquiescing too easily to Sprint's proposals, and we expect the pressure on Clearwire's board of directors to only increase.
Is $2.90 Fair? Markets, Analysts, And Precedent Transactions Say No
With Clearwire's shares soaring past $2.90 on news of Sprint's offer, it is clear that the markets expect the offer price to move higher. A host of factors suggest that this is the likely outcome. For starters, Sprint paid $2.97 per share to acquire Clearwire founder Craig McCaw's stake in the company in October; it is difficult to see how Clearwire's value fell by 7 cents per share since then. The optics of offering $2.97 to founder Craig McCaw and $2.90 to Clearwire's minority investors are not ideal, and we believe that a fair number of Clearwire investors will hold out until at least $2.97. And with Clearwire's shares trading well above $3, it is clear that the markets expect a higher offer to emerge. And the majority of analysts agree with such a view. Wells Fargo notes that Sprint's bid is likely only a "starting point" for further negotiation, and that it believes it is unlikely that many shareholders will accept that offer. The firm also notes that its analysis of Clearwire's spectrum shows that Sprint is valuing it at only $0.17 per MHz-POP, and that previous spectrum deals have been done at 50% premiums to that level. JPMorgan is also skeptical that $2.90 per share represents a final offer. Analyst Phillip Cusick, in his comments on this offer, wrote that, "with a year of liquidity on the books and the alternative of raising additional equity or refinancing debt at this level, Clearwire is hardly without options, and we don't see why the company would necessarily jump at a the $2.90 bid." Clearwire's viability as a standalone entity has been steadily improving over the past several quarters, and we do not think that the company is as weak as its critics believe. Clearwire's cash burn is narrowing, and it is executing on its LTE network buildout. While the road as an independent, standalone entity is risky, it is possible for Clearwire to reach sustained profitability on its own, and JPMorgan argues that this is something that Clearwire's board and management team is keenly aware of that fact.
Merrill Lynch, in its updated commentary on Sprint's offer, notes that a higher offer is supported by prior spectrum transactions. Its own analysis of Clearwire indicates that Sprint is valuing Clearwire's spectrum at $0.20 per MHz-POP. The firm notes that DISH (NASDAQ:DISH) bought DBSD for $0.24 per MHz-POP, and that DISH bought TerreStar for $0.21 per MHz-POP. And AT&T (NYSE:T) took control of NextWave for $0.36 per MHz-POP. Based on Merrill Lynch's calculations that $2.90 per share equals $0.20 per MHz-POP, this implies that each 1-cent increase in the value of a MHz-POP is equivalent to $0.06897 per share. We model Clearwire's value based on precedent transactions below.
Clearwire Precedent Valuations
| | | |
| --- | --- | --- |
| Transaction | Price/MHz-POP | Implied per Share Value for Clearwire |
| DISH-DBSD | $0.24 | $3.47 |
| DISH-TerreStar | $0.21 | $3.04 |
| AT&T-NextWave | $0.36 | $5.21 |
According to Merrill Lynch's data, prior spectrum deals support a value of at least $3.04 per share (4.83% above Sprint's current offer), and a value as high as $5.21. BTIG has also stated that Sprint may have to offer over $5 per share to garner the support of all of Clearwire's minority investors. While we would like to see Sprint offer $5 per share, we view such an offer as unlikely. It is unlikely that Sprint will raise its offer by over 72%. That being said, we do expect that Sprint will increase its offer to above $3, as precedent transactions comfortably support such a valuation.
Clearwire and Sprint: Who Holds What Cards
While Sprint's offer is now public, it is by no means the end of the road. Clearwire and Sprint are likely in deep negotiations over an acceptable price for Clearwire's remaining shares. As Clearwire investors, we would like to be able to say that Clearwire holds all the cards here. But, that is not the case. Sprint has the ability to block other bidders from taking control of Clearwire, and in any case, we doubt that an offer from either AT&T or Verizon (NYSE:VZ) would be able to gain anti-trust approval. And as Stifel notes in its own commentary on Sprint's offer, "It's Sprint or nobody. They're losing money hand over fist. They're burning so much cash. At the end of the day, Clearwire's worth what Sprint's willing to pay for it." For the time being, Sprint is Clearwire's lender of last resort, and if Clearwire runs into financial trouble, it is Sprint that will likely step up to the plate. Both companies know this, and Sprint is certain to bring this up in the company's negotiations. Clearwire's debt burden is also an issue (at least in terms of striking a deal). By taking full control of Clearwire, Sprint will also be assuming Clearwire's debt, which currently totals over $4 billion. While analysts generally see Sprint as being able to absorb this debt (due to both a combination of capital from SoftBank as well as network synergies), other potential buyers may not be willing to absorb this debt.
However, this does not mean that Clearwire has no leverage. Sprint needs Clearwire's spectrum, and taking control of Clearwire is still easier than attempting to wrest control of MetroPCS (PCS) away from T-Mobile, or making a bid for Leap Wireless (LEAP), and it comes with many times more spectrum.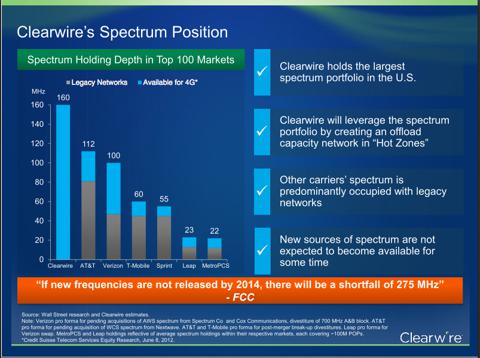 Together, Sprint and Clearwire will control almost as much spectrum as AT&T and Verizon combined. This spectrum position, combined with billions in capital from SoftBank, will enable Sprint to compete in the wireless markets like never before. Clearwire does not need Sprint's spectrum. All it requires is cash. Sprint, on the other hand, requires Clearwire's spectrum, and the sheer size of Clearwire's spectrum holdings is crucial in justifying a bid to take control of the entire company. But, those spectrum holdings can be diminished. As CFO Hope Cochran noted on Clearwire's Q3 2012 earnings call, the Equityholders' agreement around which legacy Clearwire and Sprint's broadband division were merged in 2008 allows Clearwire to sell up to 20% of its assets with the approval of only a majority of the board (sales of more than 20% of assets require the approval of 10 out of 13 directors). Based on its balance sheet, Clearwire can sell just over $1.6 billion in spectrum with only majority approval needed. Clearwire's executives have repeatedly stated that they hold more spectrum than they need, and that selling spectrum is an option to improve the company's financial profile. Clearwire could threaten to sell off a large chunk of its spectrum, and that is something that Sprint could not block. A spectrum sale would infuse Clearwire with a large amount of cash, and lessen its dependence on Sprint. And because Clearwire's board is almost completely independent (with the exception of CEO Erik Prusch), there should be no issue in securing 10 votes to approve a spectrum sale greater than 20% of total assets. In our view, there would be many buyers for a portion of Clearwire's spectrum. T-Mobile, Leap, and MetroPCS are all potential buyers, as is U.S. Cellular (NYSE:USM). And even AT&T and Verizon could make a bid, for a spectrum deal would likely face less anti-trust scrutiny than an outright takeover of Clearwire. Clearwire knows all of this, and is likely to use it in its negotiations with Sprint, and we fully agree with Wells Fargo that $2.90 per share is only a starting point for further negotiations.
Reviewing Our Track Record, And Conclusions
We have been writing about Clearwire for over a year now, and we believe that our track record regarding this company speaks for itself. Below is a table of each of our articles and Clearwire's performance relative to the S&P 500 since that date (returns are based on Clearwire's closing price of $3.16 on December 13, 2012).
| | | | |
| --- | --- | --- | --- |
| Article Date | CLWR Price* | Return as of 12/13/12 | S&P 500 Return Between Article Date & 12/13/12 Close |
| | | +26.4% | |
| | | +56.44% | |
| | | +75.56% | |
| | | +46.3% | |
| | | +116.44% | |
| | | +198.11% | |
| | | +163.33% | |
| | | +209.80% | |
| | | +122.54% | |
| | | +80.57% | |
| | | +95.06% | |
| | | +36.21% | |
| | | +66.32% | |
*Clearwire's stock price is defined as the closing price on the day that the article in question was published.
As the table above shows, every single one of our recommendations to buy Clearwire has outperformed the S&P 500. We have been consistent in our view that Clearwire is a misunderstood and undervalued company since our very first article over a year ago. And now, it appears that the Clearwire "story" is nearing an end. In our view, Sprint and Clearwire will have a deal in place within the next few months. At the very least, it is possible that Clearwire will provide some sort of update when it reports its Q4 2012 results sometime in January or early February. We do not believe that $2.90 per share is Sprint's final offer. Precedent transactions, as well as Clearwire's spectrum options, support a higher value for Clearwire. We are not selling any of our Clearwire stock, and think that other investors should retain their stakes as well. In the coming weeks and months, we believe that this will prove to be a wise decision.
Disclosure: I am long CLWR. I wrote this article myself, and it expresses my own opinions. I am not receiving compensation for it (other than from Seeking Alpha). I have no business relationship with any company whose stock is mentioned in this article.