Summary: Based on historical closed-end fund (CEF) income-only distributions, CEFs may have a further 20% to fall prior to reaching their 1990 yield levels. Current yields have begun to reflect the likelihood of further dividend cuts. CEFs have historically cut dividends in post recession troughs (1991 and 2001) (see second chart).

The average income-only distribution yield, for 48 CEFs that have been in continuous operation since 1990, is currently 9.9%. This is compared to a 12.5% average income-only yield for the same group of CEFs during the economic contraction of '90-'91. In the chart below, CEF yields tracked the S&P 500 yield during the same period with the exception of the tech boom of the late '90s. Given the potential severity of the current recession, it would seem CEF yields need further to rise (prices to fall) to reflect potential reductions of CEF dividends; this was the case in both the post-1991 and 2001 recessions—each considered moderate. 
click to enlarge images
CEF Income Distributions Decline: The chart below demonstrates there has been a general decline in both the average income-only distributions per share and the average stock price during the study period. On a trailing 12 month basis there has been a 36% decline the average income distribution from 1990 to 2007. I've ignored CEF capital gains and return of capital distributions and focused on income-only distributions for the purpose of easy comparison and to gauge the organic income generation capacity of the CEFs.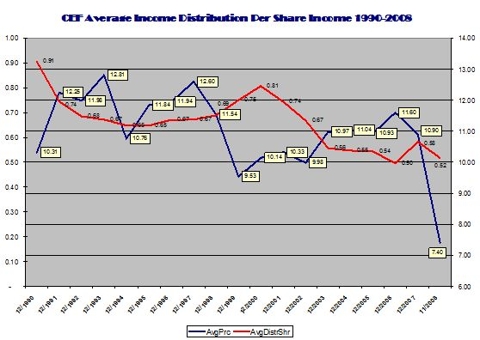 Are CEFs Good Investments? An investor buying our 48 CEFs in 1990 and holding them to now would have generated an internal rate of return (IRR) of 6.4%. This was a result of the initial average purchase price being low enough to generate an initial yield of 12.5% to off-set subsequent declining distributions per share. Alternatively, for an investor purchasing the same portfolio in 1997 (one of the peaks), the IRR would have been -10.6%. CEFs' investment dynamics for our sample have not been attractive with distributions and share prices declining over the 18 year study period. Given the heavy fixed-income nature of CEFs, CEFs should be purchased like bonds—buy when the yields are high and impairment to credit is overestimated.
CEFs of Possible Investment Interest: Muni closed-end funds continue to seem attractive given: high historic current yields; a positive yield spread with taxable treasuries; the potential of the imposition of higher federal income taxes.

Based on my screen of our sample, MFS Municipal Income Trust (NYSE:MFM) at a 9.14% current yield and a discount of 11.8% may be a candidate for a package of muni closed-end funds to be purchased at this juncture. (I'm not conversant with the particulars of this fund—so, check with your financial advisor.) I'd strongly recommend a package of muni funds to diversify risk as these funds are leveraged and maybe subject to regulatory leverage ratios that may preclude dividend distribution if breached.

Final Observations: My sample of CEFs was chosen from a universe of over 500 in my data base. The major criterion for inclusion was the CEF had to be in continuous operation since 1990. The CEF sector composition has changed markedly since that time. Our sample had a preponderance of high-yield funds relative to the current distribution of funds ("%FndCurr"). 

Given the weakness in high-risk investments such as high-yield bonds and their propensity for default early in a credit contraction, such funds could be a reason for the decline in the average income distribution per share during the study period.
Disclosure: Author owns the following closed-end muni bond funds: NMY, NXR, PMM, VGM and VKQ