With the quarterly earnings season winding down, we at eChristianInvesting take this opportunity to look back at how e-commerce companies performed against Wall Street's expectations.
It was pretty tough to find any real winners in the e-commerce sector this quarter. Shutterfly (NASDAQ:SFLY) and 1-800 Flowers (NASDAQ:FLWS) did manage to beat reduced analyst estimates, but even they reduced their guidance expectations. There were certainly plenty of losers though – with VistaPrint (VPRT) and Bidz (NASDAQ:BIDZ) leading the way. The common theme even among all retailers was that the economy was getting much tougher and they were reducing guidance as a result.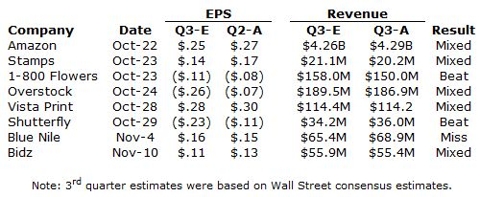 Amazon
Amazon (NASDAQ:AMZN), the leading online retailer is not impervious to the macroeconomic slowdown. After missing analyst estimates for third quarter revenue, the company offered an extremely wide 4th quarter guidance range of $6 – 7 billion. This certainly reflects the current mood of uncertainty which seems to be prevalent. Nobody knows for certain how badly the economy will impact retail sales this holiday season. Of course Wall Street hates uncertainty….
Performance: down 21% since reporting results
Stamps
Stamps.com's (NASDAQ:STMP) revenues fell short of Wall Street's expectations as the challenging macroeconomic conditions resulted in slower customer acquisitions. However, management maintained an optimistic tone about the business stating that the company's recurring revenue business will allow Stamps to continue to produce solid earnings in tough times. That recurring revenue model allowed the company to maintain its full year 2008 guidance of $80 – 90 million.
Performance: down 15% since reporting results
1-800 Flowers
The third quarter is always a seasonally slow period for 1-800 Flowers, but the company did manage to beat Wall Street expectations. The 8% y/y growth was driven by contributions from recently acquired DesignPac Gifts and accelerating growth in BloomNet Wire Service business. All was not rosy for FLWS though, as the company acknowledged greater uncertainty facing customers and took the opportunity to reduce their fiscal 2009 revenue guidance from 10% growth down to 5 – 7% growth.
Performance: down 25% since reporting results
Overstock
Overstock.com (NASDAQ:OSTK) posted a narrower loss this quarter, but revenue growth was disappointing and the company announced that they had to restate their financial statements due to errors in their Oracle ERP system. The company stated that this holiday shopping season and the quarters ahead will be challenging for the retail industry. However, the company believes it stands to benefit from the tough economic times as consumers become more focused on finding the best deals.
Performance: down 14% since reporting results
VistaPrint
Vista Print's quarterly results were decent with inline revenues and a slight beat on EPS as a loyal base of customers accounted for 66% of total sales. However, the company significantly reduced its fiscal 2009 guidance (by ~$60 million) to account for the deteriorating economic conditions and the appreciating U.S. dollar.
Performance: down 50% since reporting results
Shutterfly
Shutterfly delivered a surprisingly solid quarter with revenue growing 10% y/y. However, the company significantly reduced their guidance. Fourth quarter expectations went from 31% growth (at midpoint of guidance) to a 1% decline in revenues. While that sharp of a drop in guidance is probably overly-conservative, the company has set itself up nicely to produce a beat next quarter.  
Performance: down 7% since reporting results
Blue Nile
Not only did Blue Nile (NASDAQ:NILE) deliver disappointing top and bottom line results this quarter, they also completely withdrew their previous guidance for the year. Customer trends weakened as the quarter progressed and deteriorated even further in October. The company clearly faces tough times ahead as consumers look to trade down in the face of a deteriorating economy.
Performance: down 19% since reporting results
Bidz
Following the pattern of its e-commerce peers, Bidz delivered a solid quarterly performance and then subsequently reduced their guidance for the 4th quarter. The company noted a material slowdown in the business in September which could prove ominous for the upcoming holiday season. However, management stated that the new guidance range provided a "conservative outlook" for the holiday quarter which hints that they have reasonable expectations for a beat.
Performance: down 54% since reporting results
Disclosure: Author holds a position in BIDZ