It has not been the best year for conglomerates as a sector. Overall, the sector is up just under 11% compared with the S&P 500 being up just over 14%. Given the sector's relative underperformance for the past 12 months, we decided to screen the sector for potential bargains. Textron (NYSE:TXT) has performed much better than the sector and initially appears to meet our general screening criteria for valuations and profitability. Further analysis reveals that there may be potential for price appreciation, but there may also be better overall options available at this time.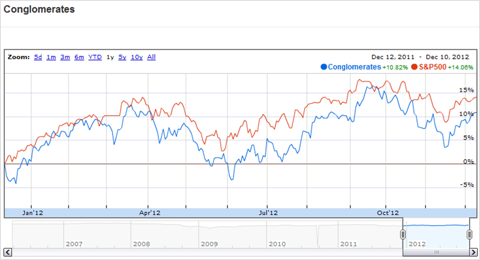 Click to enlarge
Analysis
Textron is a multi-faceted company engaged primarily in the aircraft, defense, and industrial sectors with additional financial services available. They operate in five segments: Cessna, Bell Helicopter, Textron Systems, Industrial, and Finance. Over the past year, Textron has ranged generally from $17 to $29 and currently sits at a little over $24. The stock is up over 32% in the past 12 months, however you can see that this rise really occurred in the early months of the year with the stock flat to down slightly since peaking last April.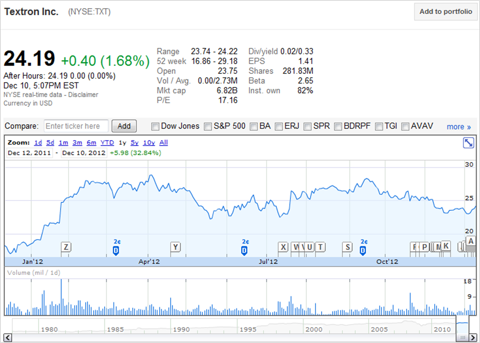 Click to enlarge
The P/E ratio of near 17 places it in the category of being fairly valued when compared to many companies of a similar size across several other sectors, and the listed beta of 2.65 indicates that it will trend with the market overall, but at a significantly faster pace. This beta is likely skewed somewhat by the high price growth early in the year, so temper any expectations in regard to that particular metric. The company has a respectable level of institutional ownership, and profits have been positive with the expectation of growth for the next several years.
Of note to many investors will be the paltry dividend. The yield of 0.33% is unlikely to be any factor whatsoever in a decision to choose this stock at this time. Note that before 2009 the company paid 23 cents per quarter. There are grumblings on some message boards regarding the lack of a dividend increase, but until management chooses to take action this will likely continue to weigh on the stock. An examination of the balance sheet trends shows that the company has done a decent job of reducing debt since 2007, however assets have also declined similarly.
Click to enlarge
To place the current valuation in perspective as compared to anticipated future earnings, consider this table. Just for comparison's sake, if we apply the current P/E ratio to projected earnings through FY 2015, we see that TGT price would climb significantly by 141% over the next 2-3 years. We could alternately assume that the price remains stable and see how that would drive the P/E ratio well into the single digits. In reality, neither of these scenarios is likely to happen, however something in the middle is very possible. Over the past six months we have already seen how the flat price performance allowed the P/E to drop somewhat as earnings improved.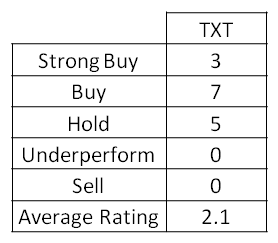 At this point, analysts have an average rating of buy on the stock. The mean consensus on a 12-month target is $30.17, which generally coincides with our table above projecting different possible price points. If the analysts are correct, we could see an approximately 25% increase in the share price as earnings rise and the declining P/E ratio makes the stock appear more attractive.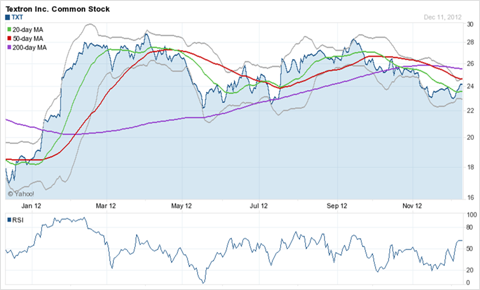 Click to enlarge
Taking a look at some of the basic technical indicators shows that both the 20 and 50-day moving averages have dropped below the 200-day average. This could indicate a general downtrend, however both the 20 and 50-day curves are beginning to show signs of bottoming. The stock has stubbornly traded between $22 and $28 since February, and the RSI is between 50 and 80, indicating that while there is demand for the stock it is not significantly overbought at this point. The stock is approaching its upper Bollinger band, but has flattened out the past day or so.
Investing Strategies
The first and easiest strategy is to simply go long and wait. It is not unreasonable to expect that this company will appreciate over time. I would not even consider the dividend in making a decision on this, but there is potential for growth if you can be patient.
A second opportunity to profit in this stock would be to utilize a covered call strategy to generate income from shares owned. This could be an attractive option especially with the dividend being so low and calls currently selling at a reasonable premium. For example, purchasing a 100-share block of the stock while simultaneously selling a March 2013 $25 call at $1.19 results in a net cost of $23 per share. If the stock ends the quarter above $25, you profit a tidy 8% for the quarter. If it does not reach $25, you are free to repeat the option sale to continue generating income and further reducing your cost basis. If you do choose this path, ensure you place your option at a price you would not mind selling the underlying stock.
A third strategy is to build an options spread position. At this time, the vertical spreads are positioned such that a reasonable position can be built, but the payoff potential is likely not enough to motivate many to make this move. For example, buying a given number of the January 2013 $23 calls at $1.64 and selling the same number of Jan 2013 $24 calls at $.94 results in a net cost of $70 per contract. This trade can profit 42% if the stock remains over $24 until expiration. It will break even if the stock remains over $23.70, however, this is by no means a certainty. If the stock closes below $23, the entire amount invested is lost.
Conclusion
There is some potential to profit from a position in Textron in the coming months. The company's dividend is not a factor at this time, and unless the company chooses to raise it we are unlikely to see any bounce due to that. However, if earnings do continue to rise in accordance with estimates, it is reasonable to expect that the stock price will also rise as the valuations change. I would expect any price increase to lag behind earnings, and as a result will put some additional effort into researching the second strategy outlined. Utilizing covered calls will allow an investor to hold the stock while using them to generate additional income. Should the stock continue its sideways trend, then the premiums are pocketed and the process can be repeated if desired. If news comes out that causes the stock to rise significantly, the covered calls could alternately be closed out in order to retain the stock and profit from a simple long position. Good luck out there!
Disclosure: I have no positions in any stocks mentioned, but may initiate a long position in TXT over the next 72 hours. I wrote this article myself, and it expresses my own opinions. I am not receiving compensation for it (other than from Seeking Alpha). I have no business relationship with any company whose stock is mentioned in this article.