There may not be a more apt name than the one chosen for the mortgage REIT Chimera Investment Corporation (NYSE:CIM). From Greek mythology the Chimera was a giant beast composed of parts of a goat, a lion and a serpent. Investors in the modern Chimera Investment continue to wait to see which part will prevail.
While Chimera has yet to file its required 2011 year-end financial report or any subsequent quarterly reports, the company has continued to pay an attractive dividend and report a fairly stable book value per share. The tricky part is that there is no financial information to evaluate the determination of the book value.
Chimera Investment has issued a press release stating that the company had at the end of September 2012 a GAAP book value of $3.31 per share and an economic book value of $2.95 per share. For the end of the 2012 second quarter, the numbers were $3.08 and $2.87. The last time Chimera reported financial results was for the third quarter of 2011 and at the end of that quarter, the respective book values were $3.27 and $3.01. What you have is basically no change in book value over the 12-month period.
However, a flat book value over the last four quarters is nothing to brag about. This chart shows the book value change of 4 hybrid mREIT companies: Invesco Mortgage Capital (NYSE:IVR), MFA Financial (NYSE:MFA), AG Mortgage Investment Trust (NYSE:MITT) and Dynex Capital (NYSE:DX). All have seen significant gains in their book value over the last year as declining interest rates have boosted the value of mortgage-backed securities.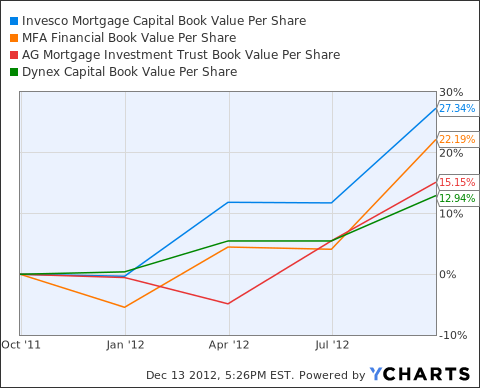 IVR Book Value Per Share data by YCharts
No Work On Reports
In the press release, Chimera notes that it will eventually report 2011 results and restate financials for the previous three years. A couple of quotes from the press release:
The restatement is not expected to affect the Company's previously announced GAAP or economic book values, actual cash flows, dividends and taxable income for any previous period.
and
The Company is currently unable to estimate the timing for filing its 2011 Form 10-K,
I have never seen a company take so long to file the required financial reports and have previously stated that I view the delay as an indication that there may be deeper problems with the company. On the other side of the argument are the continued dividend payments and stable - if not increasing like the competitors - book value. The current dividend rate has been extended through the second quarter of 2013, so maybe the 2011 financials will be out by then.
Investors hoping that Annaly Capital (NYSE:NLY) will also buy up Chimera Investment will probably not get their wish. In a troubled environment for its business model, I have a hard time believing Annaly will try to improve results by the purchase of more trouble.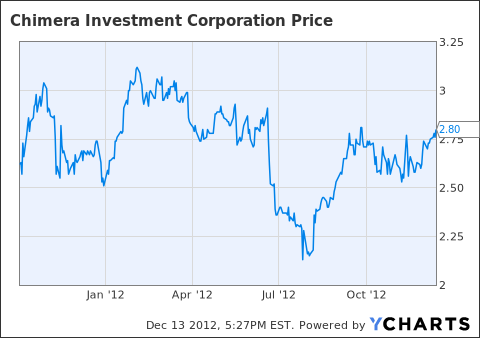 Disclosure: I have no positions in any stocks mentioned, and no plans to initiate any positions within the next 72 hours. I wrote this article myself, and it expresses my own opinions. I am not receiving compensation for it (other than from Seeking Alpha). I have no business relationship with any company whose stock is mentioned in this article.