Cirrus Logic Inc. (NASDAQ:CRUS) delivered a more than 7% positive surprise in its fiscal second quarter, which helped this fabless semiconductor company become a Zacks #1 Rank (Strong Buy) on November 28. It also recently announced authorization to buyback $200 million shares. CRUS has a long-term projected growth rate of 15.0%.
Strong Revenue Boosts Second Quarter
On October 31, Cirrus Logic reported that fiscal second quarter earnings surged 154.2% year over year to 71 cents per share, which exceeded the Zacks Consensus Estimate by 7.58%. The key driver of the surprise was solid revenue growth.
Revenue jumped 90.7% from last year to $193.8 million, well above the Zacks Consensus Estimate of $180.0 million.
Better-than-expected growth was driven by the 112.6% year-over-year improvement in Audio Product revenue. Revenue from this segment increased on the back of higher sales for Apple Inc.'s (NASDAQ:AAPL) iPhone 5, which had a solid backlog in the preceding quarter.
Management provided an upbeat outlook for the third quarter. Revenue is expected between $270.0 million and $300.0 million, with gross margin in the 50.0% to 52.0% range and operating expenses of $49.0 million to $52.0 million. The solid revenue projection was due to strong demand for its analog and mixed-signal integrated circuits for audio products.
Earnings Estimates Move Higher
The past 60 days have seen three out of four estimates revised higher for both fiscal 2013 and fiscal 2014. For the current fiscal year, the Zacks Consensus Estimate has jumped 36.6% to $3.21. For next fiscal year, the Zacks Consensus Estimate is up 31.6% to $3.58.
Reasonable Valuation Currently, Cirrus Logic is trading at a premium to most of its peers based on P/E, P/S and P/B. The premium valuation seems justified given the company's solid earnings growth prospects. Its earnings growth expectation of 15.0% over the next five years compares favorably with the industry average of 13.6%, indicating room for further expansion. Moreover, its return on equity (ROE) of 24.3% is higher than the industry average of 20.0%.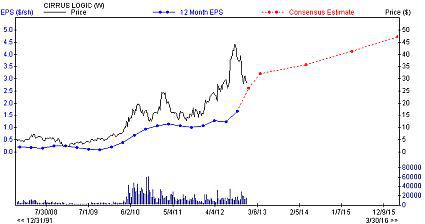 Cirrus Logic designs ICs for the audio and energy markets. The major contributor to the company's revenue is its audio product portfolio. Audio products generate 85.0% of total revenue while only 15.0% comes from Energy products. The company has a strong customer base but its prime customer is Apple with revenue contributions of 62.0% in 2012, 47.0% in 2011 and 35.0% in 2010.
Read the full Snapshot Report on CRUS (email registration required)