Stryker Corporation (NYSE:SYK) is a $21 billion large-cap global medical technology company. It operates in the following segments: Reconstructive, MedSurg, and Neurotechnology & Spine. The company offers products such as reconstructive orthopedic hip and knee systems, surgical equipment, medical devices, neurovascular products, spinal implant systems and related products. The company aims to help people lead more active and satisfying lives.
Stryker's products are marketed directly to doctors, hospitals, and other healthcare facilities in the United States. Its products are also sold in over 100 countries internationally through company-owned sales subsidiaries and third party dealers and distributors. The company provides a high-level of expertise by maintaining separate and dedicated sales forces for each product line.
The aging baby boomer demographic will benefit from Stryker's many products. The United States has 78 million baby boomers that are turning 65 at the rate of one every 10 seconds. This equates to between 3 and 4 million people turning 65 every year. Two-thirds of baby boomers over age 65 are expected to have 5 or more chronic diseases, see 15 physicians, and average over 40 doctor's visits per year. This bodes well for Stryker's medical products as the company has many solutions for the many problems that afflict the senior population.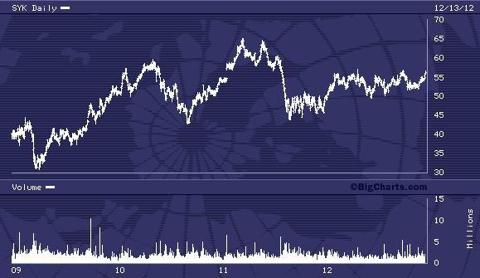 The company pays a modest dividend of 1.9%. Stryker has raised the dividend payment every year since 1995.
Stryker announced last week that it will buyback an additional $405 million of its common stock to raise its total stock repurchase authorization to $1 billion.
The company is undervalued with a forward PE ratio of 13.07, a PEG of 1.53, and a price to book ratio of 2.55.
With a profit margin of 16.75% and an operating margin of 23.46%, Stryker has strong profitability. For the past twelve months, the company had an operating cash flow of $1.69 billion and free cash flow of $1.46 billion.
The balance sheet also looks solid with total cash of $3.86 billion and $1.77 billion in total debt. The current ratio is attractively high as the company has 4.85 times more current assets than current liabilities.
Stryker is expected to grow earnings annually at about 9% for the next five years. When combining the dividend yield with the company's growth, investors should expect a $10,000 investment to grow to be worth over $16,000 in five years.
There are some risks for investors to be aware of with regard to the company. For example, safety issues occasionally lead to legal actions against the company or recalls of the company's products. In June 2012, Stryker voluntarily recalled its Rejuvenate and ABGII modular neck-stems in response to potential risks with corrosion that may lead to adverse local tissue reactions. These systems are used to correct certain aspects of a patient's anatomy and hip biomechanics. Stryker is working with the medical community to resolve this issue.
As a result of Obamacare, effective in 2013, Stryker faces a 2.3% excise tax on its medical devices sold in the United States. The company also said that it is unclear how the new healthcare law will impact patient access to new technologies or reimbursement rates under the Medicare program.
Despite any risks, I think that the upside will outweigh any downside for Stryker. As the baby boomers retire and continue to age, their health problems will increase, thus increasing the demand for the products that Stryker offers. With an undervaluation, consistent dividend increases, and steady expected growth, Stryker looks like a reliable investment for the long-term.
Disclosure: I have no positions in any stocks mentioned, and no plans to initiate any positions within the next 72 hours. I wrote this article myself, and it expresses my own opinions. I am not receiving compensation for it (other than from Seeking Alpha). I have no business relationship with any company whose stock is mentioned in this article.