Gold and silver are often looked at as two peas in a pod. Both attract investors looking for inflation protection as well as commodity speculators. The respective prices of the SPDR Gold Trust ETF (NYSEARCA:GLD) and the iShares Silver Trust ETF (NYSEARCA:SLV) show considerable consistency in the returns.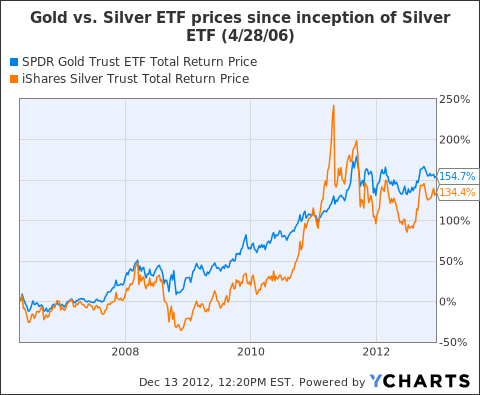 GLD Total Return Price data by YCharts
Since the inception of the Silver ETF, the Silver ETF has been up an annualized 15%, while the Gold ETF has been up an annualized 14%. Good returns both especially given the downturn. However, as the chart shows, the Gold ETF has had considerably more volatility. Why is that the case?
Gold and silver are fundamentally two very different commodities.
The main use of gold is in making jewelry. About 55% of annual gold usage is estimated to be used in jewelry, with India being the largest user of gold (though China is about to overtake India in this regard). Next, about 33% of gold use is for investment purposes. Reports the World Gold Council: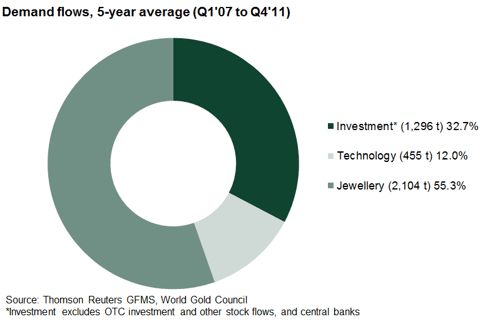 Most of the jewelry demand is as an indirect investment as well, especially that coming from India. So, more or less, gold is used for investment purposes some 80%+ of the time. If there are credible alternatives, gold investment would suffer.
The main use of silver, however, is in commercial. A full 65% of silver used today is in industrials and photography, and the rest is between silverware, jewelry, and coins and medals. Reports the Silver Institute
Silver has innumerable applications in art, science, industry and beyond.

At the highest level, though, demand for silver breaks down into three important categories: silver in industry, investment, and silver jewelry & décor. Together, these three areas represent more than 95 % of annual silver demand. In 2010, 487.4 million ounces of silver were used for industrial applications, while over 167.0 million ounces of silver were committed to silver jewelry and 101.3 million ounces were used in coins and medals.
True investment purpose use of silver is likely less than 20% from the above data. This means price of silver is more influenced by industrial demand than investments or speculation.
So what are the industrial uses of silver? Electronic systems is a big user. Cars and computers and iPads, for example, consume a lot of silver in their internal electronics, as do photovoltaic (solar) cells. Reports the Silver Institute:
Almost all electronics are configured with silver. From turning out the lights to turning on your television, if it has an on/off button, it's likely that silver is playing an important role, behind the scenes.

Its excellent electrical conductivity makes it a natural choice for everything from printed circuit boards to switches and TV screens.

Silver membrane switches, which require only a light touch, are used in buttons on televisions, telephones, microwave ovens, children's toys and computer keyboards. These switches are highly reliable and last for millions of on/off cycles. Silver is also used in conventional switches likes those used for controlling room lights.

For printed circuit boards, used in consumer items from mobile phones to computers, silver-based inks and films are applied to composite boards to create electrical pathways. Similarly, silver-based inks produce so-called RFID tags (radio frequency identification) antennas used in hundreds of millions of products to prevent theft and allow easy inventory control. They are also used in prepaid toll road passes.

CDs, DVDs and plasma display panels are also fabricated using silver.
So, what would happen if industrial growth were to resume in 2013 and 2014? Silver demand would likely explode. Reports the International Business Times:
A global recovery of the auto market and a continued rebound in housing and construction will lift industrial demand for silver to a record 511 million ounces by 2014, according to a report from Thomson Reuters GFMS for the D.C.-based Silver Institute.

...

Despite the current uncertainties in the U.S. economy and struggling euro zone economies, global gross domestic product growth is expected to be higher next year. The International Monetary Fund predicts that China's and India's output will help lift the global economy by 2.4 percent next year, up from the estimated 2.1 percent for 2012. U.S. GDP is expected to drop slightly next year, and it remains below 2 percent.
One additional boost that silver may get is expected rate of inflation. With the FOMC on Wednesday announcing a 2.5% inflation target, as I mentioned in another article, this should help all inflation hedges, including silver. Overall, this makes me super bullish on silver, even though I am not equally bullish about gold. In fact, as I wrote in another article, I think gold will move sideways in 2013.
But silver is another story.
Disclaimer: This is not meant as investment advice. I do not have a crystal ball. I only have opinions, free at that. Before investing in any of the above-mentioned securities, investors should do their own research, consult their financial advisors, and make their own choice. I am merely stating what I personally plan to do for my own portfolio.
Disclosure: I have no positions in any stocks mentioned, and no plans to initiate any positions within the next 72 hours. I wrote this article myself, and it expresses my own opinions. I am not receiving compensation for it (other than from Seeking Alpha). I have no business relationship with any company whose stock is mentioned in this article.