The Federal Energy Regulatory Commission (FERC) and New York Public Service Commission (N.Y. PSC) approved NRG Energy (NYSE:NRG) merger with GenOn Energy (NYSE:GEN). NRG is expected to enjoy synergies and expand operations in different states of U.S. Also, NRG will benefit from rising natural gas price as it has hedged its natural gas generation for upcoming years. Moreover, it has a strong cash flow position and analysts are expecting high growth. Due to these factors, I believe 2013 will be a good year for NRG.
NRG Energy Inc. is an independent power producer and operates mainly in Texas, New York and California. Post merger NRG will be able to generate 47,000 MW of electricity and power almost 40 million American homes. Last month shareholders of both the companies approved the merger.
NRG will enjoy financial and operational synergies of $300 million annually, primarily driven by general & administrative costs reduction, operational efficiencies and debt reduction. Also, the company will be able to save free cash flow of $300 million annually, which will be used to strengthen its balance sheet and earn credit enhancement.
The combination of two companies will allow NRG to expand its retail business in the Northeast and Mid Atlantic markets.
According to most recent quarter earnings report, retail customers of NRG are increasing as shown in the graph below.


Source: Earnings Presentation
Other than enjoying synergies from the merger, rising natural gas prices will benefit NRG as it has hedged significant portion of its base load generation. Natural gas prices are trending upward and the trend is expected to continue in following year. The graph below is taken from 3Q 2012 earnings presentation, it displays hedge position for the company in 2013, 2014 and 2015.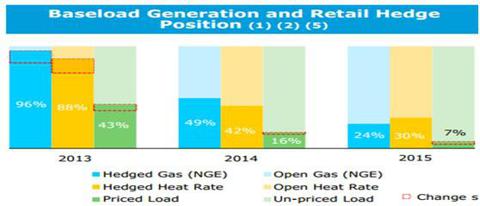 Source: Earnings Presentation
Financial Performance
NRG reported strong financial performance for 3Q 2012. The company registered adjusted EBITDA of $657 million. Also, it reported free cash flow of $806 million for the first nine months of 2012.
The company narrowed and reaffirmed its standalone guidance for comings years. Analysts are expecting strong growth rate of 25% per annum for next five years. The table below shows the guidance issued by the company in recent earnings release.



Source: Earnings Presentation
The Company has strong liquidity position. In 3Q 2012, it reported total adjusted current liquidity of $2.71 billion, representing an increase of over $600 million YTD. Due to company's strong liquidity position, it has initiated quarterly dividend of $0.09 in August. Currently the stock offers dividend yield of 1.55%.
Conclusion
I am bullish on the stock. The company will benefit from the merger in future once it starts realizing the expected synergies.
Disclosure: I have no positions in any stocks mentioned, and no plans to initiate any positions within the next 72 hours. I wrote this article myself, and it expresses my own opinions. I am not receiving compensation for it (other than from Seeking Alpha). I have no business relationship with any company whose stock is mentioned in this article.