Relative Valuation
Having recently turned a corner in profitability, Nuance (NASDAQ:NUAN) trades at a PEG ratio of 0.0762. For reference, Apple (NASDAQ:AAPL) has a PEG of 0.2012. Nuance is 1/60th the size of Apple.
Nuance has an EV/EBITDA TTM of 25.07. Amazon's (NASDAQ:AMZN) is 47.55.
Nuance has a Price/Sales ratio of 4.075. Salesforce's (NYSE:CRM) is 8.137.
Unlike the three comparables mentioned, Nuance has an effective monopoly in its core business, which is speech recognition. Such hyper-specialization in core business often results in fragility. But the focused niche model is not risky for Nuance, as Nuance provides must-have, custom solutions in several growing categories.
Thus the stock appears cheap on relative valuation alone. One can get the explosive transformation potential for free.
Transformation Potential
Through speech recognition and artificial intelligence (AI), Nuance leads a revolution in use of technology. Siri is just the beginning.
When humans communicate with each other, we do not pass written notes with yes/no icons and blank textboxes sketched in them. Instead, we nod or shake our heads, and we speak (listen) to transfer complex ideas. It is efficient and comfortable for us to communicate conversationally. Computers do not have the right to make us change our habits; it is only temporary that we conform to technological limits.
Strategic Positioning
As limitations are dismantled by Nuance, developers are increasingly designing their applications to be "native" for speech recognition. Nuance is the only company maintaining a complete vertical stack in this area, has highly defensible IP compared to "rounded corners" patents, and a multi-year head start applying the nuances of this technology.
Google's Glass will help bring speech recognition UX to the mainstream, but Google is not direct competition for Nuance. Partners rely on Nuance as a neutral party, or "Switzerland" - Google will never occupy this category (Google is "China").
Google has already established itself as a complement to Nuance. For example, Samsung (OTC:SSNLF) currently partners with Nuance in Android phones, and Samsung is not the only one. Thus Google's participation in 2013/2014 next-generation speech recognition is likely net-positive for Nuance, as it accelerates the UI paradigm shift.
Timing
Perhaps only 1% of speech recognition's core usability potential has been realized. Does that mean we are only 1% done in terms of timing?
Consider the Human Genome Project, which was 1% done after 7 years. Scientists thought it would thus take 700 years. Ray Kurzweil modeled it exponentially and correctly predicted it would be done in a couple of years. Here's what he says about Siri in his latest book:
It is typical that people dismiss the significance of a first-generation technology because of its limitations. A few years later, when the technology does work well, people still dismiss its importance because, well, it's no longer new. That being said, Siri works impressively for a first-generation product, and it is clear that this category of product is only going to get better.
This reference to Siri as a first-generation product refers to her AI capabilities--Kurzweil is saying Siri's second generation will show distinctly improved human-like thinking. The first-generation label does not refer to speech recognition.
In speech recognition usability, Nuance is further along than a first generation. This is important to note. If speech recognition usability progresses on a logarithmic growth curve, and the early portions of that curve have been drawn already, usability's rate of improvement is approaching extreme speeds.
Now, let's look at some of the trends Nuance is involved in.
Enterprise Trend
80% of startups with IPO potential are now B2B. B2B stocks like LinkedIn (NYSE:LNKD), Salesforce, and Yelp (NYSE:YELP) have dramatically outperformed consumer stocks like Facebook (NASDAQ:FB), Zynga (NASDAQ:ZNGA), and Groupon (NASDAQ:GRPN).
Nuance solves problems in this space by replacing service workers with artificial intelligence software. This allows businesses to communicate with customers more quickly, more thoroughly, and more cheaply.
Payments Trend
Potential for profit in the payments market is huge. Here is an example of how huge it is. eBay (NASDAQ:EBAY) is a darling tech stock almost entirely because it has PayPal; PayPal is the historical leader in payments. But PayPal's founder Elon Musk suggests PayPal is screwed. The potential for profit in the payments market is so huge, nobody cares that Elon Musk is bearish on PayPal.
Nuance lets customers log in verbally using voice biometrics, which is the most frictionless way to handle payments. Frictionlessness is crucial in payments as it results in a higher conversion rate. In the foreseeable future, selling without voice recognition payments may be like trying to sell today without credit card acceptance.
Healthcare Trend
90% of American doctors have not yet adopted electronic health records. Developing country healthcare is one of, if not the, world's fastest growing industries. In the latest earnings call, Nuance provided such aggressive guidance for its healthcare growth that the Goldman (NYSE:GS) analyst incredulously asked Nuance to repeat it. The guidance is based on Nuance's established growth rate in this sector, and Nuance has been beating overall guidance for several quarters.
Illiteracy Trend
87% of American adults scored below "proficiency" in document literacy testing. Nuance will destroy the barrier between document literacy and information technology. We are talking about a usability difference of comparable scale between televisions and books.
Smart Money
I recently offered a hypothesis to suggest how intellectual-property-heavy business models are undervalued. Clear thinking in the area has been sacrificed as it leads to uncomfortable conclusions:
Information (technology) is replacing humans. All relevant economists understand this. Marx described himself as an economist in books based on this idea, and the trend has only accelerated since.

Workforce participation has been declining all the more quickly since companies like Google (NASDAQ:GOOG) began replacing human intelligence with computer intelligence. Thus, economists should acknowledge that workforce participation is no longer a crucial metric. But they are blind to this, as political expediency favors the illusion of a sustainable, working middle class. With IP business models, investors have an opportunity to get ahead of flawed economic thinking by betting against the value of human labor.

[...]the economic power created by technology will not be collectively distributed. This reduces the relative value of human labor and establishes intellectual property as an attractive asset class.
Paul Krugman, who has an economics Nobel, weighed in on this issue three days later (see also):
If [robots replacing humans] is the wave of the future, it makes nonsense of just about all the conventional wisdom on reducing inequality. Better education [often associated with a healthy middle class] won't do much to reduce inequality if the big rewards simply go to those with the most [tech] assets.[...]

I think our eyes have been averted from the capital/labor dimension of inequality, for several reasons. It didn't seem crucial back in the 1990s, and not enough people (me included!) have looked up to notice that things have changed. It has echoes of old-fashioned Marxism - which shouldn't be a reason to ignore facts, but too often is. And it has really uncomfortable implications.
Side note: Albert Wenger, who is Fred Wilson's USV partner, has a solution for this social problem: unbundle the benefits of employment, so that each can be distributed more efficiently:
income, structure, social connections, meaning, [and healthcare]
I am not trying to solve society's problems in my investment thinking. However, when extremely smart people like Paul and Albert confirm the power of intellectual property in modern economics, that is useful confirmation in establishing the value of Nuance within an IP asset class.
Mad Money
Cramer said "stay away" from Salesforce stock when it traded at $24. He presently loves Salesforce at $166. He has been scaring investors away from Nuance at $22 with the same "it's not cheap enough" and "I don't get it" line of reasoning he used on Salesforce.
Hypothetical NUAN Ratings Model Through 2014
Strong buy below $30. Buy below $55. Hold below $90. Sell below $135. Strong sell above $135.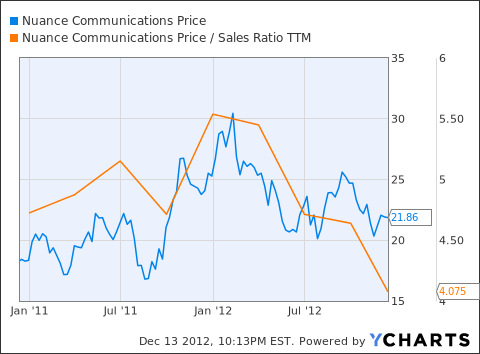 Disclosure: I am long NUAN. I am short CRM. I wrote this article myself, and it expresses my own opinions. I am not receiving compensation for it (other than from Seeking Alpha). I have no business relationship with any company whose stock is mentioned in this article.