McDonald's (MCD) is a classic, conservative stock that is currently providing a fair entry price point. It is the type of stock where you can comfortably buy and hold for the next 5-10 years and expect a decent total return of 8-9% a year (3.5% dividend yield and +4-5% stock appreciation). MCD is a singles/doubles hit type of pick, not a swing-for-the-fences homerun bet. Investing is about your batting average over the long-run, so don't overlook these singles/doubles when the opportunities present themselves. Let's look at some of the basic fundamentals before deciding whether to add MCD to your portfolio.
Valuation
MCD stock trades at 15.5x 2013 P/E, 20% net income margin (NI margin above 15% is one of Buffett's general rule), dividend yield of 3.4% with annual dividend growth +10%. Note that top line sales are increasing along the lines of 5-6% a year, but dividend is able to grow at 10-12% due to operating leverage (add new stores and incremental sales, but corporate overhead expenses do not need to increase) and increasing dividend payout ratio (from 50% to 55%). Note also while P/B is 6.5x and may seem high compared to the typical value indicator P/B of 1.0x or lower, McDonald's has been consistently buying back stock every year (around of $3-4 billion a year since 2007). If you adjust book value by the $30.3 billion of treasury stock on MCD's balance sheet from the buybacks, the adjust P/B is only 2.0x:

Click to enlarge
Industry Comparables
MCD currently trades at the bottom of the industry comparables range at 15.5x 2013 P/E, compared to the industry average of 23x 2013 P/E. Historically, MCD has traded anywhere from 15x-21x forward P/E. MCD is by far the largest market cap food and beverage company, with a market cap of $88bn (next two largest is Starbucks (NASDAQ:SBUX) at $40bn and Yum Brands (NYSE:YUM) at $31bn) and 34,000 stores globally (YUM actually has more stores at 38,000, but their average sales per store is lower than MCD). MCD has the highest average annual sales per store at $2.7 million, a staggering 50% higher than the industry average of only $2.0 million per store (Panera Bread (PNRA) does $2.6 million, but they sell higher priced items at an average ticket of $8-10 per customer, compared to MCD/Fast Food of only $4-6 per customer). It's impressive how successful each MCD store is, and getting a MCD franchise is one of the hardest franchises to get in the industry.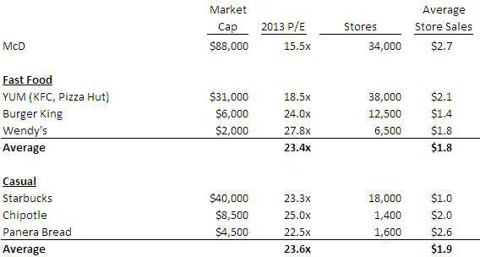 Click to enlarge
Recession Proof Stock With Consistent Sales Growth
MCD recently reported November 2012 monthly results that exceeded expectations, reporting global same-store sales y/y increase of 2.4%, compared to 0% growth expected by analysts. This is very positive news, given that McDonald's reported last month's October 2012 worldwide same store sales of a -1.8% decline, which was the first global monthly decline since April 2003. Investors became concerned whether October's same store decline was an irregular blip or a longer term trend, however November's strong same-store results seem to indicate that October's decline was a short-term speed bump. Monthly same-store sales for the past 7-year historical period have been all positive growth except for the dip in October 2012 (even through the 2008-2009 Great Recession), and are presented below for your reference:

Click to enlarge
Owned Versus Franchised Stores
McDonald's business model is typical of many successful, global brand franchise operators (whether it's other food and beverage brands like Burger King (BKW) and Wendy's (WEN), or hotel brands such as Starwood (HOT) and Marriott (NYSE:MAR)), where typically the split of system stores is 20% owned and 80% franchised. As noted in the table below, if you look just at store count, the split is about 20% owned / 80% franchised. If you look at sales however, it's about 65% from company owned stores vs. 35% from franchise stores. This should not be a surprise, given company owned stores are 100% owned and MCD recognizes 100% of the sales. For franchise stores, MCD only recognizes the franchise fees and royalty fees (only 5-7% of store sales), and not 100% of store sales. However, because MCD only collects franchise and royalty fees, they also do not have to bear the operating costs (labor/food/etc.). As a result, the Operating Profit split is only 20% from Owned Stores and a whopping 80% from franchise stores. As you can see, the franchise model is a highly profitable business model and allows MCD to achieve high 20% net income margins (note, Coca-Cola (NYSE:KO) also franchises their brand name/coke formulas to asset-heavy coke bottlers, and they are also able to achieve 20% net margins as well. Warren Buffett used to own both MCD and KO. He now only owns KO).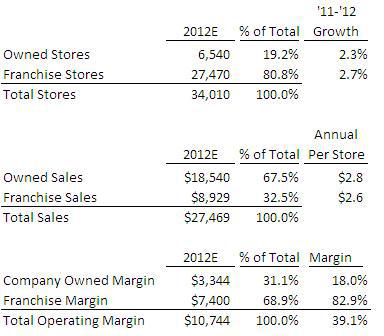 Best-in-Class Franchise System
Part of the reason MCD is successful is that MCD understands that franchisees have to succeed for MCD to succeed. MCD's franchise stores average annual sales are over $2.6 million, as successful as MCD company-owned stores (average $2.75 million). When MCD enters a new country/market, they wisely first build out the operational infrastructure (production warehouses, delivery/logistical systems, etc.). They also will first open their company-owned stores to control the full brand experience given to end consumers. Once they have their operations up and running smoothly, only then will they consider franchise partners. As an example, MCD has been in China for 15-20 years (since 1990s) and has only in the last few years begun considering franchisees. MCD understands that they need to do their job as franchisor and get their operations system down 100% first, so that when they do eventually franchise, the franchisees will have a high chance of succeeding.
Unfortunately, too many other Western QSR brands attempt to enter new markets/countries too quickly (through finding a local franchise partner instead of building their own operations first). I've lived in China for the past five years (arguably the most exciting international market for the food and beverage industry) and have seen multiple Western brands (ie: Burger King , Carl's Jr, Nathans Famous (NATH), Dunkin Donuts (DNKN), Krispy Kreme (KKD), etc.) enter and fail to scale up to expectations (ie: less than 10 stores after 5 years in China), or worst, go out of business. Only McDonald's, YUM Brands, and Starbucks have succeeded in China thus far (McDonald's with 2,000 stores, YUM with 3,500 stores and Starbucks with 800 stores).
Geography
MCD has 32% from U.S., 39% in Europe, and 29% from Asia/Middle East/Others.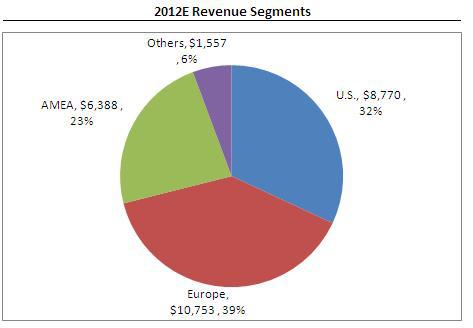 Some investors may be concerned with 39% European exposure given the Euro crisis headlines. However remember that fast food with price points on average of $5 per customer, is quite recession proof (people trade down from dining restaurants and fast casual to fast food/QSR options when times are tough). As shown below, MCD's United States same store sales grew 4.0% in 2008 and 2.6% in 2009 during the U.S. (Great Recession), and in Europe in 2011, it still grew 5.9% (2012 monthly actuals in Europe from Jan 2012 to Nov 2012 are the following: 4.0%, 4.0%, 6.9%, 3.5%, 2.9%, 5.1%, -0.6%, 3.1%, 3.0%, -2.2%, 1.4%):

Rising Commodity Costs and Labor Costs
Rising commodity costs also affect the restaurant industry as well as food manufacturers such as Kraft (KRFT) and General Mills (NYSE:GIS). Below is the average annual price change for major input products for MCD. As you can see, certain major items such as chicken and beef are up over 7% year over year, but note that other items like pork, cheese and milk are actually down y/y.

Click to enlarge
Food cost inflation is a real concern, however remember that 80% of MCD stores are franchised. For these franchised stores, the franchise owners bear the risk of rising commodity costs, and MCD continues to collect their annual 5-8% royalty fee off top-line revenue. Note that MCD 20% company-owned stores will still be hit by rising commodity costs. Another concern is the potential rising labor costs due to new healthcare laws (firms may need to provide part-time employees that work +30 hours a week with full healthcare coverage). But again, it's the franchisees (who franchises 80% of MCD stores) that unfortunately bear the majority of this risk.
Real Estate Value
MCD is known to have tremendous value hidden in the real estate they own, given that most of their stores were purchased decades ago and are located at prime corner/high traffic retail locations. In the past, Wall Street has suggested that MCD could potentially spin-off their real estate assets into a REIT to unlock value. The company owns approximately 12,000 restaurants, or about 35% of the real estate of all of their 34,000 restaurants (they own land/building for the 6,500 company owned stores, but also own some of the land/building of the 27,000 franchisee stores, which they lease back to the franchisees). The book value for property and equipment is $35 billion as of 3Q2012 with $5 billion in land alone. However, book value just records the original purchase price paid for the land/real estate back decades ago. Current market value of the real estate could be now worth $65 billion by some analysts' estimates (here).
Note that the above article was written in 2005, and real estate values have come down since then. In the article, they referenced a 7% cap rate for valuation, which some may argue is now maybe 9% given real estate values have come down since 2005 (note that in real estate valuation, instead of looking at P/E ratios where lower the P/E the cheaper the stock, for real estate they look at cap rate ratio, where the higher the cap rate, the lower the real estate value). However, if you look at the below graph, you can see that REIT cap rates did indeed spike up from 6-7% in 2005 to 8-9% in 2009, but only to come back down to 7% range in 2012.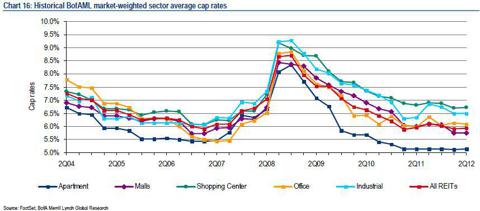 Click to enlarge
Now, let's attempt to do our own math on the potential value of MCD's real estate. Again, let's assume MCD owns approximately 12,000 stores (or 35% of total stores). For us to apply our cap rate assumption to get to a real estate value, we'll need to first estimate rental income per store. Rent as a percent of sales in the restaurant industry in the U.S. is on average 15% of sales (note, restaurant store economics is typically the following: COGS 35%, Labor/Management/Utilities 35%, Rent 15%, resulting in Net Profits 15%). For MCD, let's assume rent is only 12.5% of sales, given they do above industry average sales per store of $2.7 million. Now applying the cap rates of both 7% and 9% to our rental income (real estate value = NOI or rental income divided by cap rate), we arrive at a total real estate value of $45 to $58 billion (over 50% of MCD's market cap of $88 billion). Note that this is an overly simplified approach to valuing MCD's real estate.
Conclusion
MCD is a premier operator and global brand in the food and beverage industry. Their systems and operations are by far the best-in-class and dramatically help drive consistent same-store growth of 5-6% a year for the past 9 years and an impressive $2.7 million average annual sales per store (the highest in the industry). Their current CEO Don Thompson was the previously MCD's Chief Operating Officer, similar to Tim Cook of Apple (NASDAQ:AAPL), who previously was their head of operations (for global companies, operations really matters).
At a current valuation of 15.5x 2013 P/E, MCD has one of the lowest valuations in their industry (for being the premier operator in their industry). MCD's real estate holdings could have tremendous hidden value and could be worth anywhere from $35bn to $60bn. Owning real estate assets provide a hedge against inflation, which helps counter MCD's rising commodity cost concerns.
With a dividend yield providing 3.5% a year, and conservative estimates of 4-5% stock appreciation a year (sales grows 5-6% a year and EPS grows +10% a year), MCD is a safe, conservative stock to have in your core holdings that should provide a comfortable 8-9% total return a year for the next 5-10 years, while letting you sleep comfortably at night.
Disclosure: I am long MCD. I wrote this article myself, and it expresses my own opinions. I am not receiving compensation for it (other than from Seeking Alpha). I have no business relationship with any company whose stock is mentioned in this article.