The latest dose of adrenaline from the U.S. Federal Reserve seems to have fallen flat. On Wednesday, the Fed announced that it would begin outright purchases of U.S. Treasury securities at a rate of $45 billion per month once its Operation Twist program is completed at the end of the year. It was not long ago that the stock market would have wildly rejoiced upon hearing such news. But following a rally that lasted all of two hours and 45 minutes after the release of the Fed's statement, stocks have gone on to end -0.8% below levels a day later. And this latest development comes on the heels of a stock market that has been trading lower for the last three months since QE3 was first announced in mid-September. This overall lifeless response from the stock market raises a critical question: Has balance sheet expanding monetary stimulus from the U.S. Federal Reserve finally lost its potency to drive stocks higher?
Before going any further, it is worth noting that I do not agree with the Fed's inclination to apply seemingly endless volumes of monetary stimulus through repeated rounds of quantitative easing. To the contrary, I strongly oppose it. But such are the conditions to which we must respond in today's market environment.
Now to answer this question, it is first worthwhile to reflect on the past year and a half that has brought us to this point. The Fed completed its last balance sheet expanding monetary stimulus program in QE2 back in June 2011. Since that time, the U.S. stock market has posted a +10% return despite some heavy bouts of volatility along the way.
(click images to enlarge)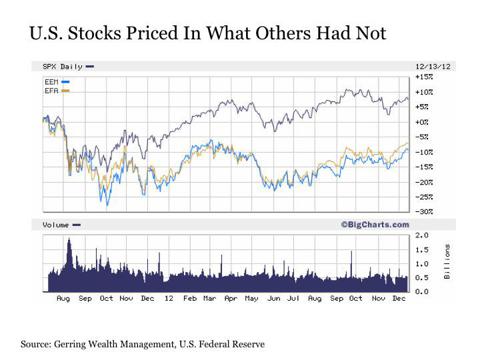 This solid U.S. performance strikes a stark contrast to the rest of the world, however. For example, both developed international stocks as measured by the MSCI EAFE Index (NYSEARCA:EFA), and emerging market stocks as measured by the MSCI Emerging Markets Index (NYSEARCA:EEM), are lower by -4% and -7%, respectively, over the same time period. Thus, it is reasonable to consider that much of the excitement about another round of QE was already priced into the U.S. stock market relative to the rest of the world. After all, while U.S. stocks are down since the launch of QE3 back in mid-September, both developed and emerging international stocks are higher by +3% over this same time period.
The U.S. stock market also registered gains since mid-2011 in an economic environment that has been notably lacking in fundamental substance. Economic growth both in the U.S. and globally has been decelerating over this time period. While growth in the U.S. remains sluggishly positive, selected parts of the world, including Europe, have faded into recession. And the outlook also remains clouded by ongoing regulatory uncertainty that is lately being compounded by the fiscal cliff negotiation theatrics. Corporations have been steadily revising earnings guidance lower in this environment at a time when profit margins are already at historical highs at over +2 standard deviations above the historical mean. Moreover, U.S. stocks continue to trade at a premium valuation, with both short-term and long-term market P/E ratios that are anywhere between +10% to +25% above their historical averages. In any normal market environment, the convergence of all of these forces would suggest a stock market that should be trading at least -10% lower since the summer of 2011, not +10% higher. Of course, these are far from normal times we are living in today, as investment markets across nearly all asset classes are greatly distorted by the Fed's persistently reactive and aggressive policy actions.
So even though much was already priced into stocks prior to the launch of QE3, does the fact that stocks have not responded further since QE3 was initiated imply that the Fed may have finally become impotent in its ability to lift stocks and other risk asset prices higher? The answer: NO (at least not yet).
The reason for this conclusion is that QE3 is only now starting to get up to speed. Despite QE3 being launched in mid-September, the Fed's balance sheet had only expanded by $36 billion through last week, even though the Fed had committed to purchase over $200 billion in mortgage-backed securities (MBS). This disconnect is due to the fact that the MBS being purchased by the Fed can take up to several months before reaching their settlement dates. Moreover, these settlements only take place on selected days each month, resulting in sudden and dramatic spurts in the Fed's balance sheet followed by otherwise quiet activity.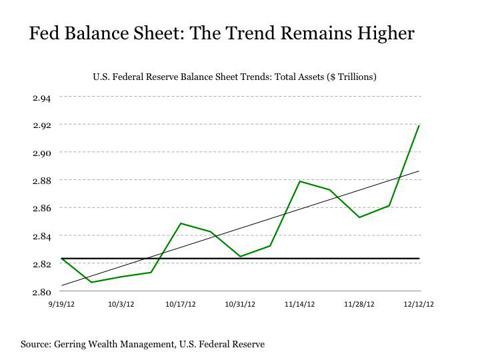 One of these major spurts in the Fed's balance sheet occurred on Wednesday. On this day, the Fed settled a major block of Fannie Mae and Freddie Mac 30-Year MBS securities. This helped blow the Fed's balance sheet out by over $57 billion to $2.918 trillion in the most recent week ended December 12. Following this recent jump, the Fed's balance sheet has now increased by $95 billion, and is continuing the oscillating upward trend in its overall size.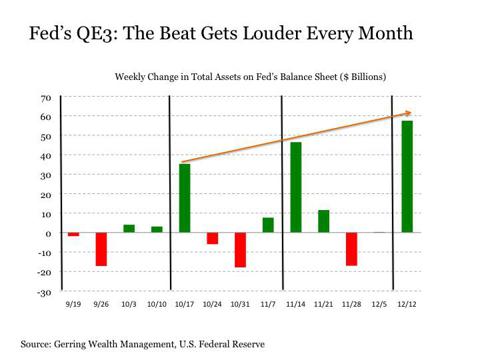 The pace of Fed liquidity flows into the financial system is set to expand at an accelerating pace in the months ahead. With each passing month, an increasing volume of MBS purchases by the Fed is reaching settlement and with it, a growing volume of liquidity will be injected into the markets. But what will greatly compound these forces is the purchase of U.S. Treasury securities. And just as with the MBS program announced in mid-September, these outright Treasury purchases are not occurring right away following their Wednesday announcement. Instead, these will not commence until the start of the New Year, as the Fed's current Operation Twist program must draw to a conclusion first.
In many respects, the stock market is like an addict. It climbed higher in the months ahead of the mid-September launch of QE3 on the cravings for its stimulus fix. But once the Fed pusher confirmed that the monetary drugs would be delivered, the market has been left jittery, waiting for the actual injections of liquidity need to float into a euphoric state. And as often is the case with an addict, the market requires an ever-increasing dose to achieve the same high it achieved before. Clearly, none of this is at all healthy for the long-term sustainability of the stock market, but once again, such is the environment in which we are left to operate in today, whether we like it or not.
While we are still effectively at the beginning stages of QE3, the fact that markets have been unresponsive thus far raises an important point worth consideration. Stocks have been almost exclusively dependent on monetary stimulus from the Fed to achieve the gains they have since the outbreak of the financial crisis. While it is far too early to tell, if we have indeed arrived at the point where the U.S. Federal Reserve has been rendered impotent in its ability to lift asset prices, including the stocks, higher through further applications of monetary stimulus, the end game for financial markets is likely to quickly follow. This would potentially include a major market decline that may be either gradual or sudden as stocks finally move to find a true equilibrium at prices that are well below current levels. While we will eventually reach such a juncture in investment markets at some point in the future, it remains unlikely that we are arriving at this point just yet, however.
Instead, it remains more probable that stock prices and other risk assets are likely to begin moving steadily to the upside as the flow of liquidity accelerates in the coming months. And this acceleration is bound to occur, regardless of whether the economic fundamentals support it or not. For this reason, maintaining allocations to positions that stand to directly benefit from this trend should prove beneficial. This includes broadly diversified market allocations such as U.S. Mid-Cap Stocks (NYSEARCA:MDY) and Emerging Markets, including China (NYSEARCA:FXI) and Brazil (NYSEARCA:EWZ). This also includes positions in selected individual names, including BHP Billiton (NYSE:BHP), Occidental Petroleum (NYSE:OXY) and Potash Corporation (NYSE:POT). Beyond the stock market, precious metals that serve as a store of value and protection against aggressive currency debasement such as gold (NYSEARCA:GLD) and silver (NYSEARCA:SLV) should also perform well. In establishing and maintaining these allocations, the Central GoldTrust (NYSEMKT:GTU), the Central Fund of Canada (NYSEMKT:CEF), the Sprott Physical Gold Trust (NYSEARCA:PHYS) and Sprott Physical Silver Trust (NYSEARCA:PSLV) are all superior selections for this purpose.
While it remains likely that stocks and other risk assets will eventually lift as the flow of liquidity from the Fed steadily increases in the months ahead, this will remain a critically important theme to monitor as we enter the new year.
This post is for information purposes only. There are risks involved with investing including loss of principal. Gerring Wealth Management (GWM) makes no explicit or implicit guarantee with respect to performance or the outcome of any investment or projections made by GWM. There is no guarantee that the goals of the strategies discussed by GWM will be met.
Disclosure: I am long FXI, EWZ, EEM, BHP, POT, OXY, MDY, GTU, CEF, PSLV. I wrote this article myself, and it expresses my own opinions. I am not receiving compensation for it (other than from Seeking Alpha). I have no business relationship with any company whose stock is mentioned in this article.