Cognizant Technology Solutions (NASDAQ:CTSH) has some of the most impressive financials of any stock you're likely to see. Recently, the company's earnings growth rate has dropped from about 50% a year, to just 19% for the last earnings report (Call Transcript). The stock, however, has plunged by over 60% since early 2007.
Here's a chart showing the stock price (blue line, left scale) and the earnings-per-share (gold line, right scale). The two axes are scaled at a ratio of 50-to-1 which means that when the lines cross, the P/E ratio is 50. Using 50 is obviously a very high multiple. But as you can see, that's what the stock was following for a long time.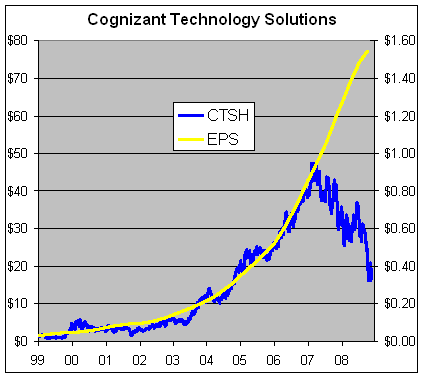 The stock is currently going for less than 10 times next year's earnings. Here's what I wrote about Cognizant two years ago:
One of the more fascinating companies in the world today is Cognizant Technology Solutions (CTSH). The company, along with Wipro and Inforsys, is one of the foremost names associated with IT outsourcing, particularly to India.While Cognizant is officially based in lovely Teaneck, NJ, its heart truly lies in the subcontinent. The company currently has over two dozen development centers in India.

The growth in this business is simply astounding. The IT/outsourcing sector of the Indian economy is expected to grow from $17.2 billion in 2004, to $50 billion by 2009. For any company looking to cut costs and have someone else handle their IT problems, Cognizant is great place to go. Half of their business is clients in the financial services sector. In fact, JP MorganChase, one of the scions of Wall Street, is a major client. Another 20% of Cognizant's business comes from health care companies like UnitedHealth.

Cognizant was spun off from Dun & Bradstreet a few years ago and it hasn't looked back since. As someone who pours over lots of financial statements, I can tell you that Cognizant's results are extremely impressive. The company has consistently been able to grow its earnings over 50% a year. That's no easy trick. Also, the company has a solid balance sheet and its operating margins are often around 20%.
For Q4, the company expects non-GAAP earnings of 43 cents a share. That would be a growth of rate of 18%, and the fifth straight quarter of slowing growth.
For number geeks, here's a spreadsheet with CTSH's financials.
Disclosure:  None