In two of my previous articles, I had the opportunity to look at Safe Bulkers Inc. (NYSE:SB) as a potential investment in a diversified shipping portfolio. I also examined the company's risk exposure stemming from its long-term period deals with troubled shipping company Daiichi. Since writing my articles last September, Safe Bulkers' shares have lost almost half their value in a span of less than three months. The stock closed yesterday at $3.20 per share, slightly above its 52-week intra-day low of $3.12.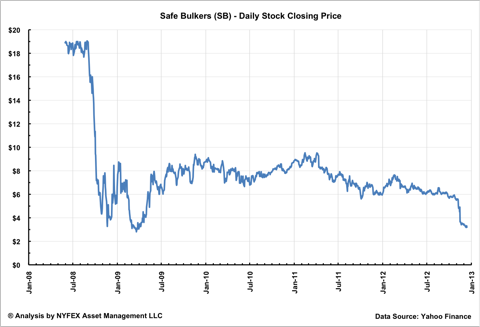 Despite its precipitous drop, I believe that SB should be a core holding in a diversified shipping portfolio. In this article I will examine the company's risk-reward profile, including an analysis of its current stock valuation. I will also look very closely at the risk of a management buy-out should low valuation levels persist.
Safe Bulkers is a bulk shipping company specializing in the dry cargo segment of the industry. SB currently owns a fleet of 24 vessels totaling 2,208,100 MT in DWT capacity. The average age of the fleet as of September 30th, 2012 was 4.2 years. The company is primarily a Panamax owner, since 22 of the company's vessels are Panamax, Kamsarmax, or Post-Panamax. The remaining two vessels are Cape size. In addition, Safe Bulkers has seven new-building vessels under construction, scheduled for delivery over the next three years.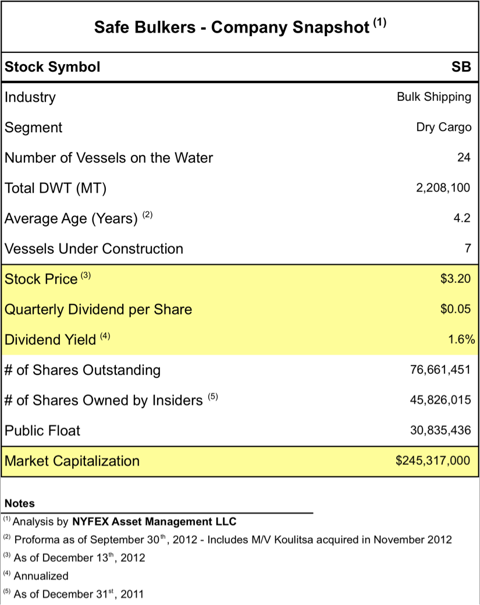 Safe Bulkers is majority controlled and run by Polys Hajioannou. The family of Polys Hajioannou has a long history in ship-owning, dating back to the late 1950's. Safe Bulkers, however, has a rather short history as a publicly traded entity.
The company did its IPO in May 2008 when members of the Hajioannou family sold 10 million shares at $19 per share. The timing of the company's IPO could not have been any better. The spot market for Panamax vessels on May 29th, 2008 (when SB priced its IPO) stood at $79,545 per day. As a point of reference, Panamax vessels had reached an all-time high of $94,977 on October 30th, 2007. The spot market for Cape-size vessels on May 29th, 2008 stood at $217,839 per day. A few days after the IPO, on June 5th, 2008, spot rates for Cape-size vessels peaked at $233,988.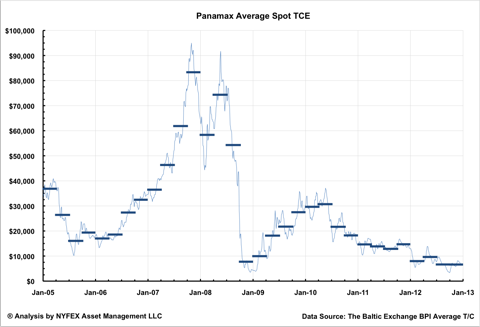 In today's market environment the above figures sound almost astronomical. This is a testament to the business acumen of Polys Hajioannou (and may I dare say, his underwriters). For comparison purposes, spot rates for Panamax and Cape-size vessels yesterday were $6,919 and $6,893 per day respectively.
Prior to the IPO, the company had paid two special dividends, totaling approximately $175 million, to the Hajioannou family. By the time SB commenced trading, the Hajioannou family had stashed away a cool $353 million in cash and still owned 44.5 million of the company's shares. It is very important to keep this in mind, as I will contemplate later in this article the risk of a management buy-out.
Following the IPO, SB has gone back to the equity markets three times, issuing 22.1 million new shares at prices ranging from $6.50 to $8.40 per share. Today, the company has approximately 76.7 million shares outstanding. Based on his family's shareholdings as of December 31st, 2011, Polys Hajioannou controls 45.8 million shares, or approximately 60% of total shares outstanding. The public-float is about 30.8 million shares. At today's price levels, it is worth a little under $100 million. I like to think that Polys Hajioannou could write a personal check for that amount.
Since going public, Safe Bulkers has pursued a strategy of paying out a quarterly dividend, supported by the cash flow generated from its fixed-rate charters. In fact, many investors in SB have been attracted to the company for its dividend yield. In its IPO prospectus, SB was aiming to pay a quarterly dividend of $0.475 per share, or a 10% annualized dividend yield. The company was able to pay such dividend for only two quarters. Following the financial crisis of 2008, SB cut its quarterly dividend to $0.15 per share and made 14 consecutive payments until this quarter, when it further cut its quarterly dividend to $0.05 per share.
I have never liked the idea of investing in a shipping company for its dividend yield. The shipping industry is inherently volatile and capital intensive. Given the low earnings visibility and high degree of leverage, an investment in a shipping company is more suitable as a high risk - high reward asset play, rather than a lower risk dividend play.
What drives the intrinsic value of a shipping company is primarily the value and earnings capacity of its fleet. This is true because a shipping company's fleet represents its most valuable assets. Conversely, a company's stock price reflects the implied valuation of its fleet, after taking into consideration the value of other assets, available cash reserves, and debt outstanding.
In the table below, I analyze the relationship between the stock price and the implied valuation of SB's fleet. Please note I have prepared the company's balance sheet based on FMV estimates. I have excluded all non-cash items, like deferred revenue, mark-to-market valuation of interest rate swaps (used for hedging purposes), deferred financing costs, etc.
I have also excluded a provision for the company's working capital. Since SB does not publish full financial statements on a quarterly basis, a current estimate of working capital is not available. In general, bulk shipping companies are paid in advance for their transportation services, and working capital does not have the same material effect as in industries like manufacturing or retail. Case in point, working capital for SB as of December 31st, 2011, was $2 million.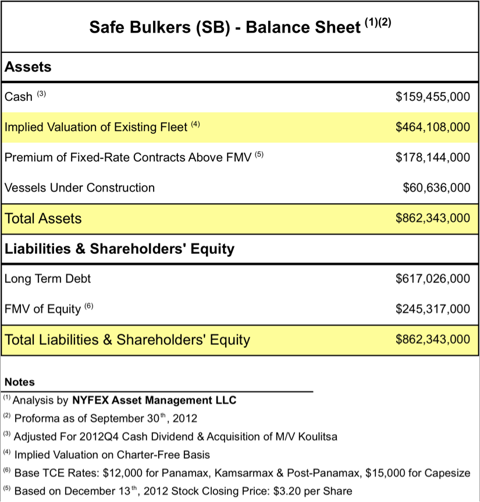 Please note that I have based my analysis on the following three assumptions. First, I have calculated the value of the existing fleet separately from the value of vessels under construction. As of September 30th, 2012, SB had advanced $60.6 million for the construction of 7 vessels. In my analysis, I assume that the value of the new-building contracts is equal to that amount.
Second, I have calculated the implied valuation of the existing fleet on a charter-free basis. One of the company's assets is the premium of its fixed-rate contracts above fair market value. To calculate the premium, I have discounted the excess cash flow over a base TCE rate at an 8% discount rate. Based on my assumptions, the premium is equal to $178 million.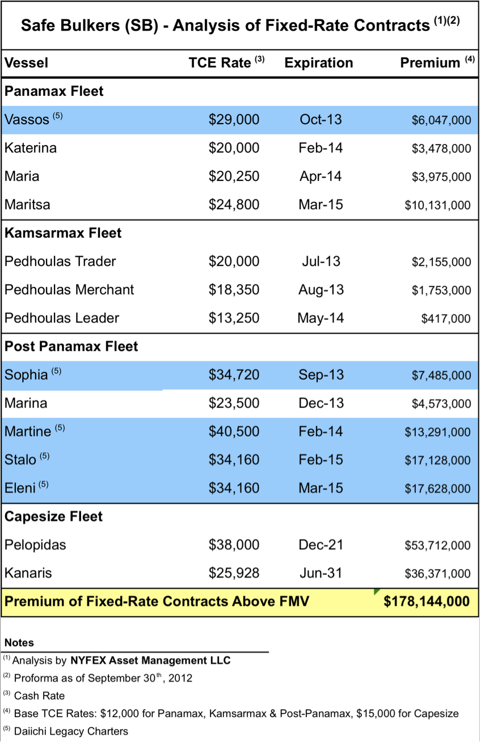 Third, I have calculated the liquidity reserves including the $50 million long-term time deposit & restricted cash. I have calculated such reserves on a pro-forma basis as of September 30th, 2012, after adjusting for the $14.3 million acquisition of M/V Koulitsa and the $3.8 million dividend payment during the fourth quarter.
Based on the assumptions above, an investor who paid $3.20 per share purchased the company's 24 vessels (on a charter-free basis) for $464 million, or an average price of $19.3 million per vessel. Coincidentally, the assessed value of a 5-year old Panamax vessel at the end of November was $18.5 million, according to the Baltic Exchange, representing an 8-year low as seen on the graph below.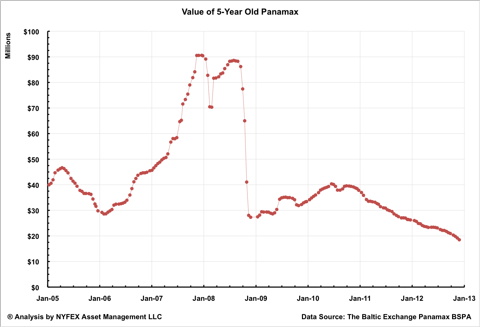 I believe that the precipitous drop in SB's stock price is only partly explained by low asset valuations. Asset valuations have after all steadily drifted lower for some time now. I think that uncertainty regarding the performance of the company's fixed-rate contracts has been the other factor driving the stock price lower.
A closer study of the company's fixed-rate contracts seems to support my argument. The Daiichi legacy charters represent 35% of the premium of fixed-rate contracts above FMV. The long-term contracts for the two Cape-size vessels account for an additional 50% of the premium. In other words, troubled Japanese shipping company Daiichi, together with two undisclosed charterers, are responsible for $151.7 million in excess of FMV.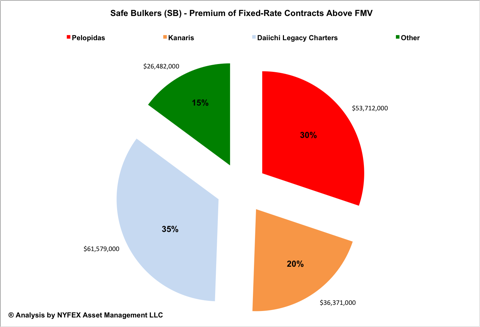 As an investor myself, I want to see a full disclosure from the company's management regarding the creditworthiness of the two undisclosed charterers, and the full extent of credit exposure with Daiichi and Kawasaki, the company's two largest charterers.
Credit exposure aside, I would like to revert to the relationship between the stock price and implied asset valuation. In the following graph I present such relationship.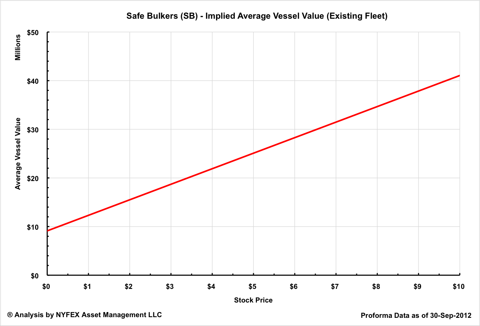 The graph helps me visualize the average vessel value required to support a specific intrinsic valuation, all other things being equal. For example, average vessel values need to rise above $30 million per vessel to support a $7 per share intrinsic valuation, other things being equal.
The company's current stock price has brought the implied fleet valuation on a par with fair market values. If you are considering acquiring shipping assets at current distressed prices, then an investment in SB offers significant long-term upside potential. But buyers must be aware: Asset values can continue drifting lower. That together with uncertainty over the performance of the company's fixed-rate contracts may put additional pressure on the stock.
Is the company at risk of default? I believe not. SB is in full compliance with debt covenants and has sufficient cash reserves to service its debt. It is subject to a 70% loan-to-value covenant that may have difficult time meeting it in the future. But it has the liquidity reserves to accelerate debt repayments should the need arise.
At current valuations levels I am more concerned with the risk of a management buy-out. A management buy-out would reduce most upside potential for investors. If the stock price were to drift lower from current levels, amid an anticipated weak freight environment in 2013, Polys Hajioannou may decide to just take the company private.
Has there been a historic precedent in the shipping industry of a management buy-out? Absolutely. In December 2001, a private company controlled by John Angelicoussis, then Chairman of Anangel American Shipholding Limited, announced plans to buy out the approximately 19% of shares outstanding that he did not control, at a 49% market premium. The tender offer was successful, and the company was subsequently taken private & delisted from Nasdaq.
A potential 50% short-term return on investment may be great news for new investors in SB, but not so much for long-term investors with a higher average cost. Existing investors should contemplate adding to their holdings using a dollar-cost averaging strategy.
In summary, I believe that Safe Bulkers is one of the better-run publicly traded shipping companies. It is a low-cost provider in a very competitive industry and has a competent management team. Its stock is currently trading at very attractive levels, and has the potential for significant price appreciation on a long-term basis. But if its stock price were to drift lower amid a weak freight market environment, the risk of a management buy-out would greatly limit its upside potential.
Disclosure: I am long SB. I wrote this article myself, and it expresses my own opinions. I am not receiving compensation for it (other than from Seeking Alpha). I have no business relationship with any company whose stock is mentioned in this article.