Apple (NASDAQ:AAPL). At this point in time that name carries so much meaning in the business world. Heck; it carries a lot of meaning outside the business world too. I remember when the iMac first came out in the 90's and also remember how I scoffed at the brightly colored all-in-one monitor running an operating system nobody used. I remember when the iPod came out and how I scoffed at yet another MP3 player…and this one locked into an inflexible ecosystem. I remember when the iPhone came out…by this time I wasn't scoffing so much. The thing is, you can see a bigger trend if I share a little more detail. I first saw an iMac when they showed up all over a school. I first saw an iPod when my sister-in-law (definitely more of a early or late majority type than an early adopter in product lifecycle parlance) got one. I knew the iPhone was for real when first my mom (definitely not tech savvy) and then my in-laws got iPhones. While the iPad is the most recent example of Apple's product dominance, I have a feeling it won't be the last.
Apple is the company that best represents the high potential of a growth opportunity in investing over the last decade. It is for this reason that I have been dumbstruck by recent articles claiming Apple is a value opportunity now. How can this be the growth opportunity has transformed so quickly into a value opportunity? Needless to say, as a value investor, I had to take a look.
For my part, with a desire to invest in value stocks, I have stayed away from Apple. Given the company's tremendous performance, has this been an incorrect decision? In my opinion it hasn't been since I have had clear reasoning for not looking at an ownership share in the past:
As I mentioned previously, I am a value investor following the teachings of Ben Graham. As a growth stock, Apple has not crossed my radar since I started actively investing.
I tend to lean towards dividends and Apple's dividend is a recent phenomenon.
Once Apple reached the point where it became the largest company by market cap, I had a hard time rationalizing that fact with a consumer electronics company. According to Wikipedia, over the last 10 years the largest company by market cap has included the following names:
The only name remotely on that list similar to Apple is Microsoft. Since 2003 when Microsoft was the "largest company in the world", their share price has gone from around $25 to….around $27. Their market cap has gone from $264 Billion to $226 Billion. And here's the kicker: in 2003, Microsoft had a virtual monopoly over computer operating systems and office productivity software during the golden age of the computer. Apple does not have that. As a result, I have had a hard time seeing how Apple can possible continue to convince people that their next big thing is THE next big thing.
Other facts:
| | |
| --- | --- |
| | AAPL |
| Current Price | $512.37 |
| Market Cap | $482 B |
| Yield | 2.07% |
| P/E | 11.6 |
| TTM Dividend Payout Ratio | 24% |
Data Source: Morningstar
Making a Profit
Obviously everybody knows how profitable Apple has been in recent years. In order to look at Apple as a value opportunity though, I need to inspect Apple's earnings stability. The following chart shows a 10 year history of making money hand over fist.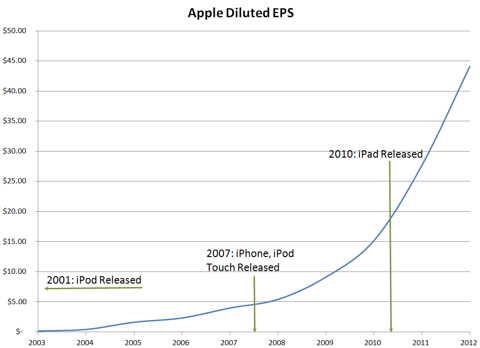 Data Source: Morningstar
Ridiculous. Makes me question whether I made the right decisions in focusing on value investing. Also, somewhat surprisingly, Apple is not actually late yet in launching the next big thing. Obviously there's nothing new here though. As I mentioned though, we are looking for earnings stability. For me, I like to look at an average of the last 10 years earnings and invest when the PE10 is less than 20. For Apple, the PE10 is currently at 46.7. While this is clearly higher than my guideline, it also points to a shortcoming in this methodology when it comes to analyzing a recent growth company as a value investment.
Think about what it would mean if Apple had spread all of that growth over a 15 year period instead of a 10 year period. First, it would mean that while Apple has still been remarkably successful, it wouldn't be quite as big of a growth story. At the same time, the price would probably be in about the same place in this parallel universe since Apple would have still just earned roughly $44/share and even in our universe, the current P/E is a relatively cheap 11.6. Next, look at my PE10 calculation. Since we would be including fewer of those initial years where earnings were particularly low, the average earnings part of the PE10 would increase thereby reducing the total value of PE10…making it more of a value play theoretically.
So should I be sitting around wishing Apple hadn't grown so fast so they would be more of a value investment? No, clearly not. The most important fact in investing is to invest in the good companies. The better the company, the better the investment. Taken one step further, it is important to identify those situations where your stock selection methodology (whatever it is) falls apart. Apple, as it stands today, does not respond well to the analysis techniques that I choose to use.
Conclusion
So what will I do? Apple is now on my radar but not for the reason I would have expected prior to this exercise. Is it a value investment? Not by my reasoning. Is it a good investment? It could be at the right price. Apple still has way too much in its favor to think otherwise.
According to one source, there are 400 million iOS devices out there. That's a somewhat captive user base that has decided

en mass

e to pay a premium for the Apple ecosystem.
According to another source, there were 200 million iTunes / App Store accounts in 2011. That represents a continuing revenue stream that will not dry up in the near future.
Besides iTunes / App Store sales, there are about 400 unbelievably profitable Apple Stores. See more info here.
Then there is the issue of Apple's $100 billion cash stockpile. To me this means they don't have to get it exactly right with every new product offering in the short and medium term. This is a blessing since launching ground breaking new products is extraordinarily difficult to do.
There's probably more but to be honest, that's enough for me. Apple will launch an important new product in the next year or so. Whether it is viewed as a success will dictate where the share price goes from here. My personal view is that share price will stay fairly level until that point.
Disclosure: I have no positions in any stocks mentioned, but may initiate a long position in AAPL over the next 72 hours. I wrote this article myself, and it expresses my own opinions. I am not receiving compensation for it (other than from Seeking Alpha). I have no business relationship with any company whose stock is mentioned in this article.