During the holiday season, most successful retailers see an overall boost in sales and revenue due to increased consumer spending. One could assume that a retailer that did not adhere to this trend would probably be struggling, because during this time period many retailers can generate up to 30% of their annual revenue. However, this is not the case at all when it comes to Costco (NASDAQ:COST). Costco operates differently than most retailers, but still finds itself outdoing competitors. Costco's different business approach is perhaps what makes it an appealing buying target over traditional retailers such as Wal-Mart (NYSE:WMT), Target (NYSE:TGT), and Dollar General (NYSE:DG).
During the holiday season, Costco only generates about 18% of its annual revenue, while most retailers generate close to double that amount. How does Costco keep up with these other companies? Costco provides a substantially lower price (about 10% lower than most retailers) on many of its goods year-round, so customers are more likely to purchase items from it rather than other retailers. This strategy allows Costco the flexibility to not have to be open on the holidays, and to give their employees those days off. This strategy is the opposite of other retail giants that try to attract the biggest crowds possible during the holiday seasons (e.g., Wal-Mart). We have all seen the problems occurring with other retailers and their employees feeling mistreated. Perhaps Costco has it right with its business model of treating its employees well and offering higher wages and more benefits.
Costco charges a $55 annual membership fee to all of its customers, something most retailers do not do. The uniqueness of Costco's stores allows it to get away with this membership fee. Not only are customers treated to great deals, but they also have access to extremely cheap foods in the food court and a plethora of food samples to try during their shopping experience. Where most stores are concerned about quantity, Costco is more concerned about providing a quality shopping experience for its shoppers.
Now, how does all this effect Costco's business performance and share price? Costco just released its first-quarter results for the 2013 fiscal year. Net sales jumped 10% to $23.2 billion and net income grew 30%. Costco is outperforming its competitors as well. While Wal-Mart reported a comp store increase of 3.8%, Costco reported a comp store increase of 7%. Segment operating income for Costco also grew 17.8%, compared to Sam's Club's operating income increase of 12.7%.
Personally, I believe that Costco is the top retail stock in the market. This company is unique in the way it operates because it provides a premium shopping experience to all of its customers, unlike Wal-Mart and Target. Living in Wisconsin, there are only three Costcos statewide and a total of 618 warehouses globally. Most of Costco's warehouses are concentrated on the East and West Coasts and there are not many spread throughout other locations in the United States. The map below shows the location of Costco stores and potential for growth nationwide.
Click to enlarge image.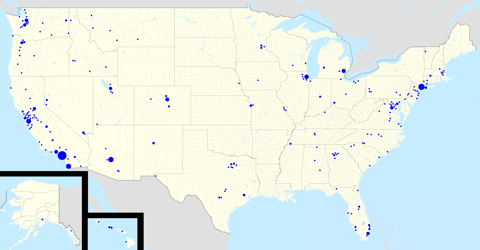 At current levels, I would consider Costco a buy. The stock recently pulled back on Dec. 6 from its 52-week high of $105.97. The pullback was related to Costco announcing that it would be paying out a special dividend before year-end, but in return taking on more debt. Companies that are issuing special dividends right now are being pushed by shareholders to do so before year-end because of the rising concern that any deal that Washington might settle on to avoid the fiscal cliff will include tax increases on dividends. The reason why this had a negative impact on Costco's share price, though, is that in order for companies to issue these dividends, they must borrow money from the banks and accrue debt.
I think this pullback is a terrific opportunity for investors buy Costco at sub-$100 levels. There is no doubt in my mind that Costco will be able to pay back any debt it accrues for its special dividend, because Costco is a terrific company and interest rates are extremely low, so now is the time to borrow money. I am long Costco, and could see the stock back up to its 52-week high within the next two months. Take this pullback as an opportunity to capitalize on and buy the top retail stock on the market.
Costco is trading just under $98 per share with a P/E ratio of 25.10. The company has a 52-week high of $105.97 and a 52-week low of $78.81. Costco also has a market cap of $42.26 billion.
Disclosure: I have no positions in any stocks mentioned, and no plans to initiate any positions within the next 72 hours. I wrote this article myself, and it expresses my own opinions. I am not receiving compensation for it (other than from Seeking Alpha). I have no business relationship with any company whose stock is mentioned in this article.