"I told you so!"
The perfect storm has hit in full force and shares of Sirius XM (NASDAQ:SIRI) skyrocketed in the last few minutes of trading, running up from the day's low of $2.68 to close at $2.89, a 21 cent rise on massive volume at the end of the day.
Better yet? After hours shares have hit a high of $3.06 on continuing high volume as I type this.
If you're an investor in Sirius XM, and you did not bail on your shares today on the ex dividend date, you may be a bit more than excited at this point.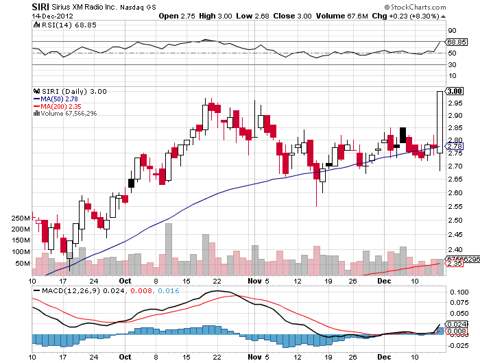 For those who have been paying attention and following along right here on Seeking Alpha, hopefully you read my article a few days ago outlining what I felt was a perfect storm surrounding shares of Sirius XM. A perfect storm for a short squeeze, that is. And I believe this is exactly what happened at the end of the day. Shorts were squeezed and continue to be squeezed hard after hours with continuing massive volume exchanging hands as I type this.
It really is a perfect storm of epic proportions and it is my belief that this is still not over. When one considers the potential that the recently secured dividend of $0.05 per share for those who are long as of close on 12/13 may be automatically reinvested to large extent when the dividend is paid out on 12/28, the potential for another large jump in the price of Sirius XM is right around the corner.
Another catalyst that may have contributed considerably? Check out what Spencer Osborne wrote over at siriusbuzz.com. There are whisperings that royalty rates have been set for 2013 at 9%, increasing 0.5% per year in 2014 and beyond. Checking here at the Library of Congress website, this does appear to be true. This is considerably below the expected increase to 13% and it is of huge benefit to the company in the form of cost savings on musical content.
The Judges determined that the appropriate Section 114(f)(1) rates for Preexisting Satellite Digital Audio Radio Services for 2013-2017 are 9% of Gross Revenues for 2013, 9.5% for 2014, 10.0% for 2015, 10.5% for 2016 and 11.0% for 2017.

The parties have until December 19, 2012, to request redaction from the Initial Determination of any information governed by the Protective Order in effect in this proceeding. A public version of the full text of the Initial Determination will be made available upon redaction of protected information.
It should make for a very happy holidays for those who are long Sirius XM, and if the new year brings news of near 2 million new subscribers, share buybacks, and continuing strength in auto sales, I would not be surprised to see $3.30 in short order. While there may be volatility ahead, the trend is certainly bullish. Patience should continue to rule the day here.
Disclosure: I am long SIRI. I wrote this article myself, and it expresses my own opinions. I am not receiving compensation for it (other than from Seeking Alpha). I have no business relationship with any company whose stock is mentioned in this article.