Apple (NASDAQ:AAPL) stock is behaving badly. Its quantitative fundamentals are strong and attractive. Thematic/operations issues are a mixed bag.
For the moment, at least, the bloom is off the rose.
Declining Analyst Price Targets
While only modest, average analyst 12-month price targets are declining. Those average targets are still well above the current price, but the tone has changed, as this chart from 4-Traders.com shows.
Figure 1: Price vs Analyst Price Targets
Click to enlarge
The Hold, Underperform and Sell recommendations are a small minority of the 50+ Apple analysts covered by ThomsonReuters, they have increased slightly.
According to ThomsonReuters the current analyst breakdown is:
BUY 27
OUTPERFORM 22
HOLD 5
UNDERPERFORM 1
SELL 2
For the current 57 analysts, the average target is $756 which is about 48% above today's current price of about $511 (mid-day). There is a negative outlier target of $270, and positive outlier of $1,113.
Today, UBS dropped its target from $780 to $700, due in part to a lackluster opening day for iPhone 5 in China. Reportedly, only 2 customers were waiting at the Beijing store before the open to buy the latest iPhone 5 on its launch today.
Stock Behaving Badly
The stock price has "violated" some thresholds that technical analysts believe are important.
Because of the one-off December 2012 selling season based on certain to be higher combined state and federal capital gains tax in 2013, it is probably not reasonable this month to have as much confidence in technical factors as in other periods.
That said, Apple as of this morning at $511 was off 27.5% from its all-time $705 high in September 2012. On top of that large decrease, the price pattern is not encouraging.
The rally that began in November and peaked in September did not even recoup 1/2 of the decline from the $705 September 21 peak to the trough $505 Low / $527 Close on November 16. A retracement failure at less than 1/2 of the prior price decline is typically a bad sign.
Further, after the rally failure, the price is now in the middle of that prior trough day Low/Close range. On May 18 there was another low at $522 Low / $530 Close. Typically, technically oriented traders / investors would view that approximate $510 to $530 level (shown in Figure 1 below) as an important support level. If that support cannot hold (and is penetrated for more than a transitory moment), they would expect a material decline from there.
Additionally, the price fell below the 200-day average in September, and then failed in its November rally at the 200-day average level, which visually acted as resistance.
The 100-day and 200-day average are no longer pointing upward.
Figure 2: Apple Price Chart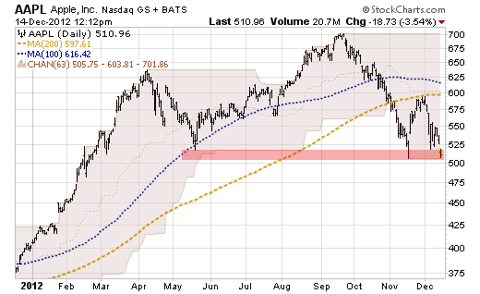 Click to enlarge
On a slightly more positive tack, Apple has declined 20% or more from its 1-year trailing high 6 times (including this time) from the end of 2005 to now. That averages once per year.
Here are the time frames and prices:
Jan '06 ($86.40 Hi) to Jul '06 ($51.41 Lo)
Jul '07 ($148.92 Hi) to Aug '07 ($111.62 Lo)
Nov '07 ($192.00 Hi) to Feb '08 ($118.09 Lo)
May '08 ($191.45 Hi) to Jan '09 ($78.20 Lo)
Apr '10 ($272.18 Hi) to May '10 ($199.25 Lo)
Set '12 ($705.07 Hi) to Nov '12 ($705.75 Lo)
Today came close to the Nov '12 low by hitting $507.66, as of this mid-day writing (2012/12/14).
Thematic And Operational Issues Are Mixed
Some of the positives include:
the global switch from feature phones to smart phones
the growing emerging markets smart phones opportunity
the brand sophistication of Apple versus the alternatives
a history of product disruptive innovation
the best integrated "eco-system"
Some of the negatives include:
very well funded emulation competitors (including Samsung (OTC:SSNLF), Google (GOOG

), Microsoft (

MSFT

), and possibly eventually Nokia (

NOK

), if Microsoft steps in further)

emerging market price point problems, and associated margin compression implications for smart phones and tablets
recent history of product version developments instead of new breakthrough products
questions about management and absence of Steve Jobs
50/50 issues include:
the prospect of wearable computing (e.g. smart phone glasses) being the next big thing, with all three of Apple, Google and Microsoft in various degrees of research and development of that future product type.
There are surely other issues, but these are presented merely to show that there are important positive and negative thematic or operational issues that are exerting opposing forces on the price at this time.
There is one other very special and non-recurring thematic issue -- a new and higher tax schedule for 2013. Whether rich or not, most investors are likely to experience higher taxes in 2013 between state and federal obligations. It is unfortunately not possible to know how much of the gut wrenching drop in the Apple share price is due to tax related sales.
This is how Business Insider described the situation on December 12:
... some investors are likely taking the opportunity to lock... gains while paying today's low capital-gains tax rates.

... Apple recently (spent everything it had) from a product-launch perspective, and analysts aren't expecting anything truly exciting to happen until next summer at the earliest.

... Apple's amazingly high profit margin is likely to decline over the next several years, as Apple's product mix shifts toward lower-margin tablets from the high-margin iPhone and the iPhone margin itself declines with the introduction of lower-priced phones. This suggests that earnings are likely to grow more slowly than revenue, in contrast to the situation for the past 5 years.

Apple's next revolutionary new product--a TV or TV device of some sort--appears to have been postponed by a year. Analysts are also not sure what this product will be and how it will sell. Dozens of companies have tried to reinvent TV over the last 15 years, and almost all of them have failed.

... The smartphone market, which has driven Apple's spectacular iPhone sales over the past 5 years, is entering a new phase of growth, in which low-priced phones are capturing an increasing percentage of market share. Apple does not yet offer a low-priced phone, and if and when it does, this will likely add to the pressure on Apple's profit margin.

Apple's competitors are catching up in both smartphones and tablets, so Apple no longer has the leverage with distributors and consumers that it once did. This, too, could eventually lead to more margin pressure.

... Apple really is finally entering the "post-Steve Jobs" era, and it remains to be seen how successful the company's next generation of products will be.
Valuation
Comparing Apple valuation metrics to other companies competing with them in phone, tablet, computer, or software business; they look reasonably valued - no reason for a price crash from here at least - and looking at the PEG ratio, they seem to be available at a discount to fair value.
How much to weight the computer maker versus the mobile device maker part of their business, or the software part, or the content delivery part is uncertain and changing.
Figure 3: Apple and Some Segment Competitors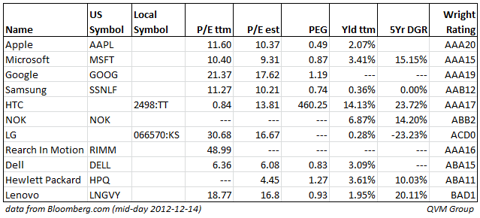 Click to enlarge
Figure 4: EV/EBITDA Over Five Years
This compares EV/EBITDA over the past 5 years between Apple, Microsoft, and Google.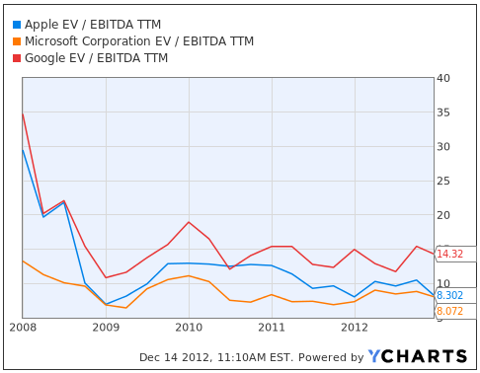 Click to enlarge
Quantitative Fundamentals
The quantitative fundamentals in the following figures generally show Apple to be in a good or best position versus Microsoft and Google. We would like to have shown Samsung in the comparison, but YCharts, which provided the charts, does not cover foreign stocks that are not available as ADRs.
Figure 5: Revenue Quarterly YoY Growth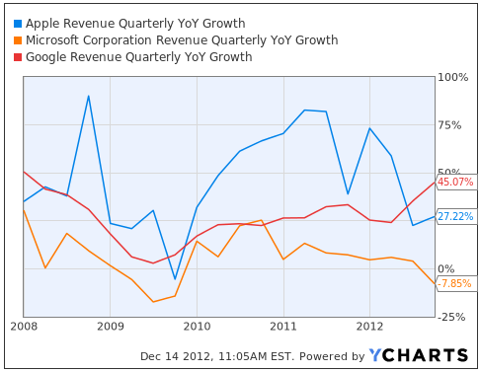 Click to enlarge
Figure 6: Quarterly Cash Flow From Operations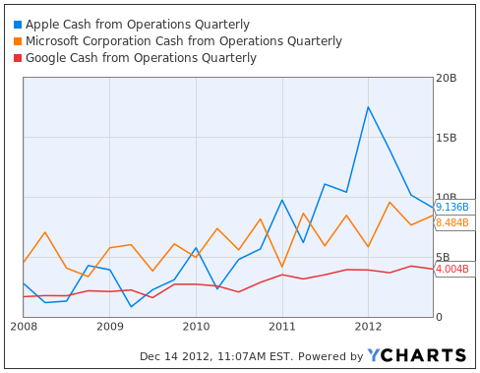 Click to enlarge
Figure 7: EBITDA Margin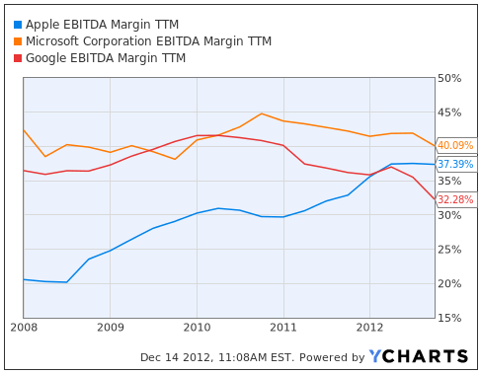 Click to enlarge
Figure 8: Tangible Book Value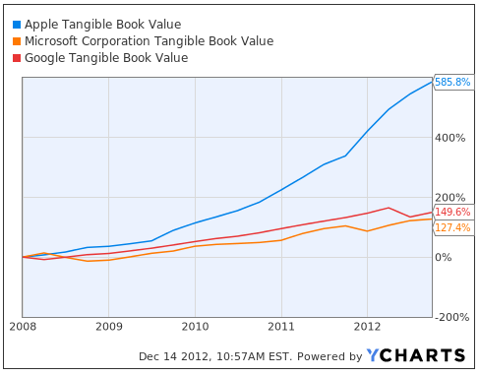 Click to enlarge
Single Company Charts: Price, Earnings and Dividends
These charts are for the companies listed in Figure 3 above.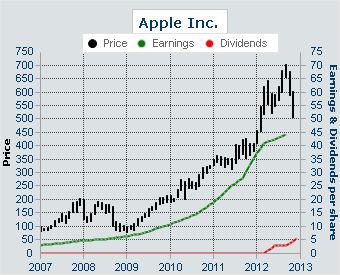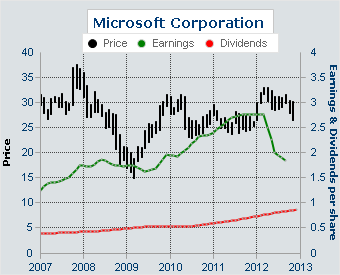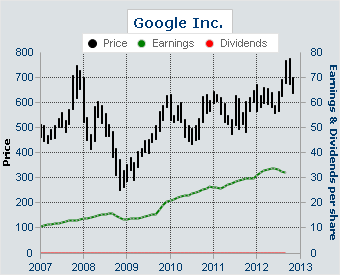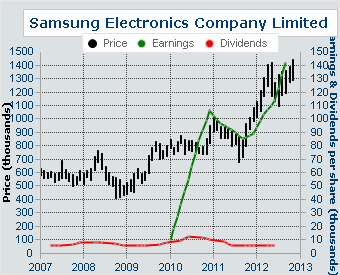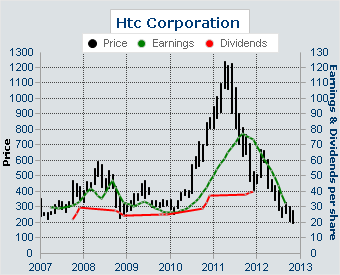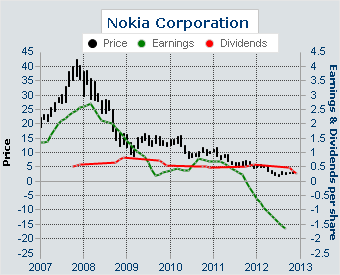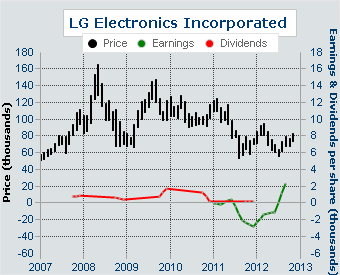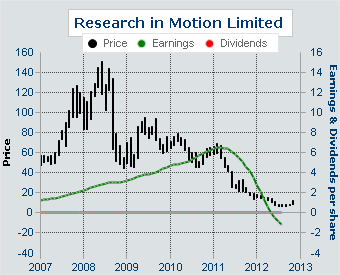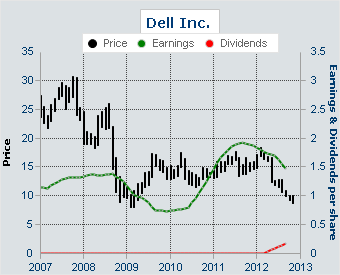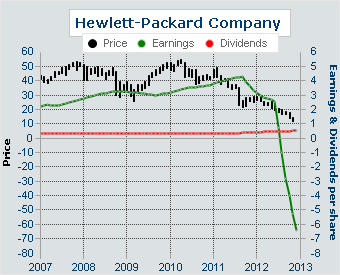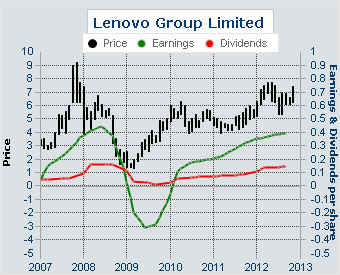 Disclosure: QVM has positions in APPL in some but not all managed account (and has certain options positions on APPL in some accounts) as of the creation date of this article (December 14, 2012). We certify that except as cited herein, this is our work product. We received no compensation or other inducement from any party to produce this article, but are compensated retroactively by Seeking Alpha based on readership of this specific article.
General Disclaimer: This article provides opinions and information, but does not contain recommendations or personal investment advice to any specific person for any particular purpose. Do your own research or obtain suitable personal advice. You are responsible for your own investment decisions. This article is presented subject to our full disclaimer found on the QVM site available here.