If, like most of us, you grind your teeth every time you have to fill up at your local gas station, here's a chance to get even with a high yielding "gasoline stock". As in some of our recent articles, this undervalued stock is also from the Energy sector of our High Dividend Stocks By Sector Tables. The Energy sector fell out of favor with the market during the Fall pullback, and has been offering many values of late.
79-year old Global Partners LP, (NYSE:GLP), is based in Massachusetts and went public in 2005. GLP has expanded its operations rapidly, and now has direct rail links from its 60%-owned Midwest Bakken shale terminal to its Northeastern terminals, out of which GLP supplies over 1,000 gas stations, in addition to municipal customers, refiners, and gasoline/home heating oil wholesalers. To put its reach in perspective, GLP's latest investor presentation boasts these distribution figures:
−138 million barrels a year
−932,000 automobile tanks of gas filled a day
−18,000 diesel trucks fueled a day
−41,000 homes a day of heating oil delivered in winter (Source: GLP website)
That all sounds swell, but, like many stocks, GLP's share price took a hit in November, and now looks oversold, as it cruises along the bottom of its Bollinger Bands. However, this price level should represent a good buying opportunity that would lock in a high yield, and ultimately should offer some price appreciation: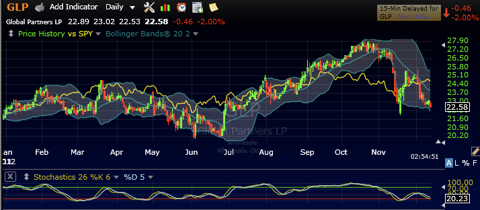 Click to enlarge
GLP has been getting some Institutional support in the past quarter, is up 12.82% year-to-date, and is sitting right in the middle of its 52-week price range:

Dividends: Since 2006, GLP has increased its quarterly distributions from $.411, to the current $.5325 payout, which was a 1.4% increase over its previous, August 2012 distribution. GLP also increased its Distributable Cash Flow to $15 million in the 3rd quarter, up from $8.6 million.

Undervalued Earnings Growth: Although GLP's EPS stumbled in 2011, it's currently estimated to achieve strong growth in both 2012 and 2013, and looks undervalued on a 2013 PEG basis, with a very low .51 PEG:

Click to enlarge
GLP also had strong growth in its most recent quarter, due to its March 2012 acquisition of Alliance Energy, which added 542 gas stations to its retailer customer base, among which Exxon is the largest. Analysts are also estimating over 22% EPS growth over the next 5 years. Of course, that's a long way out, but GLP's infrastructure and many expansion projects add credence to these projections:
Global currently has the only single-line haul rail capability to the East Coast (Albany)
•Aug 2012: Completed 100,000 barrel crude oil tank and truck off-loading rack in North Dakota
•Aug 2012: Expanded Albany facility crude oil and ethanol capacity to 160,000 barrels/day
•Oct 2012: Announced 60% acquisition of N. Dakota Basin Transload Rail-loading properties, with capacity of 160,000 barrels per day. Accretive in first full year of operation and closing targeted for December 2012
•Under development: Rail-fed propane storage facility in Albany with 540,000 gallons capacity (Source: GLP website)
CEO Slifka also gave more color to GLP's Midwest operations and plans for further expansion during the recent earnings call: "We have direct single-line haul service on CP from Columbus to our terminal in Albany, and from there, it's an easy barge trip to refineries along the East Coast."
"In addition, we are developing a 140,000-barrel tank and truck loading rack at Beulah, N. Dakota, which is about 195 miles from Columbus, ND. The Beulah terminal sits along the Burlington Northern Santa Fe Railroad with long-haul service to the West Coast and Gulf Coast markets." (Source: Seeking Alpha Earnings Call Transcript)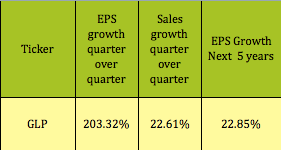 Financials: What about the higher-than-average debt load?
As of 9/30/12, 50% of GLP's total debt is related to inventory financing, and is borrowed under a working capital facility with a commitment through 5/14/2015.
The remaining 50% is long-term debt, related to terminal operating infrastructure, and acquisition of gasoline stations and supply rights.
GLP has a total committed facility of $1.5bn consisting of a $1,000mm working capital revolver, and a $500mm acquisition/general corporate purpose revolver.

Click to enlarge
Options: GLP does have options available, but at the present they're very thinly traded.
Disclosure: I'm long GLP shares.
Disclaimer: This article was written for informational purposes only and isn't intended as investment advice.
Disclosure: I am long GLP. I wrote this article myself, and it expresses my own opinions. I am not receiving compensation for it (other than from Seeking Alpha). I have no business relationship with any company whose stock is mentioned in this article.