When searching for companies that offer high shareholder remuneration through dividends, one important factor that investors should consider is the company's domestic country fundamentals. Usually, political, economical, and financial stability provides the best business environment and should lead to sustainable dividends over the long haul.
After the global financial crisis of 2008-09 and more recently, Europe's debt crisis, credit ratings have been downgraded throughout the world, making safe havens a rare species. Assuming credit ratings still are a good measure of risk, AAA countries are usually known as those safe havens. Switzerland is one of the few remaining AAA countries in the world, and may still offer some good investment opportunities for investors currently looking for safety.
Country Background
Switzerland has one of the world's most stable economies. It has also achieved one of the highest per capita incomes in the world. Because of the country's small size and high labor specialization, industry and trade are the most important factors to Switzerland's economic livelihood. Its policy of long-term monetary security and political stability has also made Switzerland a safe haven for investors. It is one of the world's most investment-friendly countries, with a well-developed financial services industry. In addition to banking, its economy relies heavily on precision manufacturing, metals, pharmaceuticals, chemicals, and electronics.
The country is a highly decentralized federation with many governmental functions delegated to states (cantons) and municipalities. The cantons are largely responsible for education, transportation, energy provision and police. Therefore, revenues of the cantons amount to roughly 13% of GDP, higher than the Federal government revenue that represents slightly more than 10% of GDP.
Switzerland enjoys strong macroeconomic fundamentals supported by a strong export sector, a high standard of living, and a highly-skilled labor force. Over the past few years, its economy has grown around 2-3% each year, the inflation rate has remained low, as well the unemployment rate, which has averaged around only 3% since 2005. Moreover, it has a balanced fiscal budget history and low levels of public debt. Switzerland's debt-to-GDP ratio was 52% in 2011, and has remained between 40-60% over the past few years.
Switzerland depends heavily on trade, given that exports account for around 57% of its GDP. Although the best-known export items are watches, chocolate and cheese, in fact mechanical, electrical engineering and chemicals together account for over half of Swiss exports. The eurozone is Switzerland's main trading partner, and given the current sluggish economic activity in this area, this represents the main negative risk to Switzerland's economic outlook. Nevertheless, the Swiss economy recently showed its resilience, with real GDP rebounding in 2012 Q3 by 2.3% compared to the previous quarter. Furthermore, the labor market also remains robust, with the unemployment rate increasing only slightly to 3% in October from 2.8% at the beginning of the year. This solid labor market should support private consumption in the next year, and also Switzerland's economic growth.
Swiss Equities
Generally, large Swiss companies are geographically and by product diversified, generate a large part of their profit from abroad, and aren't from cyclical sectors. However, most Swiss companies are small and medium-sized, employing about two-thirds of the workforce. Many are still mainly family-owned, but over the last few years, the effect of globalization has opened the capital of Swiss companies to foreigners.
Swiss equities are attractively valued overall, with the SMI Index (NYSEARCA:EWL) trading at 13x 2013 earnings, which is below its historical average of 15x. However, it is trading above most of Europe's main stock indexes that, on average, trade at 10-11x next year's earnings.
High-dividend Swiss stocks are also attractive and offer a much higher yield compared to Swiss franc bonds. For instance, a Swiss sovereign bond with a maturity of 10 years offers a 0.45% yield to maturity, which is much lower than Swiss stocks' average dividend yield of 3.25%. Moreover, the two largest Swiss banks, Credit Suisse (NYSE:CS) and UBS (NYSE:UBS), earlier this month announced they will apply negative interest rates for some of their CHF-denominated deposits, reducing even further the appeal of low-risk investments in Swiss francs. Thus, investors looking for safety should clearly prefer high-dividend companies that offer attractive returns, rather than lower-risk investments that barely offer any return.
Instead of simply searching for high-dividend yield stocks, I've tried to select a group of high-quality dividend companies. My criteria was: 1) dividend yields above 3%; 2) large companies that are members of Switzerland main stock index; 3) companies with historical dividend growth, with at least a 5Y dividend growth rate higher than 0%. These criteria led me to the following five Swiss companies, which are among the top dividend payers from Switzerland, and may offer an attractive income stream over the next few years:
| | | | | |
| --- | --- | --- | --- | --- |
| Company | Sector | Market Cap ($m) | Div. Yield | P/E Ratio |
| Nestle (OTCPK:NSRGY) | Food | 212,191 | 3.20% | 19.6 |
| Roche (OTCQX:RHHBY) | Pharma | 175,300 | 3.65% | 18.7 |
| Novartis (NYSE:NVS) | Pharma | 171,600 | 3.84% | 16.5 |
| ABB (NYSE:ABB) | Industrial | 46,800 | 3.47% | 14.7 |
| Zurich Insurance (OTCQX:ZFSVF) | Insurance | 38,500 | 7.10% | 10.8 |
Source: Bloomberg
Nestle: Nestle is a multinational food company and nutrition, health and wellness company. The company operates under various brands, such as Nestle or Nespresso, covering almost every food and beverage category. Nestle has operations worldwide, which generated more than CHF83.6 billion ($89.5 billion) in sales last year, spread almost equally between developed and emerging markets. In 2011, the Zone Americas were Nestle's largest single market, representing more than 30% of its sales. Its profitability has improved over the past few years, with an EBIT margin growing from 14% in 2007 to 15% last year. Nestle's credit rating is AA by Standard & Poor's (S&P).
The company pays an annual dividend. Over the past five years, the dividend compound growth rate was very high at 12.4%. Even more impressive is Nestle's long-term dividend history, showing consecutive annual dividend increases since 1995. From 2007 to 20011, the average payout ratio was 63%, which given Nestle's resilient business throughout economic cycles, looks sustainable going forward.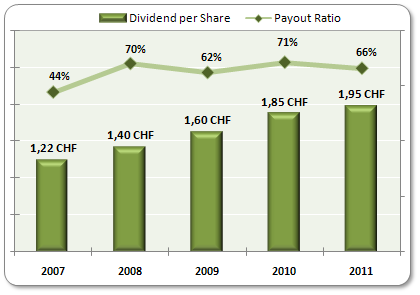 Source: Bloomberg and Company Data
Roche Holding: As a research-focused healthcare company, Roche discovers, develops and provides innovative diagnostic, therapeutic products, and services that deliver significant benefits to patients and healthcare professionals. Roche is also the world leader in biotechnology, with six of Roche's 10 top selling medicines manufactured using biotechnology. Biopharmaceuticals account for over 60% of Roche's drug sales. In 2011, it achieved more than CHF42 billion ($45 billion) in sales, and has a strong cash flow generation capacity. Roche's credit rating is AA by S&P.
Roche also pays an annual dividend. Over the past five years, the dividend compound growth rate was 10.2%. Like Nestle, Roche has an impressive long-term dividend growth history, with the 2011 dividend being the company's 25th consecutive annual dividend increase. The average payout ratio was 56% from 2007 to 2011, but increased to above 60% over the past three years because the earnings growth rate was lower than for dividends. Going forward, Roche's dividend growth rate may be slower if the company decides to align dividend payments to earnings momentum.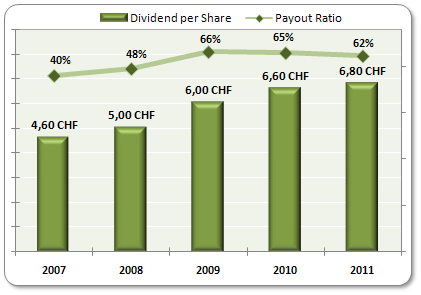 Source: Bloomberg and Company Data
Novartis: Provides healthcare solutions that address the evolving needs of patients and societies. Focused solely on healthcare, the company offers a diversified portfolio of innovative medicines, eye care products, cost-saving generic pharmaceuticals, consumer health products, preventive vaccines and diagnostic tools. In 2011, it generated more than $58 billion in sales -- a 16% increase from the previous year. Novartis' credit rating is AA- by S&P. It is also one of Roche's major shareholders.
Novartis' dividend payment frequency is annual. Over the past five years, the dividend compound growth rate was 8.9%. In 2011, the dividend was increased to CHF 2.25 per share, representing the 15th consecutive annual increase in the dividend paid per share since Novartis' creation in 1996. The average payout ratio was 54% from 2007 to 2011, always below 60%, which means Novartis' dividend looks sustainable.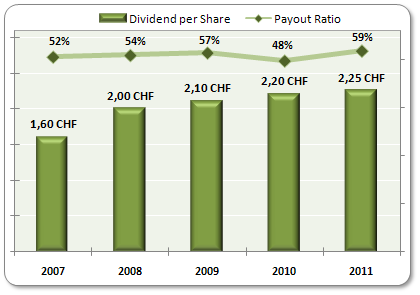 Source: Bloomberg and Company Data
ABB: ABB is a global leader in power and automation technologies. Its business consists of five divisions, namely power products, power systems, discrete automation and motion, low voltage products, and process automation, that are in turn organized in relation to the customers and industries it serves. In 2011, it had around $38bn in sales. ABB credit rating is A by S&P.
ABB's dividend payment frequency is annual. Over the past five years, the dividend compound growth rate was 7.8%, but only showing dividend increases over the past three years. The average payout ratio was 41% from 2007 to 2011, which is the smallest payout ratio among these five companies. However, as an industriasl company, its earnings can be more volatile when compared to less cyclical sectors such as pharmaceuticals or food companies.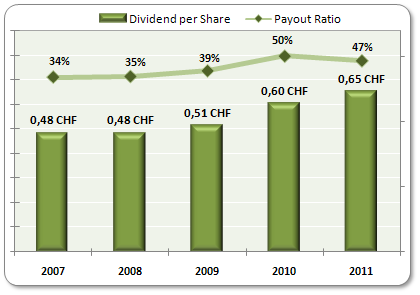 Source: Bloomberg and Company Data
Zurich Insurance Group: Is one of the world's leading insurance groups, and one of the few to operate on a global basis. It operates through three core business segments -- General Insurance, Global Life, and Farmers. Zurich's business is to help individual, commercial and corporate customers understand and protect themselves from risk. Zurich has an AA- credit rating by S&P.
Zurich also pays an annual dividend. Over the past five years, the dividend compound growth rate was 3%, despite the dividend cut in 2008. Of these five companies, Zurich has the least impressive dividend track-record, but currently offers the highest yield above 7%. The payout ratio has increased over the past few years, but remains at acceptable levels around 60-70%, which leaves some flexibility to maintain the dividend even if earnings fall a bit.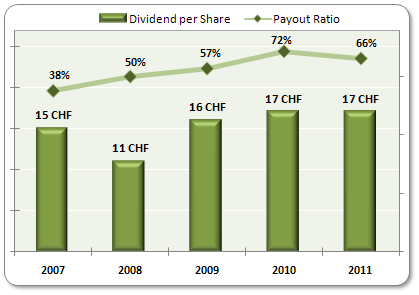 Source: Bloomberg and Company Data
Disclosure: I have no positions in any stocks mentioned, and no plans to initiate any positions within the next 72 hours. I wrote this article myself, and it expresses my own opinions. I am not receiving compensation for it (other than from Seeking Alpha). I have no business relationship with any company whose stock is mentioned in this article.