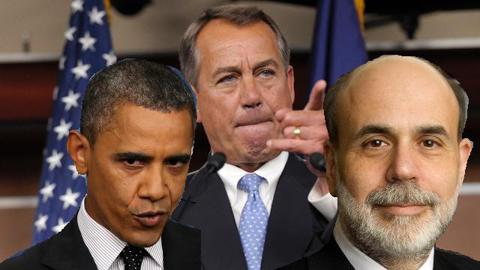 "And he is us."
Another way of saying that is, "You can't spell 'Enemy' backwards without 'ME.'"
As someone who starts each morning reading the newspaper comics and obituaries and then goes no further, it's easy to understand how the late Walt Kelly could just as easily have been referring to the root causes of the stock market's unpredictable dynamics and consequences, although that clearly would include neither you nor me.
Over the past decade, so much has been written about how the individual investor just doesn't stand a chance. Faced with insider trading, computer algorithms, fat finger trades and high frequency trading, it's become relatively easy to pass the responsibility off elsewhere to explain our own under-performance or shortcomings.
It took me many years to understand the wisdom found in Kelly's simple truth. Responsible people accept that they are the root cause of their failures, and that they are the only ones able to ultimately deliver success. I certainly began to understand that concept when it came to dissecting the decision processes that were behind past and current failed investment decisions.
While I'm all for personal responsibility and owning up to my own errors of commission and omission, it is becoming increasingly clear that personal responsibility may have its limits. As we watch the ever-present countdown clock to the "Fiscal Cliff," the real enemy is whomever happens to be holding a press conference at the moment. That person seems to be perfectly equipped to undo anything that I have gotten right. Turning the television set off turns out not to be a meaningful remedy.
In a non-partisan analysis of who constitutes the enemy, it could just as easily be John Boehner as President Obama or Harry Reid. In a real sense of cruelty, it could also end up being the completely apolitical and non-pandering Ben Bernanke.
In case you were confused, the photo above is not of "The Three Tenors," but rather, "The Three Offenders."
I miss the days when Alan Greenspan would speak and the market would rocket higher or plunge to new depths. Your guess was as good as anyone else's in terms of direction. For the time being, there doesn't seem to be any question in which direction markets will move when someone feels obligated to address the American people. There's not much fun involved when you have a pretty good sense of what the outcome will be.
Yet I continue to remain optimistic that there will be some sort of resolution to the current crisis of Comet Kohoutek-like proportions. In fact, I think I may have seen some improvement in option premiums the past couple of days. As long as that improvement is slow and steady, there's continued reason to be optimistic about regarding market direction.
Of course, the optimism was dashed a bit later in the week as the airwaves delivered somber finger pointing. What had been looking like a pretty good week was developing into something else. In addition to the political brinksmanship, it was time for another bi-monthly Ben Bernanke press conference, and if you read my least read ever article on Seeking Alpha, you know what that brings the following day.
Because that optimism was dashed, I looked for opportunities to roll over existing weekly call contracts a day earlier than I normally would have done so. With far too many positions still remaining unhedged, I was more intent on capturing whatever premium I could rather than face the possibility that there would be further declines on Friday and Monday, making acceptable premiums less likely. If we're going to be caught in a downdraft stemming from budgetary and legislative inaction, I'd rather have a little insurance to soften the blow.
Not doing so would have been my fault. I couldn't blame the inaction on anyone with a microphone or podium.
As the year is heading into its final two weeks, it's a little unusual to realize that those final two weeks may end up being pivotal in determining how we look back on annual results. With the S&P 500 up 12.8% for the year, normally we'd be coasting into New Year's.
At any rate, I have to make up for some of last week's picks. Hopefully, some of those hit last week will react like Baidu (NASDAQ:BIDU) and Freeport McMoRan (NYSE:FCX) the week before. However, I still wonder how it is that three months after Lexmark (NYSE:LXK) announced that it was existing the printer business that it finally dawned upon a Deutsche Bank (NYSE:DB) analyst to ask the obvious question that many of us asked in real time.
As usual, the week's potential selections are categorized as being either Traditional, Momentum, Double Dip Dividend or PEE (see details).
American Express (NYSE:AXP) has been languishing of late, trading in a very tight range. That's exactly what you like to see when considering a covered call selection. As with many positions the past few months, premiums have been suffering as volatility has all but disappeared. Still, in a market with little conviction, even small but predictable gains can be meaningful, especially in volume.
MetLife (NYSE:MET) was on last week's list, but instead, Aetna (NYSE:AET) shares were purchased and subsequently assigned. With a poor showing to close out the week, MetLife now looks even more appealing on a price basis.
Occidental Petroleum (NYSE:OXY) was also on last week's list, and it too was assigned. I usually don't want to chase shares that were just assigned, unless they are very close to the previous strike price. Occidental may be one worth chasing.
What's a week without putting AIG (NYSE:AIG) on the radar screen? With the last bit of government shares having been sold this past week, the initial reaction in AIG in the after-hours was decidedly negative. Strange behavior, but that quickly reversed itself as the market opened for trading the next day. Since then, both needs for excess have been sated and AIG may soon move back into the "Traditional" category, although I would like to someday follow through on my own recommendations and actually pick up shares rather than just talk about doing so.
I currently own two separate lots of Freeport McMoRan with a wide price range. Following announcement of the buyouts of McMoRan Exploration (NYSE:MMR) and Plains Exploration (NYSE:PXP), shares have recovered, but still not sufficiently to offset a $40 lot. Whether owning that expensive of a lot or not, at the current share price and with reason to believe that China may be reawakening, Freeport shares look to be attractively priced and its call premiums reflect volatility.
As the final Momentum selection for the week, have I mentioned Lexmark lately? Unfortunately, it only offers monthly option contracts, but this is the final week of the December 2012 cycle, so I may consider adding additional shares and putting Deutsche Bank analysts on my Text Message Alert List.
For the first time in a very long time, I came close to not having a Double Dip Dividend candidate this week. Although two stocks that I currently own are going ex-dividend this week and might ordinarily be candidates, I'm reluctant to suggest either Tiffany (NYSE:TIF) or Las Vegas Sands (NYSE:LVS).
On a positive note, I've now owned shares of Las Vegas Sands on three separate occasions in the past three months. While special dividend adjusted shares have climbed only a bit more than 2% in that time, the modern miracle of option premiums will result in a 12.6% or higher ROI, if shares are assigned next week at $43.25. However, shares seem a bit too expensive to add a new position at this time.
On the other hand, Tiffany is somewhat of a disappointment. Despite a decent dividend being delivered during the final week of a monthly option cycle, I'm not overly enticed by the prospect of adding shares and possibly adding another month long obligation if those shares are not assigned.
But just as it was looking bleak, the Caterpillar (NYSE:CAT) Board of Directors announced an acceleration of its first 2013 scheduled dividend payment to 2012, like so many other companies. This past Friday, I had shares of Caterpillar assigned, marking the first time since July 2, 2012 that I've been without shares, other than an eight trading day period in August. If shares come in just a little, perhaps to $87.50, it may be time to get reacquainted with them.
As earnings season draws nearer and nearer to its end and consequently nearer and nearer to its beginning, this week's selection is not for the faint of heart. Research in Motion (RIMM) is either reviled or revered, depending on your timing. All eyes are on the Blackberry 10, but before that release happens, it's time for earnings to be reported. As with many of the stocks that are considered for Premium Enhanced by Earnings (PEE) plays, a 10% downward move shouldn't be ruled out. After RIMM's strong recent performance, a large move, following a Greenspan-like predictive path, shouldn't be too surprising.
Finally, Bed Bath and Beyond (NASDAQ:BBBY) reports its earnings this week, and it is frequently a big mover following release of numbers and guidance. The past two earnings releases saw share drops of 13% and 20%, so this too is not for the faint-hearted, particularly when realizing that in neither of those two periods did shares recover their losses and return to their pre-earnings levels. Could there be three bad reports in a row? Absolutely, but for me, the sweet spot appears to be the premiums associated with a 5% share price decline.
Traditional Stocks: American Express, MetLife, Occidental Petroleum
Momentum Stocks: AIG, Freeport McMoRan, Lexmark
Double Dip Dividend: Caterpillar (ex-div 12/20), Las Vegas Sands (ex-div 12/18)
Premiums Enabled by Earnings: Bed Bath and Beyond (12/19 PM), RIM (12/20 PM)
Remember, these are just guidelines for the coming week. Adjust accordingly with market movements, and you'll have the makings of a healthy income stream for the week with reduction of risk.
Disclosure: I am long AXP, LXK, FCX, TIF, BIDU, LVS, and I may initiate positions in AIG, MET, RIMM, BBBY. I wrote this article myself, and it expresses my own opinions. I am not receiving compensation for it (other than from Seeking Alpha). I have no business relationship with any company whose stock is mentioned in this article.